Discussion Starter
•
#1
•
I have a 2000 Sonoma sls extended cab. 2.2 with 5 speed. Was bone stock and had 85k miles when I bought it from a shop with blown headgasket. Price I paid was for it fixed. 1 year and 2 headgaskets later and it still has a cylinder 1 misfire. Dealer says 0 compression on #1 cylinder and single digit compression on #3. Still got mid 20's mpg with my Harley in the back on my move from Arizona to Pennsylvania. Got fed up trying to fix this engine so I bought another 2.2 to replace it.
Originally i was going to do an ls3/6 speed swap from an SS Camaro. I wanted the truck to sit low but I'm not bagging it. I just wanted a super fast yet street friendly Sonoma. Now I'm doing a built 2.2 turbo and going to crank the boost to achieve my goals. I'm shooting for 400-500whp or 11 seconds in the 1/4. Just depends on what the wallet allows. To help achieve that second part I plan to put the truck on a serious diet yet still retain all safety features in the cab. No roll cages, I'm keeping airbags and steel doors. I am going to replace front clip with a fiberglass piece and the bed sides will be replaced with fiberglass as well. If I ever go full drag race with the truck I may go fiberglass cab and doors but it's no longer street driven then.
Since I'm not home much and the safety directors friend owns a junkyard I decided to get another 2.2 to drop in for now. $350 for the 2.2 with all accessories and they pulled it and brought it to my house. Engine ran when pulled and had 99k on it.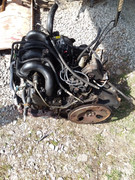 Needs cleaning and a new valve cover gasket.
Since buying the truck I had the headgasket done again and 4 new tires put on. Then the radiator started leaking.
Got that replaced and then the slave cylinder went out on the clutch. Its internal so the transmission had to come out. I wasn't home when it happened so I had my son put it in the shop. 1500 later I had all new clutch components. New slave cylinder, pressure plate, clutch, throw out bearing and clutch master cylinder. I didnt want any surprises for another 50 or 100 thousand miles.
After that was sorted I had the windows tinted and my son installed an old system I had laying around. I had a set of 10" kicker comp VR's and my son had a set of components with crossover and tweeters along with a 300 watt kicker amp. I then replaced the 300 watt amp with a 1200.1 kicker amp. Just last week I installed a set of 4x10 Memphis speakers in the extended cab and bought a 4x70 watt amp to drive all the components and 4x10s. System sounds completely balanced now.
Last week we also painted and installed a steel roll pan to replace the bent factory bumper. I had a 4/6 drop and bell tech shocks for all 4 corners. We installed shocks and all 4 springs. We didnt install the rest because c-notch wasn't in yet. I may replace front arms with UMI upper and lower tubular arms. Ball joints are showing age and I dont want to replace ball joints twice if I go with those tubular arms. Saves 8 pounds I believe.
My steering is worn out and pump is leaking. I'm considering a manual rack and pinion swap at the same time. That saves 35 pounds from the front and replaces the rag joints with a cv joint.
I'm bouncing around between the outside and engine at the same time. Engine is good for now but the outside of the truck looks a little plain so I'm dressing it up a bit. Shaving tailgate handle and installing a billet grill when I get home. Pulling the bed to install c-notch and paint frame with por15 to prevent rust. While bed is off I'm taking measurements to fab a carrier bearing crossover that moves bearing up 1 inch. Gives me a little more ground clearance when I finish lowering it.
After lowering but before the roll pan: