As many of you have read, I've been saying I am going to bag my truck for a while now. Well the time has finally come! Graduation is a little more than a month away. I will have a BE in Electrical Engineering and I was just offered an amazing job that I never imagined would be possible.
So after saving up money, going through a little spell of good luck, and using my tax return, it's time to get this project under way!
The game plan:
I
would like to start production on this near the end of april and hope to have it close to done in May. I don't have any experience welding and this is my first bagging project so I will have the help of my club - Exceeding Limits Truck Club. I plan on running a 225/40/18 tire. Using my stock control arms. Going to keep the inners in for the time being and I will look into relocating stuff in the engine compartment and removing the inners this winter.


The parts list:

Front

1/8" Airline - 50ft

1/2" Airline - 50ft.

96+ EDC kit

5 gallon tank (8 port)

200 PSI KP Single Gauge

(2) 200 PSI KP Dual Gauge

(8 pk) SMC 3/8" Valves
(2)
Airlift Dominators 2500's

SD Cups

PP ball joints (uppers and lowers)

Switchbox

80 Amp Relay
(8) SMC Valve Brackets
Rear

Gen. 2 Bridge Kit (without lower bag mount)

Axle Bracket with Shoch Mounts

5 gallon tank (8 port)

Airlift Dominators 2600's

Round Tubs / Round cover combo

Super-Pivot Raw SD 3 link (weld on)

Sideways upper shock mounts

Shock Stud threaded

Shocks
Misc.

Fittings

(4 cans) Zero Rust Paint - Aerosol - Crystal Coat

Zero Rust Paint - Quart - Black

24oz Prep Step Powder

Raptor Spray in Bedliner Kit

Trainhorns Kit (maybe)

Drag Blocks or Tow Hitch Balls

Paint Brushes

3:42 Rearend with Disks
I have already started collecting a few parts here and there and just put the order in for the EDC yesterday and bought the paint for the frame tonight, along with the PP ball joints. I already have the gauges, SD cups, and 2500 Dominators for the front. Also got a 10 switch switchbox from my buddy for free
Here is how the truck sits now: (note - I have blazer composite headlights now instead of sealed beams)
And this is how I hope it will look when this project is complete.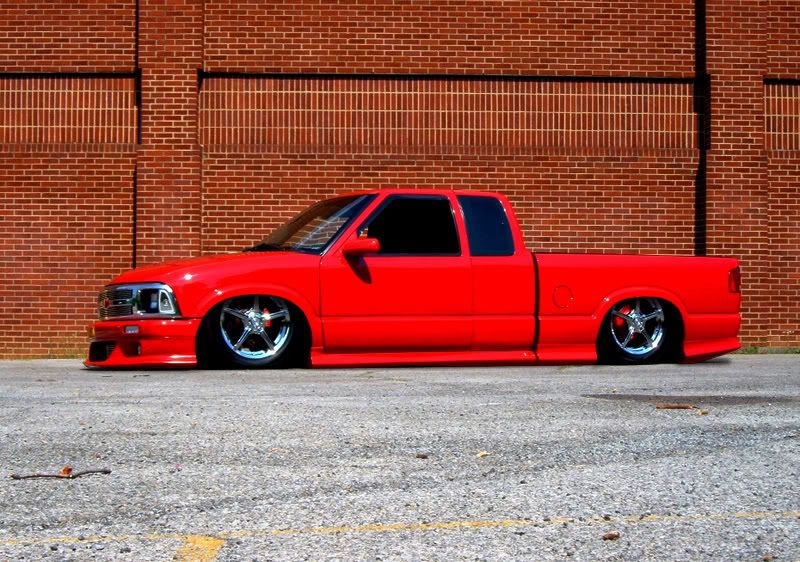 Again, major production should be starting late april. Right now I am just in the process of ordering all the parts. Please check my list and let me know if you see anything that I am missing.
One last thing, this is the little interior project I have been working on lately
http://www.s10forum.com/forum/f26/project-kovz-s-mini-interior-project-341387/