Hey Guys, I am going to attempt to share all the knowladge I have on these swaps, My parts list and some very good links and usefull information.
--------------------------------------------------------------------------------
Wiring Harness:
Seriously best money ever spent on my truck
Current Performance Wiring
Approx Cost$750
A/C Setup
(Same as on my truck)
Welcome to Street and Performance
Approx Cost$ 550
Car-Part.com--Used Auto Parts Market
is an excellent resource for finding parts at an auto wrecker.
Cooling
The Upper radiator hose I used was from a 2001 Camaro.
GM Part#10271554
LS2 water Pump GM Part#89017457
Conversion Radiatior
V8 conversion manuals, parts for V8 S10, Datzun Z, Jaguar, Chevy TPI & TBI, Colorado, Astro Van V8, Volvo 200 & 700
I run (2) 10" electric fans pushing and (1) Pulling. I have no overheating issues.

Misc
Throttle cable is from a 2002 Chev S-10 4.3L
GM Part#15010419
Cruise Control Cable
GM part # 15045460
Transmission Flexplate Spacer (For use of 700R4 TH 350 TH 400)
GM part#12563532 Bolts Part#12563533
(looks like GM just reduced the price on this)
FUEL:
You need a rail pressure of 58-62 psi There is an adapter fitting made by Russel Part#640850 that will adapt the GM rail to #6AN fitting. For guys wishing to adapt #6AN to their existing 5/16" return line use part #640860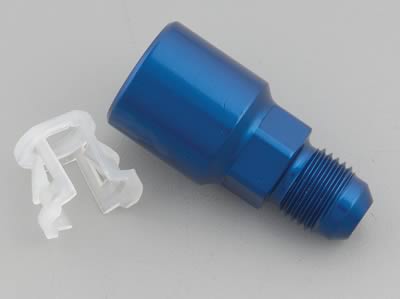 FUEL PUMP
My truck was a 2.2L Flex fuel truck. I HAVE MADE NO MODIFICATIONS TO THE FUEL SYSTEM! the factory flex fuel pump has supported 491RWHP and The filter has a built in regulator. Same as the Corvette. I used (2) Russell part# 640850 fittings and a chunk of braided stainless line that was all I needed.
Filter/Regulator Setup is
GM Part#10299146
Headers and Mounts
These are available from
Current Performance Wiring
They fit great I am using them.
The follwing list is part numebers for the C5 Accesory package.
This is also in the 2007 GM performance parts catalog under a single part number but I do not have the number. PEKO??? Any help here.
Alternator (1)10246634 (production) 10316182 (service)
Alternator to bracket bolts (2) 24503609
Alt bracket to head bolts (3) 11516357
Alt bracket to head bolt (1) 11516356
Alt/ P/S mount bracket (1) 12555220 was superceded by part number 12578068.
P/S fluid reservoir bracket (1) 12555222
P/S fluid reservoir (1) 26046502
P/S reservoir hose (1) 26046910
P/S reservoir cap (1) 26022453
P/S pump (1) 26046503
P/S pump pulley (1) 12559890
P/S pump brace (1) 12555693 Same as f-body
P/S pump bolts (2) 14078896 Same as f-body
P/S pump bolts (2) 11515758 Same as f-body
Belt idler pulley (1) 12564401 Same as f-body
Harmonic balancer (1) 12560115
Belt tensioner assembly (1) 12559325
A/C belt tensioner assembly (1) 12560345 Same as f-body
A/C belt idler pulley (1) 12557334
A/C compressor bracket (1) 12556444
A/C compressor (1) 1137031
A/C bracket stud (1) 12556447
A/C bracket bolt (1) 11515768
A/C compressor bolt (1) 11516714
A/C compressor bolt (1) 12552922
A/C compressor bolt (1) 11509202
A/C compressor nut (1) 10255857

OIL PAN
This one is a little bit tough to decide exactly what you should do.
If your willing to notch the GM truck pan from any 4.8 5.3 or 6.0 will fit. It will also hang approx 1.5" below the crossmember.
The LS2 pan is rumored to fit the 4x4 trucks without modification I can't confirm this.
Tuning and ECM calibration.
You can purchace tuning software from a number of locations on the net. The best way for the budget swappers would be the Predator tuner that Jared at
Current Performance Wiring
offers.

Coil Packs
If you use the round coils from the truck engines and the associated brakets you will not have to relocate the rear 2 coils.
This is a good start for people.. I hope this points a bunch of you in the right direction. I will continue to add to this as I remember things that you might need.