Well after awhile searching for the name of a paint code I decided to compile this. Hope this helps.
Here's a quick break down of what the code means.
Example.
Year 1989
Name Paint Code
Dark Blue Metallic 28/WA8264
The Break Down:
The first part of the paint code is a refrence to an RPO code Like 28U or 28L. The U stands for upper color and L stands for Lower color. This is if you have a two tone paint job. The WA8264 is the refrence number to the color. It will be show Like L8264 or U8264.
You can find this code on the bottom of the Service Part Identification Sticker located in side your glove box.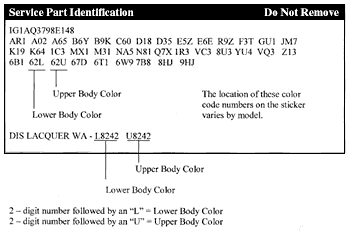 Now for the meat and potatoes
{-1982 ----------------------------------------}
Color Paint Code
White 12/WA5111
Black 19/WA5118/WA848
Bright Red 72/WA7475
{-1983 ----------------------------------------}
Color Paint Code
Gloss Black 09/WA5118
White 12/WA5111
Light Slate Metallic 17/WA7468
Black 19/WA5118
Light Blue Metallic 21/WA7470
Blue Metallic Clearcoat 27
Dark Blue 29/WA7349
Woodland Green 46/WA7156
Bright Yellow 51/WA7476
Almond 59/WA7473
Almond Metallic 65/WA7474
Red Orange 71/WA7753
Bright Red 72/WA7475
{-1984 ----------------------------------------}
Color Paint Code
Gloss Black 09/WA5118
White 12/WA5111
Light Slate Metallic 17/WA7468
Black 19/WA5118
Dark Blue Metallic 28/WA8264
Dark Blue 29/WA7349
Dark Blue Metallic Clearcoat 29/WA8540
Woodland Green 46/WA7156
Tan 61/WA8265
Light Saddle Metallic 64/WA8266
Dark Brown Metallic 66/WA8267
Red Orange 71/WA7753
Bright Red 72/WA7475
Tangier Orange 88/WA5108
{-1985 ----------------------------------------}
Color Paint Code
Gloss Black 09/WA5118
White 12/WA5111
Light Slate Metallic 17/WA7468
Black 19/WA5118
Light Blue Metallic 21/WA7470
Dark Blue Metallic 28/WA8264
Woodland Green 46/WA7156
Tan 61/WA8265
Light Saddle Metallic 64/WA8266
Dark Brown Metallic 66/WA8267
Red Orange 71/WA7753
Bright Red 72/WA7475
Wheatland Yellow 87/WA5247
Tangier Orange 88/WA5108
{-1986 ----------------------------------------}
Color Paint Code
Gloss Black 09/WA5118
White 12/WA5111
Light Slate Metallic 17/WA7468
Black 19/WA5118
Light Blue Metallic 21/WA7470
Dark Blue Metallic 28/WA8264
Tan 61/WA8265
Dark Brown Metallic 66/WA8267
Saddle Metallic 67/WA8799
Red Orange 71/WA7753
Bright Red 72/WA7475
Wheatland Yellow 87/WA5247
Tangier Orange 88/WA5108
{-1987 ----------------------------------------}
Color Paint Code
White Clearcoat 10/WA9225
White 12/WA5111
Silver Wing Metallic Clearcoat 13/WA8818
Black 19/WA5118
Light Blue Metallic 21/WA7470
Dark Blue Metallic 28/WA8264
Forest Green Metallic Clearcoat 44/WA7964
Woodland Green 46/WA7156
Gold Metallic 54/WA8822
Tan 61/WA8265
Dark Brown Metallic 66/WA8267
Bright Red 72/WA7475
Wheatland Yellow 87/WA5247
Tangier Orange 88/WA5108
{-1988 ----------------------------------------}
Color Paint Code
White 12/WA5111
Light Slate Metallic 17/WA7468
Black 19/WA5118
Bright Blue Metallic 24/WA9222
Dark Blue Metallic 28/WA8264
Light Mesa Brown Metallic Clearcoat 38/WA9220
Dark Mesa Brown Metallic Clearcoat 39/WA9221
Forest Green Metallic Clearcoat 44/WA7964
Bright Red 72/WA7475
Gray Metallic ClearCoat 90/WA8798
{-1989 ----------------------------------------}
Color Paint Code
White 12/WA5111
Light Slate Metallic 17/WA7468
Black 19/WA5118
Bright Blue Metallic 24/WA9222
Dark Blue Metallic 28/WA8264
Light Mesa Brown 37/WA9219
Dark Mesa Brown Metallic 40/WA9202
Forest Green Metallic Clearcoat 44/WA7964
Woodland Green 46/WA7156
Saddle Metallic 67/WA8799
Bright Red 72/WA7475
Wheatland Yellow 87/WA9418
Tangier Orange 88/WA9417
Gray Metallic WA8798
{-1990 ----------------------------------------}
Color Paint Code
White 12/WA5111
Light Slate Metallic 17/WA7468
Black 19/WA5118
Bright Blue Metallic 24/WA9222
Yellow Clearcoat 35/WA9414
Light Mesa Brown 37/WA9219
Dark Mesa Brown Metallic 40/WA9202
Dark Blue Metallic 47/WA9095
Dark Red 48/WA9096
Saddle Metallic 67/WA8799
Bright Red 72/WA7475
Dark Maple Metallic Clearcoat 78/WA8800
Wheatland Yellow 87/WA9418
Tangier Orange 88/WA9417
Gray Metallic WA8798
{-1991 ----------------------------------------}
Color Paint Code
White 12/WA5111
Black 19/WA5118/WA848
Bahama Blue Metallic Clearcoat 22/WA9656
Bright Blue Metallic 24/WA9222
Past. Blue 26/WA9662
Light Mesa Brown 37/WA9219
Seafoam Green 43/WA9663
Forest Green Metallic Clearcoat 44/WA7964
Dark Blue Metallic 47/WA9095
Dark Red 48/WA9096
Saddle Metallic 67/WA8799
Bright Red 72/WA7475
Gray Metallic Clearcoat 90/WA8798
Medium Red Metallic Clearcoat 94/WA9088
Silver Metallic Clearcoat 96/WA8867
{-1992 ----------------------------------------}
Color Paint Code
White 12/WA5111
Black 19/WA5118/WA848
Radar Blue Metallic Clearcoat 21/WA9018
Bahama Blue Metallic Clearcoat 22/WA9656
Bright Blue Metallic 24/WA9222
Bright Teal 25/WA9830
Past. Blue 26/WA9662
Light Mesa Brown 37/WA9219
Seafoam Green 43/WA9663
Forest Green Metallic Clearcoat 44/WA7964
Dark Blue Metallic 47/WA9095
Dark Red 48/WA9096
Khaki 52/WA9087
Light Beige Metallic Clearcoat 57/WA9805
Bright Red 72/WA7475
Gray Metallic Clearcoat 90/WA8798
Medium Red Metallic Clearcoat 94/WA9088
Silver Metallic Clearcoat 96/WA8867
{-1993 ----------------------------------------}
Color Paint Code
White 12/WA5111
Dove Gray Clearcoat 18/WA9017
Black 19/WA5118/WA848
Radar Blue Metallic Clearcoat 21/WA9018
Bahama Blue Metallic Clearcoat 22/WA9656
Bright Blue Metallic 24/WA9222
Past. Blue 26/WA9662
Bright Teal Metallic Clearcoat 38/WA9794
Forest Green Metallic Clearcoat 44/WA7964
Dark Blue Metallic 47/WA9095
Dark Red 48/WA9096
Khaki 52/WA9087
Light Beige Metallic Clearcoat 57/WA9805
Bright Red 72/WA7475
Raspberry Metallic Clearcoat 85/WA9928
Gray Metallic Clearcoat 90/WA8798
Medium Red Metallic Clearcoat 94/WA9088
Silver Metallic Clearcoat 96/WA8867
{-1994 ----------------------------------------}
Color Paint Code
White 12/WA5111
Dove Gray Clearcoat 18/WA9017
Black 19/WA5118/WA848
Radar Blue Metallic Clearcoat 21/WA9018
Bahama Blue Metallic Clearcoat 22/WA9656
Bright Blue Metallic 24/WA9222
Bright Teal Metallic Clearcoat 38/WA9794
Forest Green Metallic Clearcoat 44/WA7964
Dark Blue Metallic 47/WA9095
Dark Red 48/WA9096
Khaki 52/WA9087
Light Beige Metallic Clearcoat 57/WA9805
Bright Red 72/WA7475
Raspberry Metallic Clearcoat 85/WA9928
Gray Metallic Clearcoat 90/WA8798
Medium Red Metallic Clearcoat 94/WA9088
Silver Metallic Clearcoat 96/WA8867
{-1995 ----------------------------------------}
Color Paint Code
White 12/WA5111
Black 19/WA5118/WA848
Radar Blue Metallic Clearcoat 21/WA9018
Bahama Blue Metallic Clearcoat 22/WA9656
Bright Blue Metallic 24/WA9222
Bright Teal Metallic Clearcoat 38/WA9794
Khaki 52/WA9087
Light Beige Metallic Clearcoat 57/WA9805
Bright Red 72/WA7475
Raspberry Metallic Clearcoat 85/WA9928
Gray Metallic Clearcoat 90/WA8798
Medium Red Metallic Clearcoat 94/WA9088
Silver Metallic Clearcoat 96/WA8867
{-1996 --------------------------------------------}
Color Paint Code
Radar Blue Metallic Clearcoat 21/WA9018
Light Stellar Blue Metallic Clearcoat 27/WA146B
Bright Teal Metallic Clearcoat 38/WA9794
Black Clearcoat 41/ WA8555
Emerald Green Metallic Clearcoat 43/WA177B
White Clearcoat 50/WA8624
Light Autumnwood Metallic Clearcoat 55/WA228A
Bright Red 72/WA7475
Gray Metallic Clearcoat 90/WA8798
Medium Red Metallic Clearcoat 94/WA9088
Silver Metallic Clearcoat 96/WA8867
{-1997 --------------------------------------------}
Color Paint Code
Aubergine Metallic Clearcoat 18/WA325D
Light Stellar Blue Metallic Clearcoat 27/WA146B
Black Clearcoat 41/WA8555
Emerald Green Metallic Clearcoat 43/WA177B
White Clearcoat 50/WA8624
Light Autumnwood Metallic Clearcoat 55/WA228A
Smokey Carmel Metallic Clearcoat 65/WA333D
Bright Red 72/WA7475
Fairway Green Metallic Clearcoat 87/WA309D
Gray Metallic Clearcoat 90/WA8798
Medium Red Metallic Clearcoat 94/WA9088
Silver Metallic Clearcoat 96/WA8867
Medium Dark Pewter (Interior Color) 92/WA110D
{-1998 --------------------------------------------}
Color Paint Code
Pewter Metallic Clearcoat 11/WA382E
Light Stellar Blue Metallic Clearcoat 27/WA146B
Indigo Metallic Clearcoat 39/WA9792
Black Clearcoat 41/WA8555
Emerald Green Metallic Clearcoat 43/WA177B
White Clearcoat 50/WA8624
Smokey Carmel Metallic Clearcoat 65/WA333D
Copper Metallic Clearcoat 69/WA381E
Bright Red 72/WA7475
Dark Cherry Metallic Clearcoat 77/WA9800
Fairway Green Metallic Clearcoat 87/WA309D
Gray Metallic Clearcoat 90/WA8798
Medium Red Metallic Clearcoat 94/WA9088
Spectre Gray Metallic (bumper) WA9428
Graphite (Interior) 12/WA7701
Medium Gray (Interior) 14/WA9779
Medium Dark Gray (Interior) 82/WA8247
Dark Gray (Interior) 82/WA8595
Medium Dark Pewter (Interior Color) 92/WA110D
{-1999 -----------------------------------------}
Color Paint Code
Pewter Metallic Clearcoat 11/WA382E
Indigo Metallic Clearcoat 39/WA9792
Black Clearcoat 41/WA8555
Emerald Green Metallic Clearcoat 43/WA177B
White Clearcoat 50/WA8624
Gold Metallic Clearcoat 60/WA398E
Smokey Carmel Metallic Clearcoat 65/WA333D
Meadow Green Metallic Clearcoat 68/WA566F
Meadow Green Metallic Clearcoat 68/WA507F
Copper Metallic Clearcoat 69/WA381E
Bright Red 72/WA7475
Red Clearcoat 74/WA9260
Gray Metallic Clearcoat 90/WA8798
Medium Red Metallic Clearcoat 94/WA9088
Spectre Gray Metallic (bumper) WA9428
Shadow Gray (Interior) 821
Sparkle Silver Metallic (Wheel Color) WA9967
{-2000 ----------------------------------------}
Color Paint Code
Pewter Metallic Clearcoat 11/WA382E
Space Blue Metallic Clearcoat 23/WA413G
Indigo Metallic Clearcoat 39/WA9792
Black Clearcoat 41/WA8555
Medium Red Metallic Clearcoat 44/WA408G
White Clearcoat 50/WA8624
Gold Metallic Clearcoat 60/WA398E
Smokey Carmel Metallic Clearcoat 65/WA333D
Meadow Green Metallic Clearcoat 68/WA566F
Meadow Green Metallic Clearcoat 68/WA507F
Copper Metallic Clearcoat 69/WA381E
Red Clearcoat 74/WA9260
Red Tint Metallic Tricoat 86/WA379E
Gray Metallic Clearcoat 90/WA8798
Medium Red Metallic Clearcoat 94/WA9088
Spectre Gray Metallic (bumper) WA9428
Med. Pewter Gray (Interior) 92I
{-2001 ----------------------------------------}
Color Paint Code
Pewter Metallic Clearcoat 11/WA382E
Space Blue Metallic Clearcoat 23/WA413G
Indigo Metallic Clearcoat 39/WA9792
Black Clearcoat 41/WA8555
Medium Red Metallic Clearcoat 44/WA408G
White Clearcoat 50/WA8624
Gold Metallic Clearcoat 60/WA398E
Smokey Carmel Metallic Clearcoat 65/WA333D
Meadow Green Metallic Clearcoat 68/WA566F
Red Clearcoat 74/WA9260
Red Tint Metallic Tricoat 86/WA379E
Gray Metallic Clearcoat 90/WA8798
Medium Red Metallic Clearcoat 94/WA9088
Blue Green Metalic Clearcoat WA5405
{-2002 -----------------------------------------------}
Color Paint Code
Pewter Metallic Clearcoa 11/WA382E
Graphite (Interior) 12/WA7701
Space Blue Metallic Clearcoat 23/WA413G
Indigo Metallic Clearcoat 39/WA9792
Black Clearcoat 41/WA8555
Yellow Clearcoat 43/WA5456
Medium Red Metallic Clearcoat 44/WA408G
Medium Sage Green Pri Metallic Clearcoat 45/WA605H
Medium Green Pri Metallic Clearcoat 47/WA9539
White Clearcoat 50/WA8624
Sandalwood Pri Metallic Clearcoat 58/WA711J
Red Clearcoat 74/WA9260
Red Tint Metallic Tricoat 86/WA379E
Gray Metallic Clearcoat 90/WA8798
Medium Red Metallic Clearcoat 94/WA9088
Dark Argent Metallic (bumper) WA6246
Spectre Gray Metallic (bumper) WA9428
Light Gray Metallic (Wheel Color) WA9789
Graphite SEM 3090 (Interior) 122
Medium Neutral II (Interior) C9501
Gray Metallic Clearcoat U83/12H
Ultra Silver (Underhood color) WA688H
{-2003 ----------------------------------------------------}
Color Paint Code
Pewter Metallic Clearcoat 11/WA382E
Light Gray (Interior Color) 14/WA9781
Indigo Metallic Clearcoat 39/WA9792
Black Clearcoat 41/WA8555
Yellow Clearcoat 43/WA5456
Medium Red Metallic Clearcoat 44/WA408G
Medium Green Pri Metallic Clearcoat 47/WA9539
White Clearcoat 50/WA8624
Sandalwood Pri Metallic Clearcoat 58/WA711J
Dark Spiral Gray Metallic Clearcoat 62/WA805K
Bright Red 72/WA7475
Red Clearcoat 74/WA9260
Red Tint Metallic Tricoat 86/WA379E
Silver Green Metallic Clearcoat 92/WA816K
Medium Red Metallic Clearcoat 94/WA9088
Dark Green (Canadian color) 9V5/WA9015
Tan (Canadian color) 9V9/WA9403
Dark Yellow (Canadian color) 9W3/WA9418
Dark Orange (Canadian Color) 9W4/WA9417
Sparkle Gold Metallic Clearcoat (Wheel Color) WA247B
Bright Silver Metallic Clearcoat (Wheel Color WA444G
Bright Argent Silver Metallic (Wheel Color) WA6248
Light Argent Metallic Clearcoat (Wheel Color) WA6272
Gold Metallic Clearcoat (Wheel Color) WA6275
Dark Argent Metallic Clearcoat (Wheel Color) WA6282
Medium Gray Metallic Clearcoat (Wheel Color) WA7719
Sparkle Silver II Metallic Clearcoat (Wheel Color) WA778J
Black Clearcoat (Wheel Color) WA8555
Gray Metallic (Wheel Color) WA8798
Spectre Gray Metallic (bumper) WA9428
Light Gray Metallic (Wheel Color) WA9789
Sparkle Silver Metallic (Wheel Color) WA9967
rpo codes as follows:
09U : PRIMARY COLOR, EXTERIOR, OPAQUE WHITE (91)
10U : PRIMARY COLOR , EXTERIOR, ARCTIC WHITE (91)
12L : SECONDARY COLOR, EXTERIOR, SILVER MET (91)
12U : PRIMARY COLOR, EXTERIOR SILVER MET (91)
13L : SECONDARY COLOR, EXTERIOR, BRIGHT SILVER MET (91)
13U : PRIMARY COLOR , EXTERIOR, BRIGHT SILVER MET (91)
14L : SECONDARY COLOR, XTERIOR, LT GRAY MET (92)
14U : PRIMARY COLOR , EXTERIOR, LT GRAY 4ET (92)
15L : SECONDARY COLOR, EXTERIOR, ASTRAL SILVER (91)
15U : PRIMARY COLOR, EXTERIOR ASTRAL SILVER (91)
16L : SECONDARY COLOR, EXTERIOR, WARM GRAY MET (91)
16U : PRIMARY COLOR , EXTERIOR, WARM GRAY 4ET (91)
17L : SECONDARY COLOR, EXTERIOR, LT SLATE MET (91)
17U : PRIMARY COLOR , EXTERIOR, LT SLATE MET (91)
18U : PRIMARY COLOR, EXTERIOR, SLATE GRAY (91)
19L : SECONDARY COLOR, EXTERIOR, LAMP BLACK (91)
19U : PRIMARY COLOR, EXTERIOR, LAMP BLACK (91)
20L : SECONDARY COLOR, EXTERIOR, LT QUASAR BLUE MET (92)
20U : PRIMARY COLOR, EXTERIOR, LT QUASAR BLUE MET (93)
21U : PRIMARY COLOR EXTERIOR, NEON BLUE MET (91)
22L : SECONDARY COLOR, EXTERIOR BAHAMA BLUE MET (91)
22U : PRIMARY COLOR, EXTERIOR BAHAMA BLUE MET (91)
23U : PRIMARY COLOR, EXTERIOR, MED MAUI BLUE MET (91)
24L : SECONDARY COLOR, EXTERIOR, BRIGHT BLUE MET (91)
24U : PRIMARY COLOR, EXTERIOR, BRIGHT BLUE MET (91)
25U : PRIMARY COLOR, EXTERIOR, STEEL BLUE MET (91)
26L : SECONDARY COLOR, EXTERIOR, PASTEL BLUE (91)
26U : PRIMARY COLOR, EXTERIOR, PASTEL BLUE (91)
27L : SECONDARY COLOR, EXTERIOR, MED SAPPHIRE BLUE MET
27U : PRIMARY COLOR, EXTERIOR, LT FRENCH BLUE MET (91)
28L : SECONDARY COLOR, EXTERIOR, BLACK SAPPHIRE MET (91)
28U : PRIMARY COLOR, EXTERIOR, BLACK SAPPHIRE MET (91)
29L : SECONDARY COLOR, EXTERIOR, DK BLUE (91)
29U : PRIMARY COLOR, EXTERIOR, DK BLUE (91)
30L : SECONDARY COLOR, EXTERIOR, GRAY BLUE MET (91)
30U : PRIMARY COLOR, EXTERIOR, GRAY BLUE MET (91)
31U : PRIMARY COLOR, EXTERIOR, ARCTIC WHITE PEARL (92)
32U : PRIMARY COLOR ,EXTERIOR, MED BRIGHT TEAL MT (94)
33L : SECONDARY COLOR, EXTERIOR, LT MESA BROWN (91)
33U : PRIMARY COLOR, EXTERIOR, LT MESA BROWN (91)
34L : SECONDARY COLOR, EXTERIOR, LT MESA BRN MET (91)
34U : PRIMARY COLOR, EXTERIOR, LT MESA BROWN MET (91)
35L : SECONDARY COLOR, EXTERIQR, YELLOW (92)
35U : PRIMARY COLOR, EXTERIOR, YELLOW (92)
36L : SECONDARY COLOR, EXTERIOR, MED DK TEAL MET (92)
36U : PRIMARY COLOR, EXTERIOR, MED DK TEAL MET (92)
37L : SECONDARY COLOR, EXTERIOR, DK BRT TEAL MET (91)
37U : EXTERIOR COLOR, PRIMARY (DARK BRIGHT TEAL METALLIC) (92)
37U : PRIMARY COLOR, EXTERIOR, LT BROWN (91)
38U : PRIMARY COLOR, EXTERIOR, CHAMPAGNE MET (91)
39U : PRIMARY COLOR, EXTERIOR, DK ADRIATIC BLUE MET (94)
40L : SECONDARY COLOR, EXTERIOR, WHITE (91)
40U : PRIMARY COLOR, EXTERIOR, WHITE (91)
41L : SECONDARY COLOR, EXTERIOR, BLACK (91)
41U : PRIMARY COLOR, EXTERIOR, BLACK
42L : SECONDARY COLOR, EXTERIOR, SKY BLUE (91)
42U : PRIMARY COLOR , EXTERIOR, SKY BLUE (91)
43L : SECONDARY COLOR, EXTERIOR, SEAFOAM GREEN (91)
43U : PRIMARY COLOR, EXTERIOR, SEAFOAM GREEN (91)
44L : SECONDARY COLOR, EXTERIOR, FOREST GREEN MET (91)
44U : PRIMARY COLOR, EXTERIOR, FOREST GREEN MET (91)
45U : PRIMARY COLOR, EXTERIOR, MED GREEN MET (91)
46U : PRIMARY COLOR, EXTERIOR, DK GREEN (91)
47L : SECDNDARY CDLOR, EXTERIOR, DK BLUE MET (91)
47U : PRIMARY COLOR, EXTERIOR, DK BLUE MET (91)
48L : SECONDARY COLOR EXTERIOR, DK RED (91)
48U : PRIMARY COLOR EXTERIOR, DK RED (91)
49U : PRIMARY COLOR, EXTERIOR, VERDORO GREEN MET ( 92 )
4Zl : SEO-SPARE WHL & STO, NO TIRE
50L : SECONDARY COLOR, EXTERIOR, BLUE WHITE (91)
50U : PRIMARY COLOR, EXTERIOR BLUE WHITE (91)
51L : SECONDARY COLOR, EXTERIOR SEDONA TAN (91)
51U : PRIMARY COLOR EXTERIOR, SEDONA TAN (91)
52L : SECONDARY COLOR, EXTERIOR, SEDONA TAN (91)
52U : PRIMARY COLOR, EXTERIOR, JAMAICA YELLOW (92)
53U : PRIMARY COLOR, EXTERIOR, COMPETITION YELLOW, (91)
54L : SECONDARY COLOR, EXTERIOR, MED FLAX (91)
54U : PRIMARY COLOR, EXTERIOR, MED FLAX (91)
55U : PRIMARY COLOR, EXTERIOR, LT CANYON YELLOW (92)
56U : PRIMARY COLOR, EXTERIOR, ALABASTER (91)
57L : SECONDARY COLOR, EXTERIOR, CAMEL BEIGE (91 )
57U : PRIMARY COLOR, EXTERIOR, CAMEL BEIGE (91)
58L : SECONDARY COLOR, EXTERIOR, LT SANDSTONE MET (91)
58U : PRIMARY COLOR, EXTERIOR, LT SANDSTONE MET (91)
59U : PRIMARY COLOR, EXTERIOR ORANGE MET (92)
60U : PRIMARY COLOR EXTERIOR, BEIGE TITANIUM (92)
61L : SECONDARY COLOR, EXTERIOR, TAN (91)
61U : PRIMARY COLOR, EXTERIOR, TAN (91)
62L : SECONDARY COLOR, EXTERIOR, LT TAUPE (92)
62U : PRIMARY COLOR EXTERIOR, LT BEECHWOOD MET (91)
63L : SECONDARY COLOR, EXTERIOR, MED TAUPE MET (92)
63U : PRIMARY COLOR, EXTERIOR, MED TAUPE MET (92)
64U : PRIMARY COLOR, EXTERIOR, LT AUBURN MET (91)
65L : SECONDARY COLOR,EXTERIOR, LT CAMEL TITANIUM (91)
65U : PRIMARY COLOR, EXTERIOR, LT CAMEL TITANIUU (91)
66L : SECONDARY COLOR, EXTERIOR, DK AUBURN MET (91)
66U : PRIMARY COLOR, EXTERIOR, DK AUBURN MET (91)
67L : SECONDARY COLOR, EXTERIOR, LT CAMEL MET (91)
67U : PRIMARY COLOR, EXTERIOR, LT CAMEL MET (91)
68L : SECONDARY COLOR, EXTERIOR, CINNAMON MET ( 92 )
68U : PRIMARY COLOR, EXTERIOR, CINNAMON MET (92}
69L : SECONDARY COLOR, EXTERIOR, ROOTBEER MET (92)
69U : PRIMARY COLOR, EXTERIOR, MED BEECHWOOD MET (91)
70L : SECONDARY COLOR, EXTERIOR, RED (91)
70U : PRIMARY COLOR, EXTERIOR, TORCH RED (91)
71U : PRIMARY COLOR, EXTERIOR, RED ORANGE (91)
72L : SECONDARY COLOR, EXTERIOR, MED GARNET RED MET (91)
72U : PRIMARY COLOR, EXTERIOR, MED GARNET RED MET (91)
73U : PRIMARY COLOR ,EXTERIOR, YELLOW RED MET (91)
74L : SECONDARY COLOR, EXTERIOR, FLAME RED MET (91)
74U : PRIMARY COLOR, EXTERIOR, VICTORY RED (91) 75L : SECONDARY COLOR, EXTERIOR, BRILLIANT RED BET (91)
75U : PRIMARY COLOR, EXTERIOR BRILLIANT RED MET (91)
76L : SECONDARY COLOR, EXTERIOR, DK GARNET RED MET (91)
76U : PRIMARY COLOR, EXTERIOR, DK GARNET RED MET (91)
77L : SECONDARY COLOR, EXTERIOR, DARK CHERRY MET (92)
77U : PRIMARY COLOR, EXTERIOR, DARK CHERRY MET (92)
78L : SECONOARY COLOR, EXTERIOR, DK YELLOW RED MET (91)
78U : PRIMARY COLOR, EXTERIOR, DK YELLOW RED MET (91)
79U : PRIMARY COLOR, EXTERIOR, BURGUNDY MET (91)
7XU : SPRING, COMPUTER SELECTED, FRONT, RIGHT HAND
80U : PRIMARY COLOR, EXTERIOR, MED QUASAR BLUE MET (91)
81U : PRIMARY COLOR, EXTERIOR, BRIGHT RED (91)
82L : SECONDARY COLOR, EXTERIOR, LT SAPPHIRE TITANIUM
82U : PRIMARY COLOR, EXTERIOR, LT SAPPHIRE TITANIUM (91)
83L : SECONDARY COLOR, EXTERIOR, MED SAPPHIRE BLUE FM
83U : PRIMARY COLOR, EXTERIOR, MED SAPPHIRE BLUE FM (91)
84L : SECONDARY COLOR, EXTERIOR, HAWAIIAN ORCHID (92)
84U : PRIMARY COLOR, EXTERIOR HAWAIIAN ORCHID (92)
85L : SECONDARY COLOR, EXTERIOR MED SLATE GRAY MET (91)
85U : PRIMARY COLOR, EXTERIOR, MED SLATE GRAY MET (91)
86U : PRIMARY COLOR, EXTERIOR, WHEATLAND YELLOW (91)
87L : SECONDARY COLOR, EXTERIOR GUNMETAL MET (91)
87U : PRIMARY COLOR, EXTERIOR, GUNMETAL MET (91)
88L : SECONDARY COLOR, EXTERIOR, TANGIER ORANGE (91)
88U : PRIMARY COLOR , EXTERIOR, TANGIER ORANGE (91)
89U : PRIMARY COLOR, EXTERIOR, AUTUMN MAPLE MET (91)
90L : SECONDARY COLOR, EXTERIOR, GRAY MET (91) 90U : PRIMARY COLOR, EXTERIOR, GRAY MET (91)
91L : SECONDARY COLOR, EXTERIOR, DK POLO GREEN MET (91)
91U : PRIMARY COLOR, EXTERIOR, DK POLO GREEN MET (91)
92U : PRIMARY COLOR, EXTERIOR, DAWN GRAY MET (91)
93U : PRIMARY COLOR, EXTERIOR, WHITE DIAMOND (91)
94L : SECONDARY COLOR, EXTERIOR, BLUE RED MET (91)
94U : PRIMARY COLOR, EXTERIOR, BLUE RED MET (91)
95L : SECONDARY COLOR, EXTERIOR, LT ANTELOPE FM (91)
95U : PRIMARY COLOR EXTERIOR, LT ANTELOPE FM (91)
96L : SECONDARY COLOR, EXTERIOR, DK SMOKE GRAY MET (91 )
96U : PRIMARY COLOR, EXTERIOR, ULTRA SILVER MET (91)
97L : SECONDARY COLOR, EXTERIOR, DK GRAY MET (91)
97U : PRIMARY COLOR, EXTERIOR, DK GRAY MET (91) 98L : SECONDARY COLOR, EXTERIOR, VERY DK SAPPHIRE MET
98U : PRIMARY COLOR, EXTERIOR, ULTRA BLUE MET (91)
99L : SECONDARY COLOR, EXTERIOR , DK SLATE MET (91 )
99U : PRIMARY COLOR, EXTERIOR, DK SLATE MET (91)