Discussion Starter
•
#1
•
I've never had an off-road vehicle since I don't hunt or do anything that would warrant a need for such a machine. But, I've been in plenty of situations where I would've liked at least more ground clearance. My current 13+ year project is an '02 S10 Xtreme that I bought almost new in December '02 with 9,xxx miles. I've dumped a ridiculous amount of money and labor into it, but have learned a lot and am not afraid to cut on a vehicle. I melted a piston in the original 4.3 V6 at 43,xxx miles after running lean with a supercharger. I decided I'd do things right the next go around and swap in an LS V8. Of course, my original plans to use a stock 6.0 from an Escalade escalated because of the "while-I'm-in-here-I-may-as-well..." mentality. It became a high-compression/head/cammed/all-other-supporting-mods beast slated to put out at least 450HP/TQ, figuring fairly conservatively. I've been building up the S10 in preparation for the amount of power- beefier parts, suspension mods, and even a fuel tank relocation behind the axle for weight redistribution. It would still be a total street truck with full interior, A/C, stereo, etc. Although I drive a company van daily for work, the S10 is still at daily driver status as not disassembled in the garage collecting dust and I drive it all the time. Since spending so much money and effort doing all these little things to give the truck a half-assed chance of being controllable on the street, the V8 still is't in it and I lost a lot of the drive to work on it. I decided that since I wouldn't be running slicks and a strip-only type suspension, a lot of that power wouldn't make it to the ground. I'd never be able to drive it on wet roads and God help me if I ever catch some loose gravel! I'm quite sure that I'd be happy with ~350 horses on the street from a mildly-modded 5.3 or 6.0 in that S10. The extra 100+ I'm giving up would never be used as it would just go up in tire smoke. I've also always wanted/needed something much more utilitarian, but I don't need the hauling capacity of a full-size truck. I also wanted something with more interior space as my girlfriend has two young girls. I'd love for us all to be able to go do some road tripping/light wheeling together.
On Wednesday, September 29, I saw a 19-hour-old craigslist ad for a super clean '01 XJ. It had 160K miles and "a rough idle and low brake pressure". I was certain and hoping it was a simple dry rotted brake booster hose causing a vacuum leak and hard pedal. The guy was asking $3,000 and was negotiable due to the problems it had and because he was moving out of state soon. So I was in a frenzy to come up with money ASAP and began contacting friends. I was able to look at the Jeep early that next morning. The guy had a lot of calls and phone offers, but I was the first to actually come out and see it. After a thorough examination (for the limited timeframe we had), I knew it was "the one". The problems it had weren't as simple as I had hoped for, but nothing I couldn't handle. Banking on it needing a new motor, I offered him $2,000. He asked if I could match a phone offer he had of $2,200. I could barely contain myself as we shook on the deal. NOW I absolutely HAD to find a way to get cash! A friend of a friend was looking for a torquey motor for his newest project, a '68 C10. I got his number and we talked later that Thursday about the build specs and settled on a price for my motor. I met up with him at a car show that Saturday morning and he gave me the cash. I then went to my friend's house for him and I to take his truck and trail rig trailer to go pick up the XJ. I took a loss on selling that LQ9, but I'm not looking at it as such a negative. With what I sold my built motor for, I was able to purchase this Jeep AND have enough left over to buy a more sensible V8 (stock-ish 5.3, LQ4 6.0, etc.) to swap into my S10. I'd have my nice off-road family utility vehicle AND my fun S10 for the street.
Now, on to the pics and why I refer to this XJ as a "unicorn"...
Here it is, almost 100% bone stock: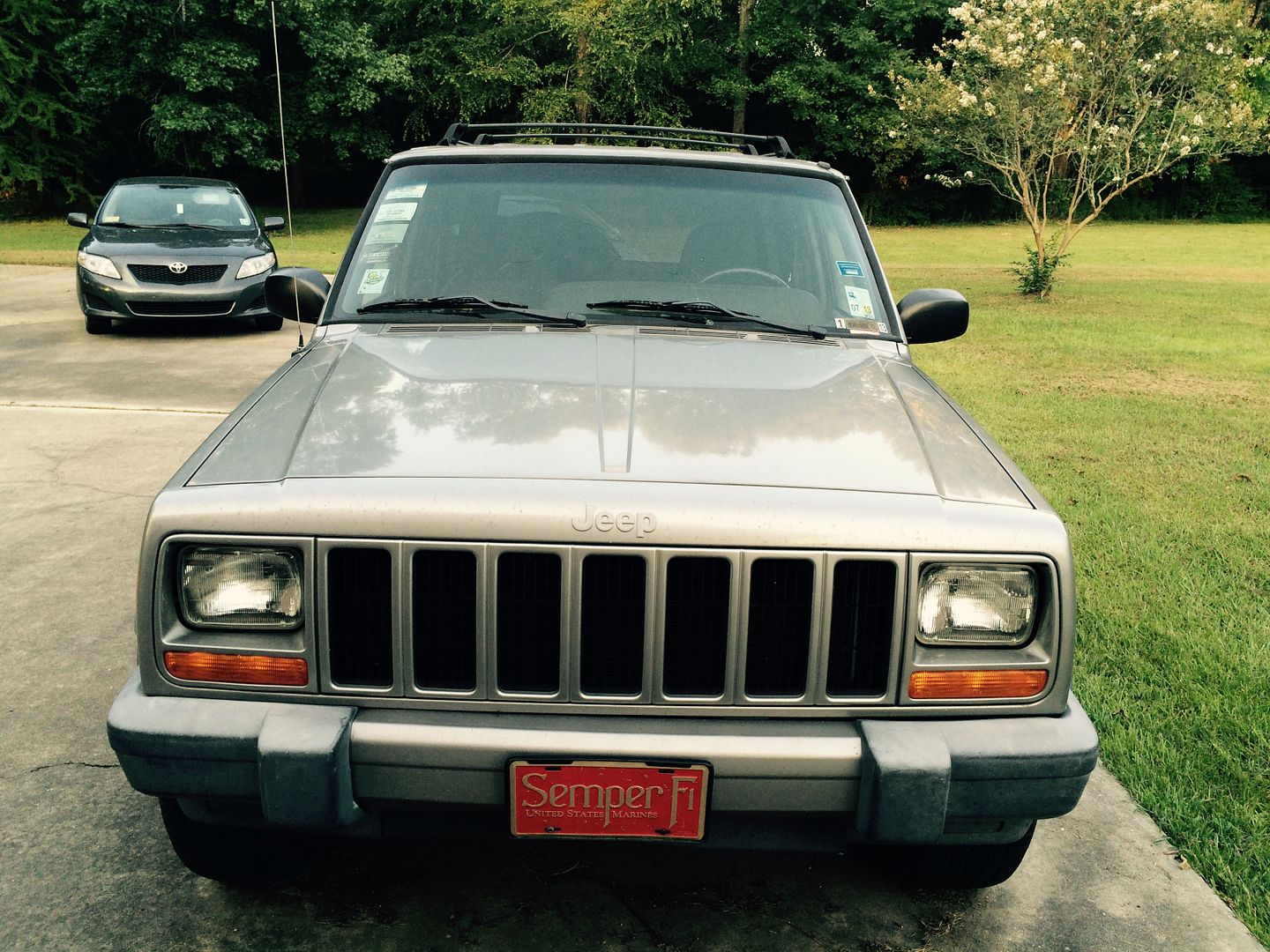 Rust is almost non-existent here and the little it has is mostly from the time period where it just sat. There's not a single dent or spot of rust on the underside of the unibody. I'll get some reinforcements on the rails before I do anything with it off road. From the looks of it, this thing has never been wheeled. It has two VERY small dings on the driver's side and I think I saw two VERY shallow ones on the hood. There's a few small spots within a 3 inch area on the back left corner of the roof where the paint is bubbled and has rust under neath. I'm thinking something chipped the paint off there, like the CB antenna, and it was never protected. The rain gutters have light surface rust in them. Other than that, the paint just has some minor scratches that appear to only be in the clearcoat.
It has cold A/C (recently replaced compressor and lines, possibly a condenser as well), hot heat, all the power goodies (that all work), and a super clean interior (with front, back, and cargo area Husky mats!). It needs a headliner (common Xj problem).
There are no cracks or rips in the leather:
What I really love about it is this (No, not the CB radio and certainly not the crappy Alpine!):
The clutch, shifting, and transfer case all seem to operate fine. From what I'm told, the combination of leather interior, 4WD and a manual transmission is rare, hence the "unicorn" reference.
MY PLANS-
Before I even had the cash to buy it, I was already getting leads from my friends on lift parts. One friend had some Rusty's 6.5" coils and a track bar layin around. The coils look fine and the track bar just needs bushings and a new adjustable end. Small price to pay for otherwise free parts! A few days later, another friend had some long travel radius arms that need some work. Again- free parts! At least the Johnny Joints are still solid and smooth. Best I can tell from Googling around, the arms are from Rough Country. Between my friends and I, we can build crossmembers, bracketry, and whatever else would be needed to mount everything up. One of 'em will be converting his XJ to links and coils in the rear this November, and said I can have his leaves. It's gonna have a sizable lift, but I'm not gonna beat it up on the rocks. It's gotta remain a clean and fully-functional daily driver that can be taken out to dinner on a Saturday night. I just wanna be able to hop those pesky speed bumps or occasionally crawl a parking bumper at the mall
. I'm gonna keep the current 8.25 and D30 for now as I feel they'll be fine with my intended uses and modest 33-34" tires. Plus I just don't have the funds for axles at the moment. Other than the lift, I plan to build all the expected and necessary armor- bumpers, sliders, etc. I have a decent collection of metal stock and heavy-duty universal parts. I know I'm gonna have much more fun fabbing up the heavy metal stuff than all the little light weight and space-constrained items I have to for my S10.
Free stuff:
Of course, my first goal is to get it running reliably. The brake problem turned out to be a leaking right rear wheel cylinder. The rotors don't look so healthy, either. I'll just give it full-on front and rear brake job and flush the system while I'm at it. Just a leisurely Saturday's work. That rough idle is what I attacked first. After verifying fuel and spark, I ran a compression test. I video'ed the testing of each cylinder for later comparison. All cylinders pumped to 75-ish on the first stroke, then 120-ish, then 150-ish, then peaked around 170-180 except for #4, it never registered on the gauge. I popped the valve cover and found this:
#4 intake pushrod just laying to the side. The rocker bolts were still torqued down and the pushrod wasn't bent. I unbolted the rockers, positioned the pushrod, then reinstalled the rockers. I ran fired it up with the valve cover off to watch it. The engine was now hitting on all 6 and idled so smoothly that I could barely tell it was running. My best guess is that during that time period it just sat, the oil drained from the lifters. When the guy finally started it, that one lifter was too slow to pump up and the rod fell out. Regardless, it's getting a set of new lifters. That's not the main concern, though. After reading up on these 331 heads being so prone to cracking around the #3 and #4 cylinders, I began inspecting it closely. It wasn't hard at all for me to find an expected crack:
(CLICK IMAGE FOR VIDEO)
I apologize if the vid quality is crappy. Photobucket has gotten bad lately. But, near the base of that rocker tower, you can see drops of coolant forming from the crack and running down into the oil flow. I'm hoping this amount isn't enough to have done any damage. The oil is dirty but not milky. I'm hoping that it hasn't been doing this for very long and that most of the coolant is burning off instead of mixing with and diluting the oil. At this point, I'm feeling pretty confident that I can just clean the block of the sludge, replace the lifters, slap on a new aftermarket or rebuilt TUPY head, and continue on for another 100K miles. We shall see...