Discussion Starter
•
#1
•
I'm long overdue for a project thread of my Xtreme waste of hard-earned funds (see what I did there?). So, here it is. I dug up as many pics as I had digitally saved from as far back as I could go. There will be some short stories, so for those with ADD, just scroll through the pics as they're in half-assed chronological order. I titled this thread "My punching bag" because about all I ever do with this truck is beat on it. But, when something breaks, that's because it needed to be improved anyway. So, in a way, I'm taking good care of it because it gets better with every failure.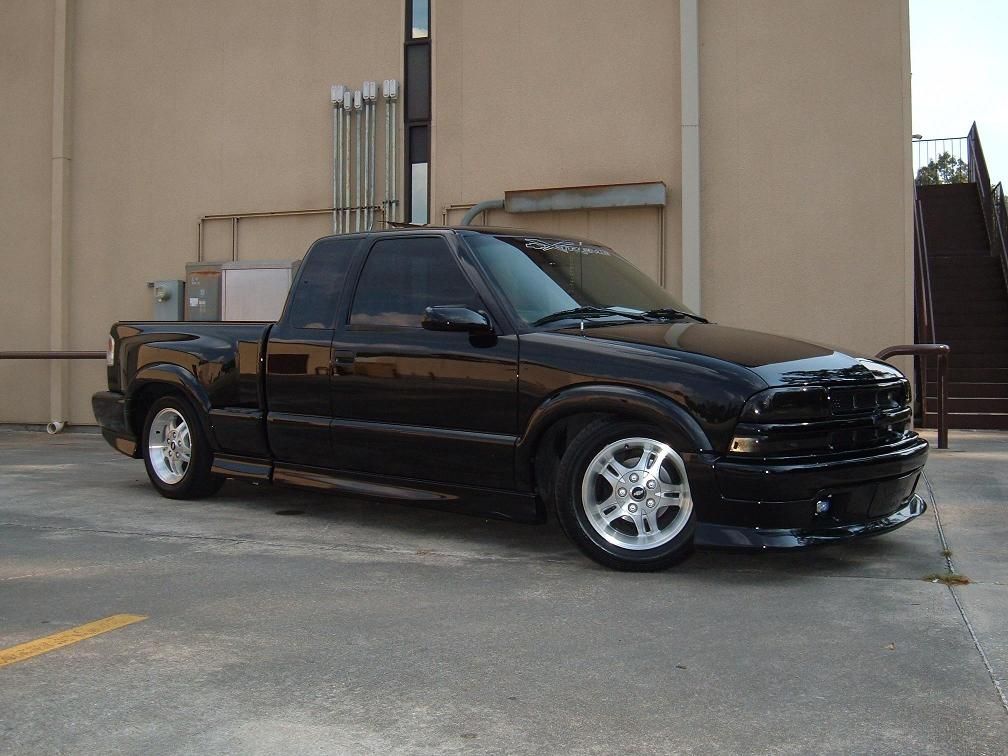 This is my 2002 Xtreme, known as "Abby". She didn't really have a name until about 7 years ago, when my girlfriend (Ashley, now wife) insisted she have a name. Everyone seems to call their vehicles "Baby", so she decided on "Abby" as a spin on that and since the truck seemed to have a cool, but dark personality just like the Abby from NCIS. Whatever, it works for me.
I bought it in December of 2002 with about 9,000 miles on it. The new guy at work bought it right before he was laid off from his previous, much higher-paying job. He had a buddy that did spray-in liners, another that did tint, and another that was a detailer. So, it already had the basics and a good polish inside and out before I first saw it. I wanted it, but couldn't get approved for the payoff amount to buy it from him. It soon got repo'ed, and I figured it was gone. About a week later, I was calling around to dealerships asking specifically for a 98+ S10 with extended cab, V6, no tan interior, and had to have power windows/locks/mirrors/etc. Most of what they had were 4-cylinder trucks with no power anything. One salesman at a dealership about an hour away said they just had a truck come in from auction the previous night, and he believed it might fit my requirements. He called back to tell me what it was, and that it had a spray-in liner and dark tint. I asked if there was a small chip in the paint where the tailgate met the bed side. He came back to tell me there was. It was my truck! He told me what they were looking to get for it (which was less than the co-worker's payoff), and that they'd work with me since I was willing to drive an hour out to make a deal. After some small negotiating, and having my girlfriend's dad co-sign (His offer- I never even asked!), the truck was mine. I even drove it back to the original owner's house to get the spare key and remote, and he even had the silver "Xtreme" windshield decal that he never installed.
I told myself since the truck was already lowered and had nice wheels, I wasn't going to do anything to it at all so I would have a better chance at avoiding attention from the law enforcement. Yeah... I believe within the first week I already had clear bumper lenses, "Euro" tail lights, a smoked 3rd brake light, and "hyper white" bulbs all around for the exterior. A couple months after that, I took it to the place I used to work at to have a power sliding moonroof installed. At work, I kept the roof in the "vent" position while I was working at the shop and not on job sites. I was sent to a site near the shop, but got stuck there for a while. Of course, a hellacious rain storm passed, and there was nothing I could do. I got back to the shop to find that the rain ran down the inside of the moonroof and dripped straight to the floorboards. It barely hit the front edges of the seats and the bottom of the steering wheel. I took it home and immediately stripped the interior. Since the truck was still "new", there was no dirt to cause any stink when the carpet got wet. I just hung it over a clothesline to air dry, and used a hair dryer on the seats.
I figured since the carpet was out, I'd make the best of it and wire the truck for sound. So, the next day, I bolted down the driver's seat and went to Wal-Mart to pick up some 12 gauge speaker wire and duct tape. Of course, this led to a handful of HU changes, a set of Kappa components in the doors, a set of 4x6 JBL plates in the dash, and a few variations of 12" subs, enclosures, and amps behind the seats.
Over the next few years, I continued to tweak on it. I don't remember the exact order of events, but I'll just list the mods as I recall them:
Blacked-out bow tie
Tinted headlight, bumper light, and tail light covers
Various driving light sets
White underbody neons (I'm old)
Power/heated SS mirrors
2" drop with Belltech spindles and JTR blocks with 3º shims
JTR driveline alignment kit
17"x8" MB Vintage wheels
Homemade hot air intake from left-over Civic intake parts (I've learned since then)
ECC step shaver
Shaved tailgate
Checkmate flushmount bed cover
Custom-made shorty antenna
Single in/dual out muffler with dual rear exits
JBA shorty headers
Stage8 locking header bolts
Taylor Spiro-Pro ignition wires
MSD 6A
Cleared and silver painted gauge needles
Blue-tinted odometer and gear indicator windows
6000K HIDs
Aluminum 3rd door handle
LED bulbs all around inside/outside
Full PST polygraphite bushing kit
Wynjammer supercharger at 6psi
Boosted Thrills frame plates and Energy Suspension polyurethane engine mounts
Zexel Torsen differential
Blazer rear disc brake conversion
Helper springs on the leaves to eliminate wheelhop
Blazer master cylinder
Brake proportioning valve delete
Cryogenically tempered Powerslot rotors
Hawk HPS pads all around
Deleted catalytic converter
O2 sensor simulator
Taurus electric fan
20"x8.5" American Racing Torq Thrust type "M" wheels
Envoy door handles
From here on, I'll just post pics and explain: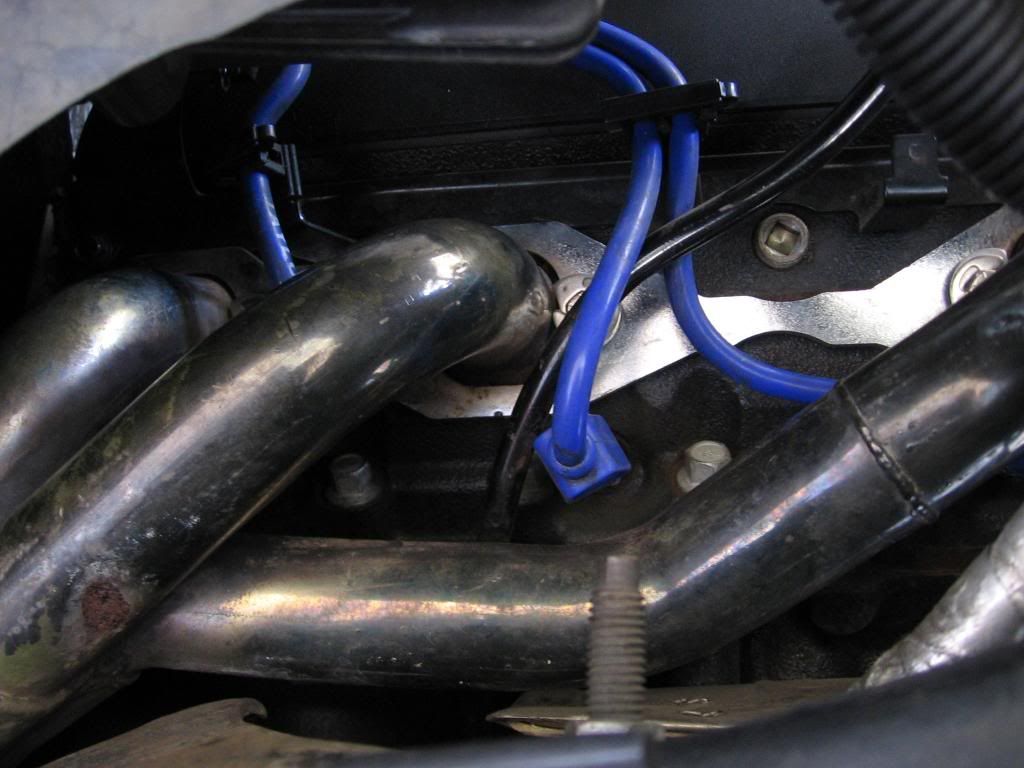 JBA shorties. I know headers don't do much of anything for the amount of work they require to install. But, I bought these before I knew better and I got 'em for $80, IIRC.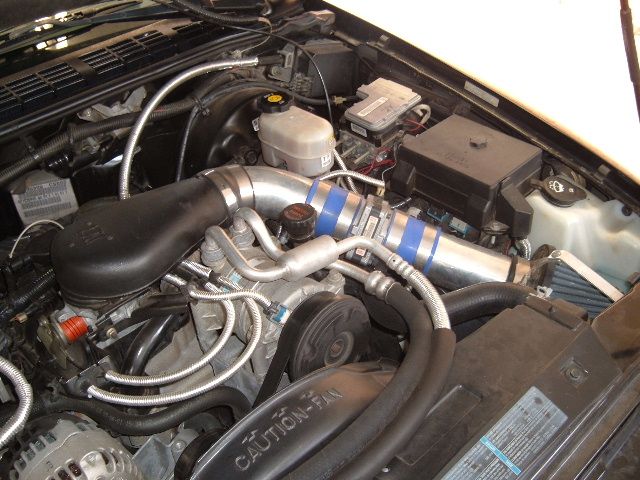 Homemade air intake. Again, before I knew better. I had this intake left over from my Civic days, so I threw together a quick intake.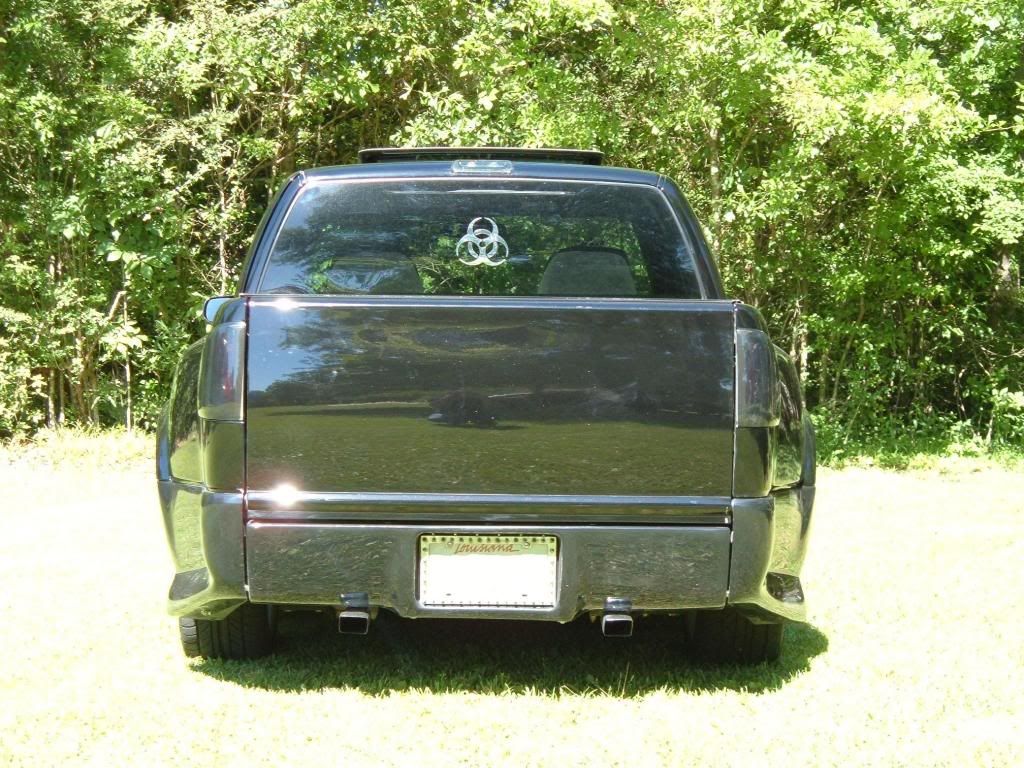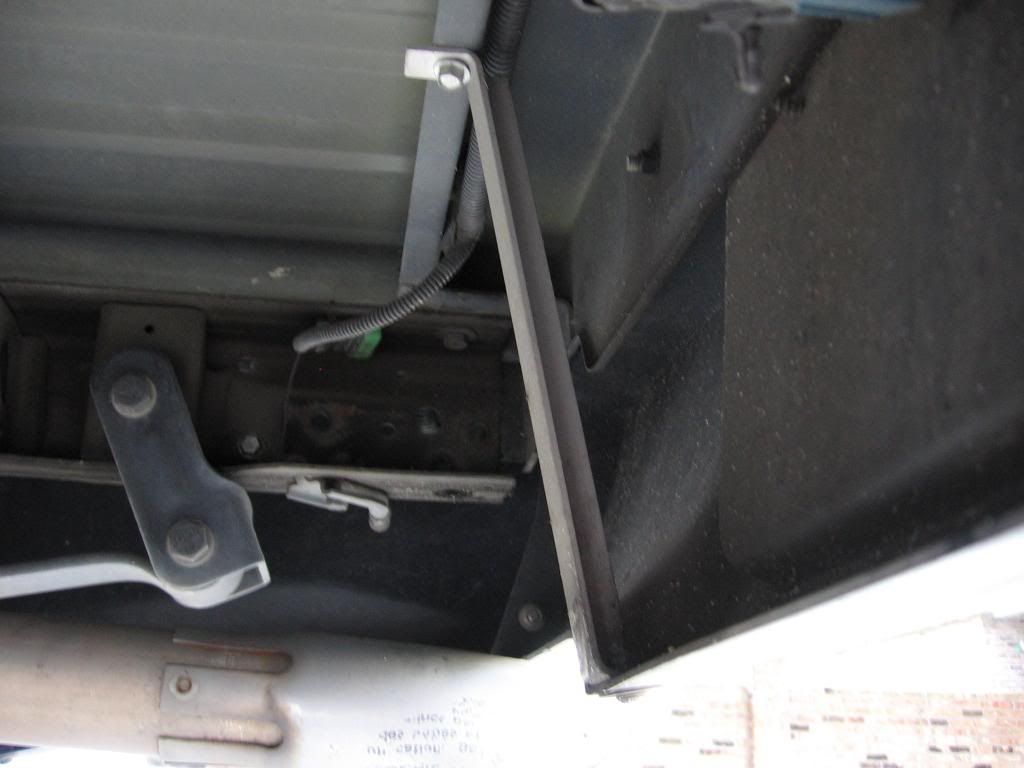 ECC Step shaver kit. I used all chrome and stainless hardware, and braced it with aluminum angle. I used chrome spacers to have an even gap between the roll pan and side pieces.
Webasto Hollandia power moonroof. I mounted the switch under the factory window switches. I nicked the switch panel with my rotary tool, but I have plans to use a 4-door Blazer switch panel with the rear passenger switch shaved if I can make the factory switch operate the 'roof. Also pictured is the tweeter for the Kappa components.
This is the only pic I could find of the Wynjammer, and it was taken during testing of that spoiler's brake light. That cheesy chrome loom will all be gone once the LQ9 is swapped in.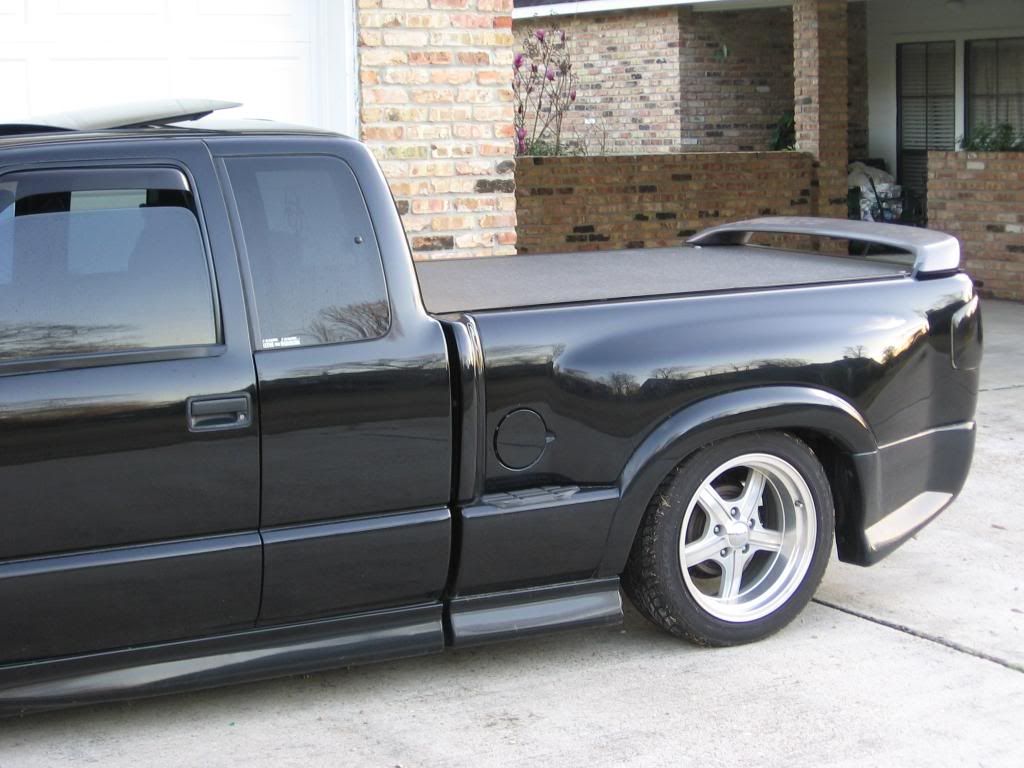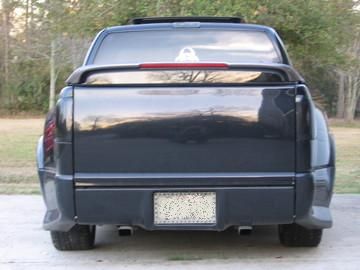 Speaking of spoiler, I snagged this off an abandoned 5th-gen 4-door Civic (in a Church's Chicken parking lot in the 'hood!) while I was collecting other needed parts. Just for S&G, I tested the fit on my truck. IMO, it actually wouldn't look out of place, if you were into such a thing.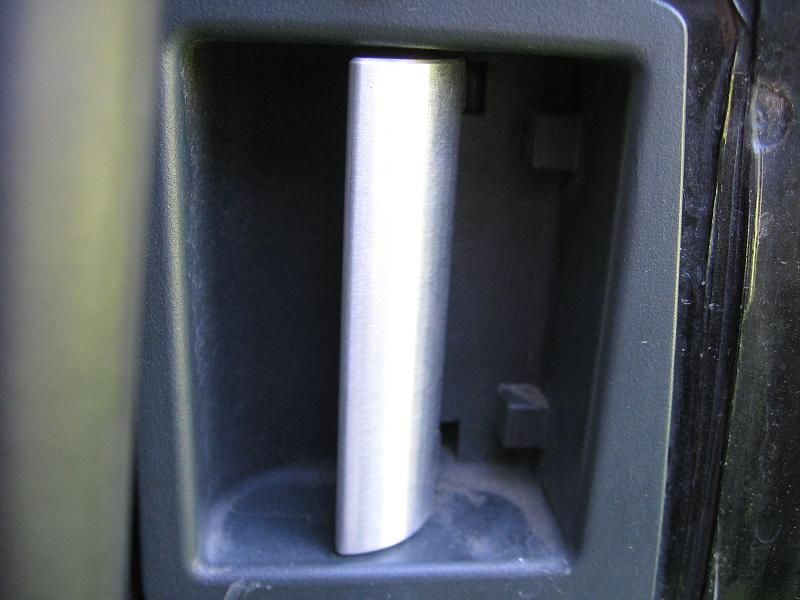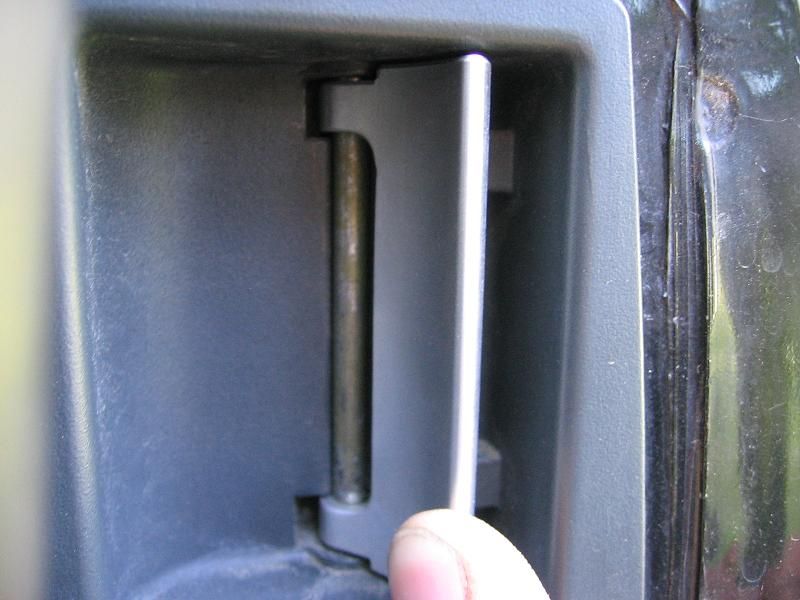 Aluminum 3rd door handle. This thing is a work of art. It's basically a billet aluminum version of the original plastic handle.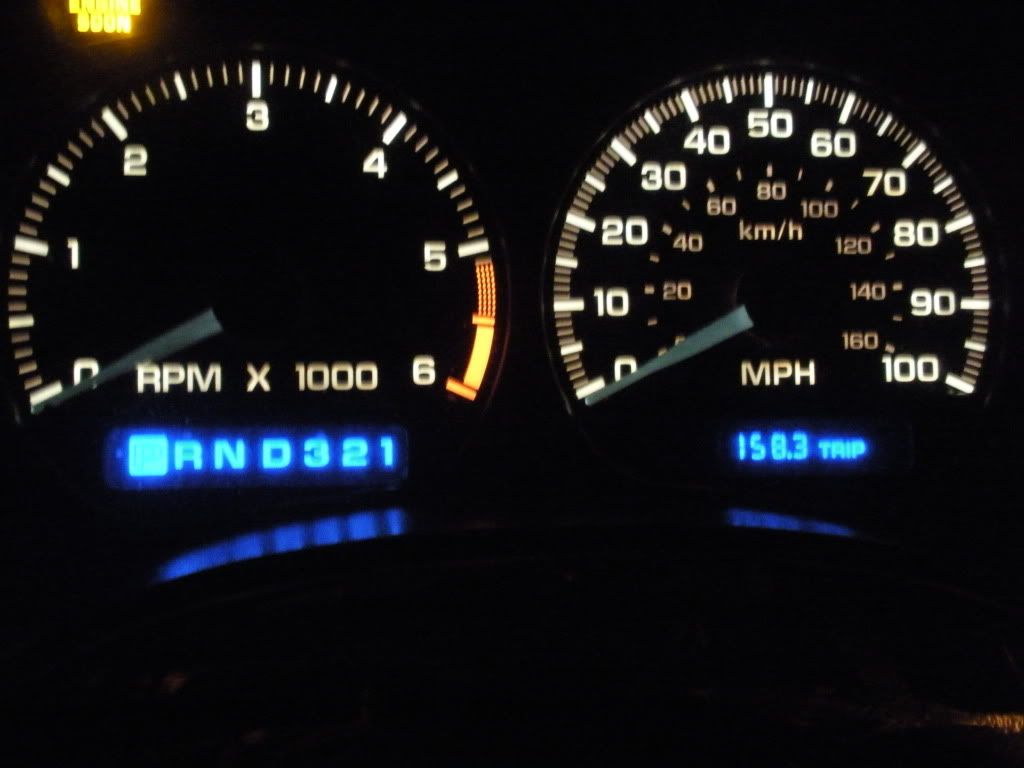 Gauge cluster mods. Blue tint over the odometer and gear indicator screens, orange on the needles was replaced with silver, bulbs illuminating the needles have blue gel caps on them.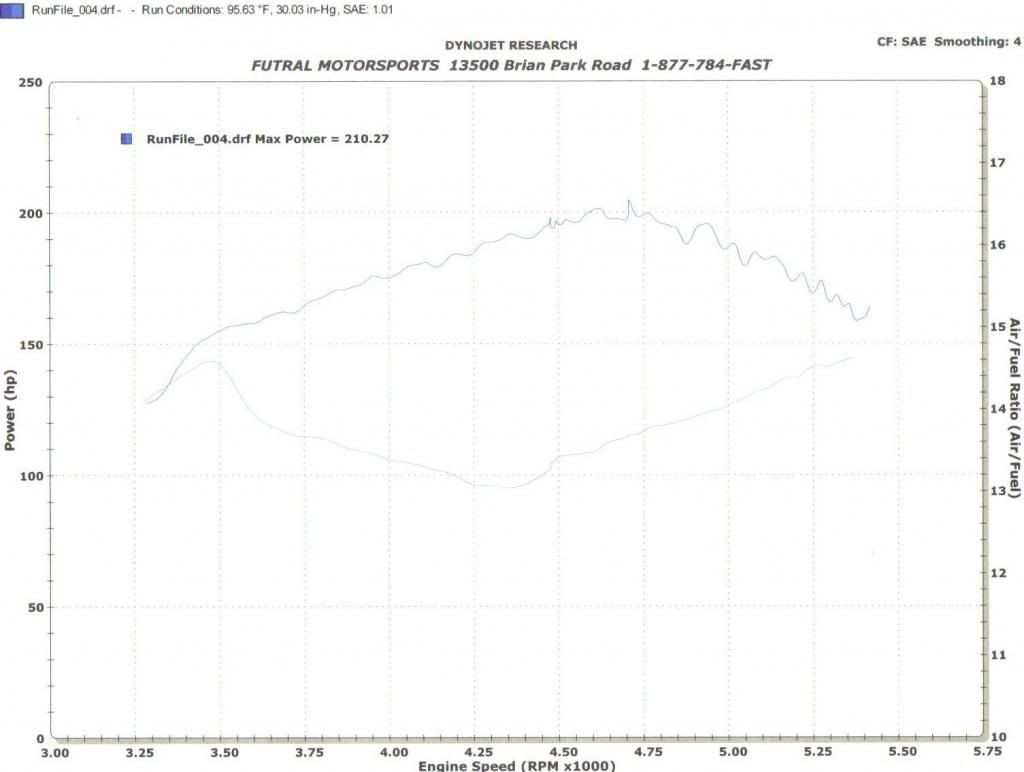 Dyno runs with wideband O2 readings to test supercharger. I had a bad tune, as indicated by how lean it was running. If only I knew then what I know now...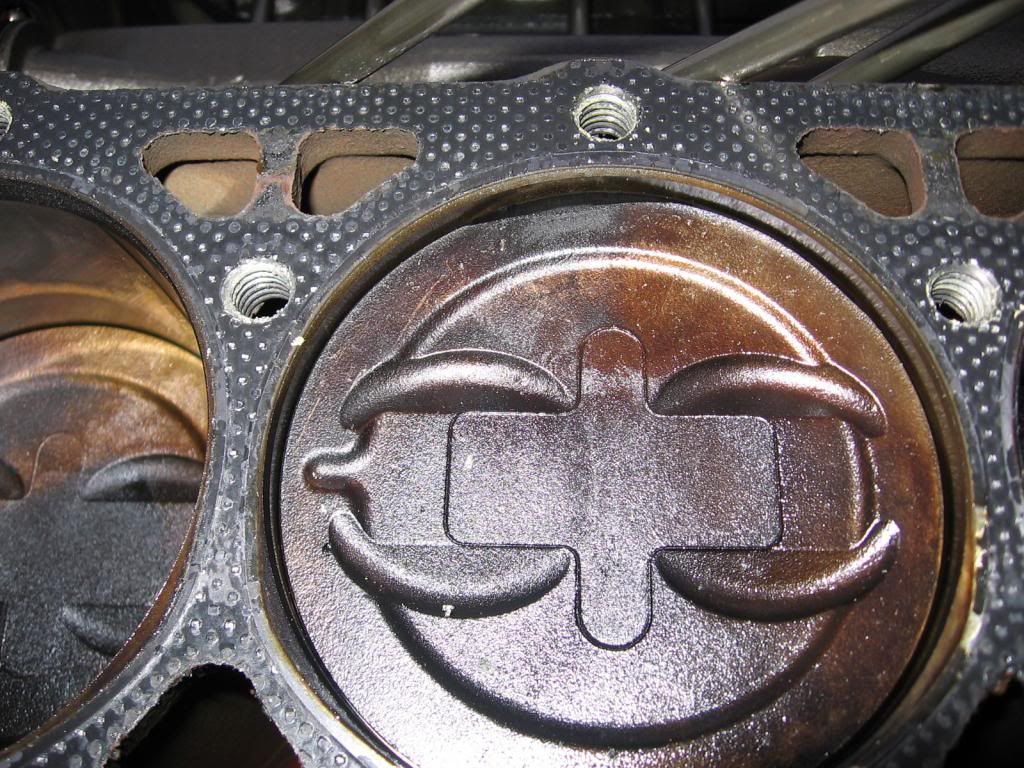 Melted #3 piston. I didn't know just how bad I was treating the original engine running it lean, and this was the result at 43K miles. It was boosted for only about 10K miles. As bad as I wanted to, I just wasn't in a position at the time to do a V8 swap. So I had an 8K mile 4.3 from an '03 swapped in to get it back on the road. I keep this piston around as a reminder to "do it right, or do it twice" and that when "you play, you pay".
I had a chirping sound that I couldn't track down. After removing the dash and still hearing it, I took it to the NVH specialists at the dealership and left it with them for 3 days. They gave up and told me to come pick up the truck, no charge. That weekend, I bought a mechanic's stethoscope from Harbor Freight and listened around the floorboard while Ashley drove over reflectors in the road. I pinpointed the sound to be coming from the front, RH side of the transmission tunnel. I crawled under the truck and went straight to the source of the sound- the lip on a heat shield was ever-so-slightly rubbing the cab floor when the truck hit bumps. Five seconds with a length of rebar tapped by a hammer bent the lip away.
Since I already had the dash out, I decided it was a good time to have it dyed black as planned. I gutted the dash and reinstalled everything so I could drive the truck as normal. Went dashless for about 2 years.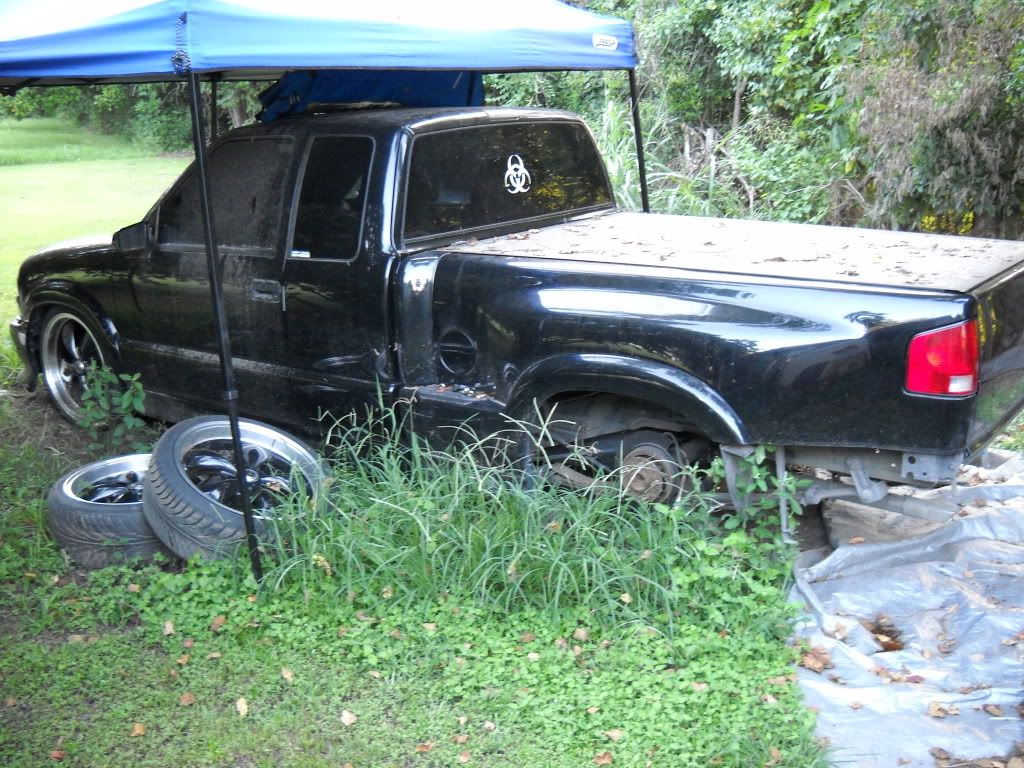 I put the truck up on jack stands one day for a simple brake job. While I was messing with the brakes, I wanted to do some small upgrading. I had some SS braided lines made up by Kore3, and I smoothed and painted the calipers. While the truck was in the air, I found a guy to mold the step shaver kit into one piece, as well as paint a Sonoma hood I acquired at that time. This was the only area I had to work in, and due to the snowballed project, the truck sat there for about 6 months while I did all the little stuff as I found the time. I did start it every weekend, though.
I never caught this back when I originally installed the Blazer rear discs, but the caliper abutment bracket wasn't centered over the rotor. This is because the disc setup is slightly wider than the drum setup. After reading about people making special spacers, etc., I just adjusted the location of the bracket by grinding some bulk off of the mounting bosses and shimming with washers.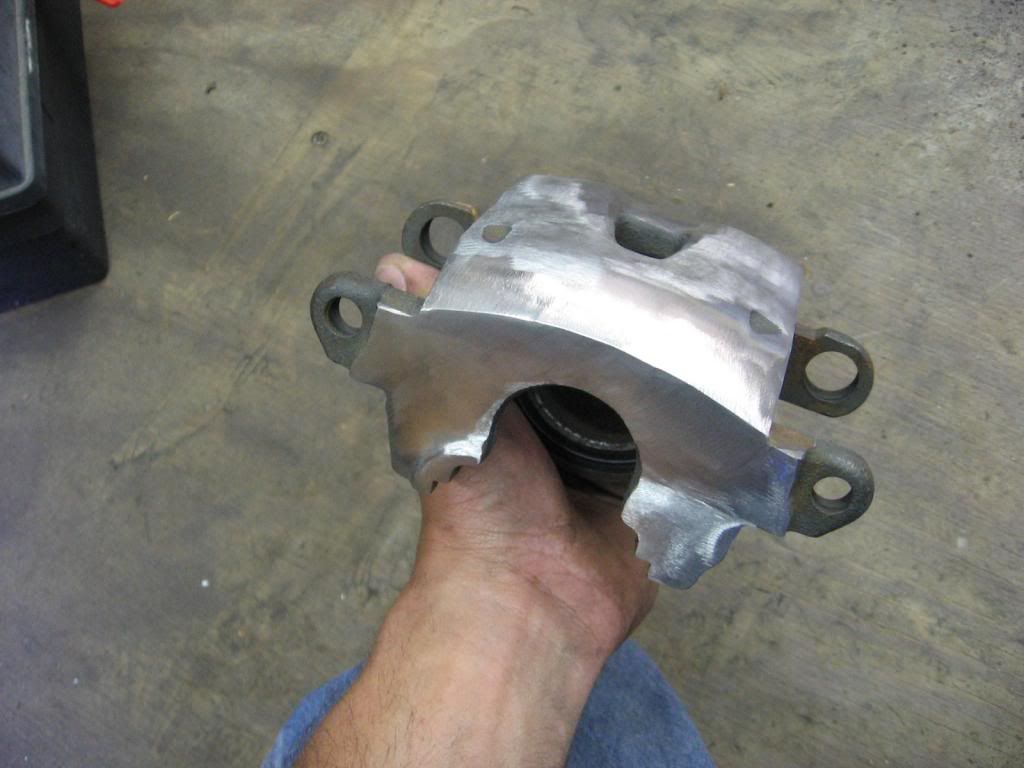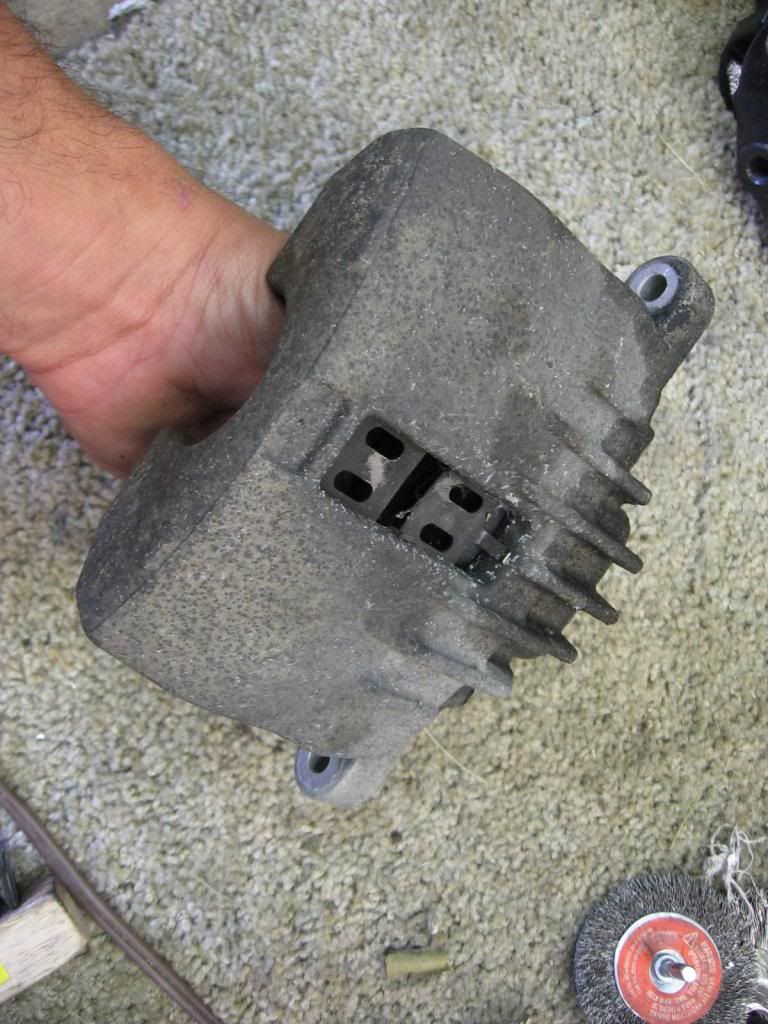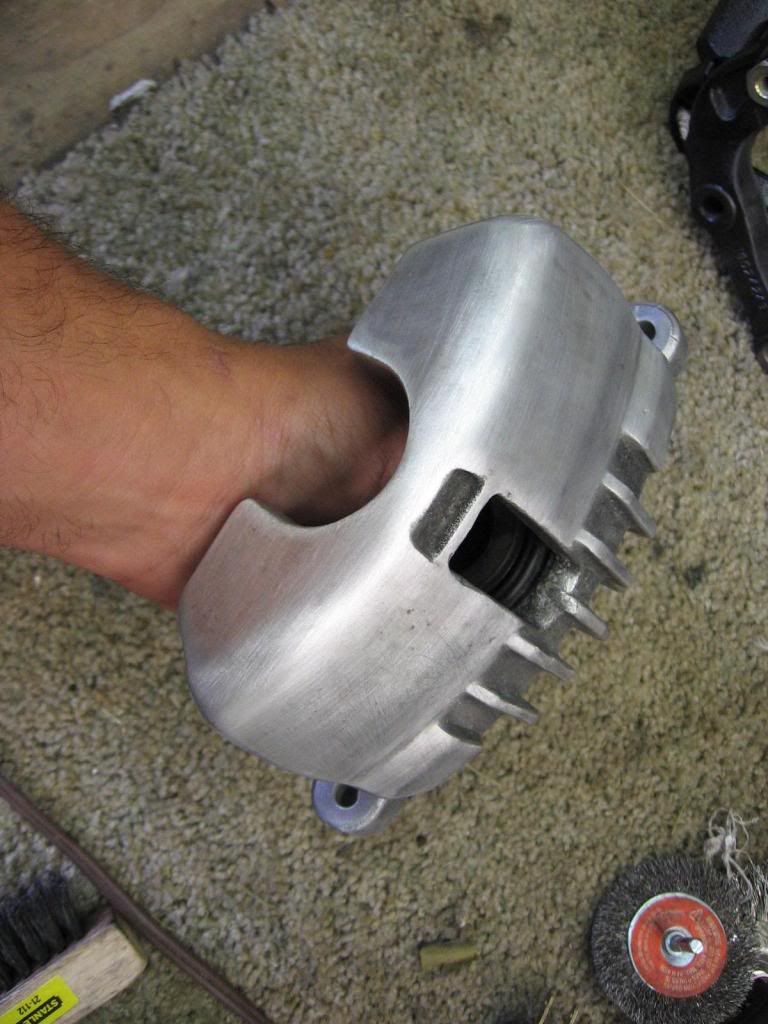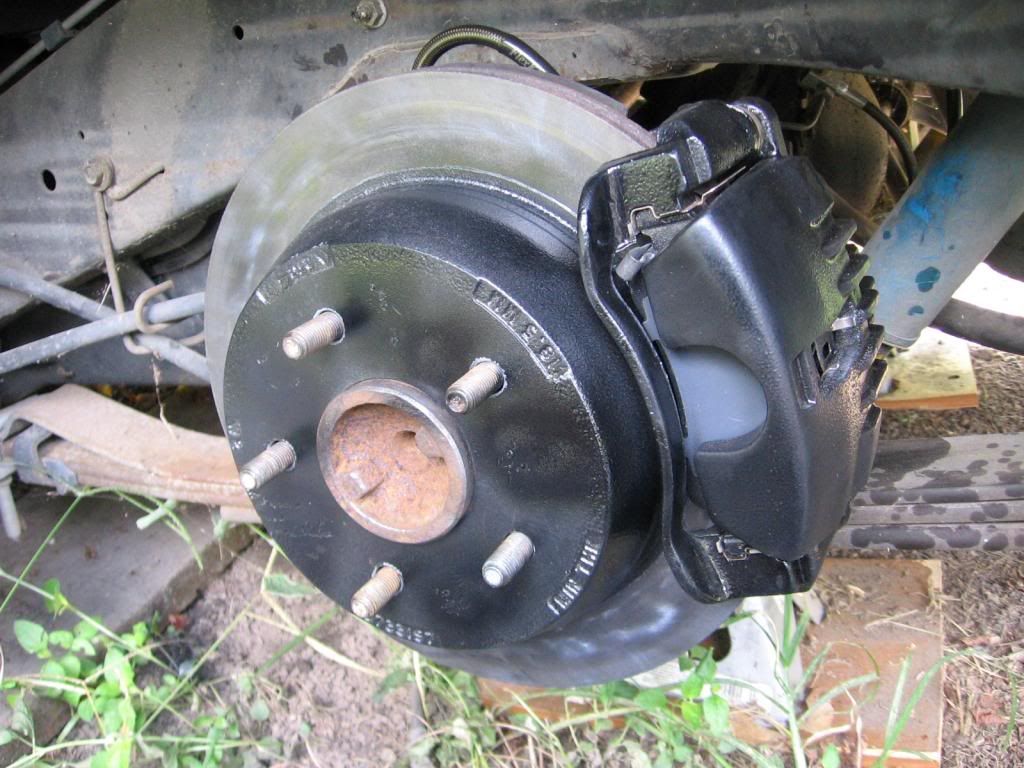 Before and after pics of the calipers.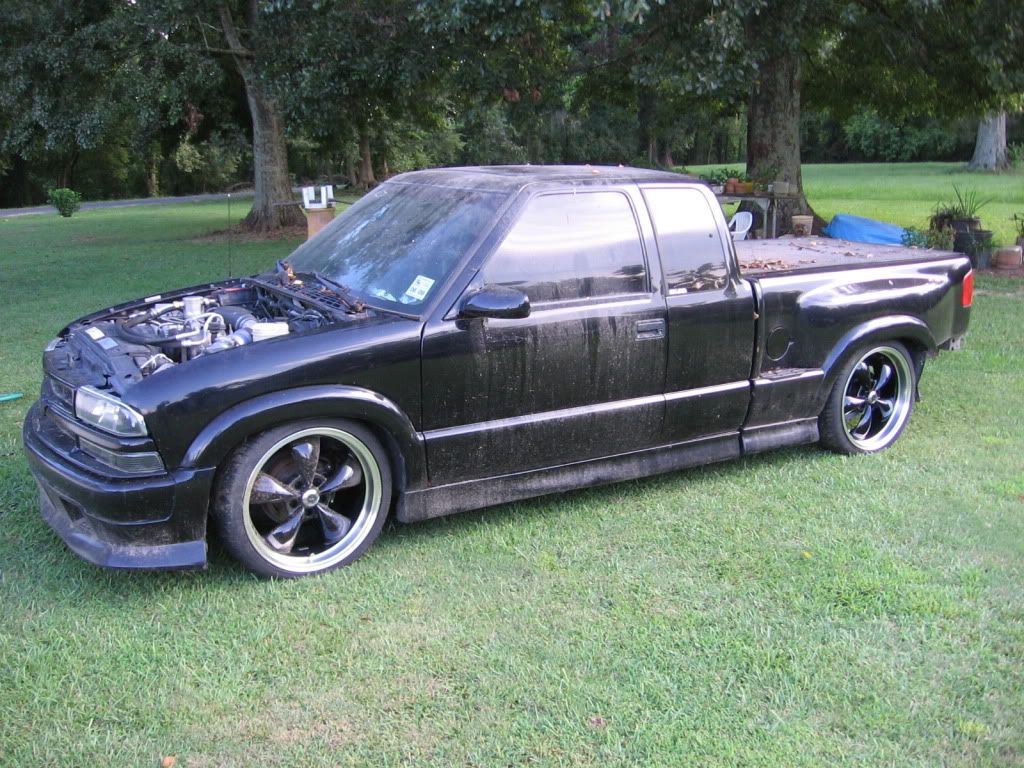 Finished the brakes and went for a drive straight to the carwash.
I took it to work the next day to install the freshly shaved and painted Sonoma hood and step shaver kit.
Things kinda stalled with the truck since it wasn't my daily driver any more and I worked long hours. Also, I got married and built a house. After getting settled into the house, I was ready to start messing with the truck again.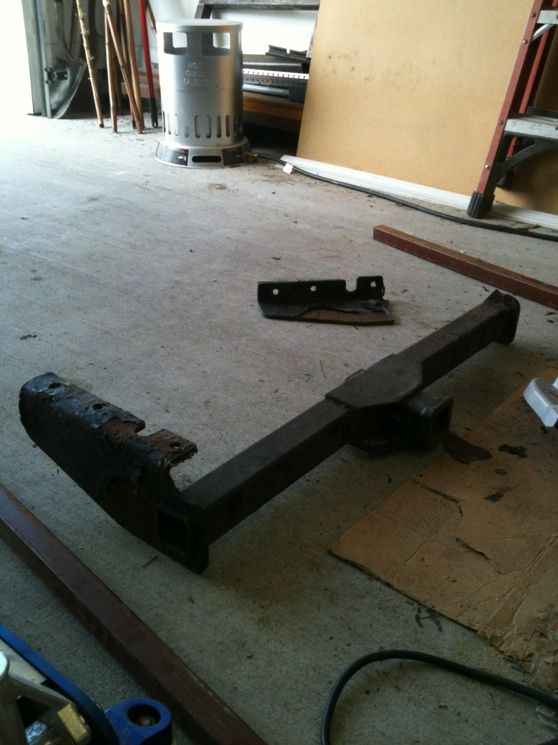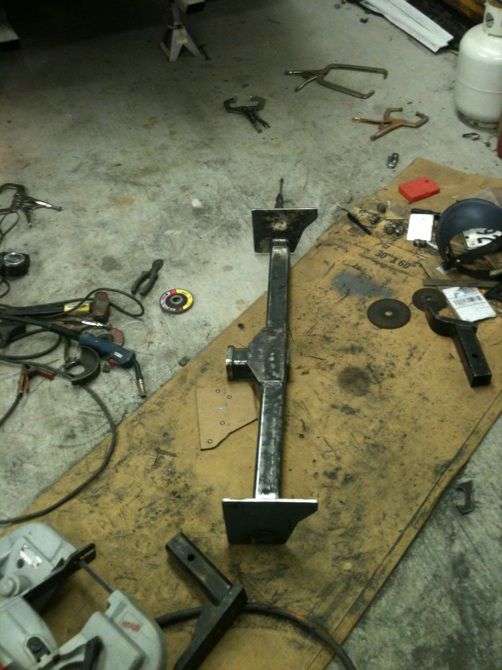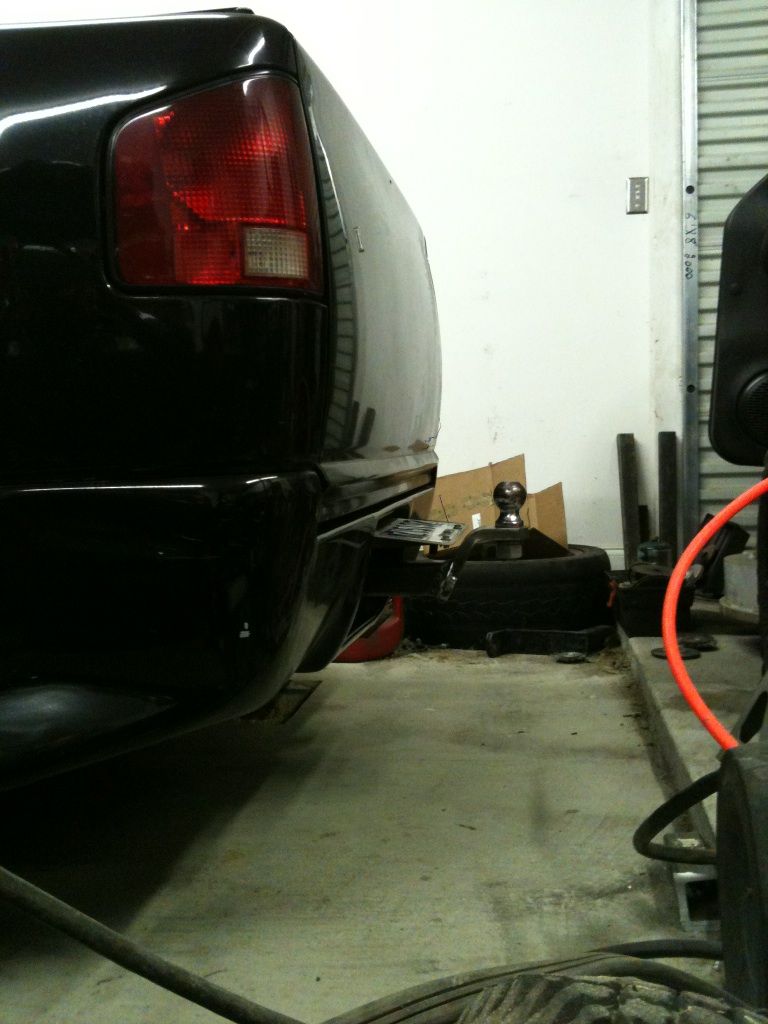 I sold my DD, and I needed something to pull my little trailer around during those few occasions it was necessary. I picked up a ClassIV hitch a few years ago off craigslist for $20, and finally had a use for it. Basically, I cut off the original end plates, made some new ones from 5/16" plate steel to locate and fit the hitch to the S10, cut a hole behind the license plate, then mounted the license plate on a flip-up mount I got from a car at the salvage yard.
In preparation for the LQ9 swap, I wanted to do some weight redistribution by converting to a Blazer fuel tank and relocating the battery. I bought a new tank for a '97 Blazer because it was metal, and I was gonna have to do some welding on it for the filler neck. I also got a Walbro fuel pump from Racetronix, and installed it into the cheapest eBay module I could find. I just needed the module for the plastic bucket and bulkhead, so there was no sense in spending the big bucks on OEM stuff. The module worked just fine after I tightened up the slack in the fuel level sensor.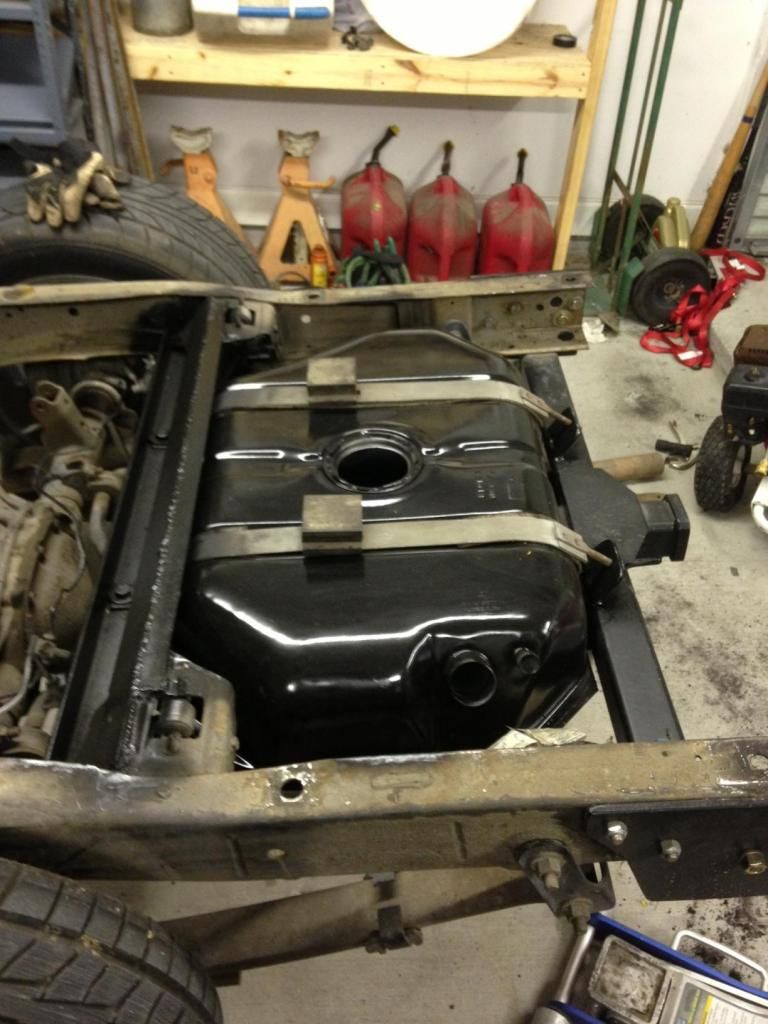 I mounted the tank in the same manner as it would be in the Blazer with the metal supports and straps I got from the salvage yard. The hitch ended up being a perfect spot to weld tabs to as well as bolt the lower support brackets to. I made a simple crossmember from some 2x3x1/4" angle to bolt the front of the supports and straps to.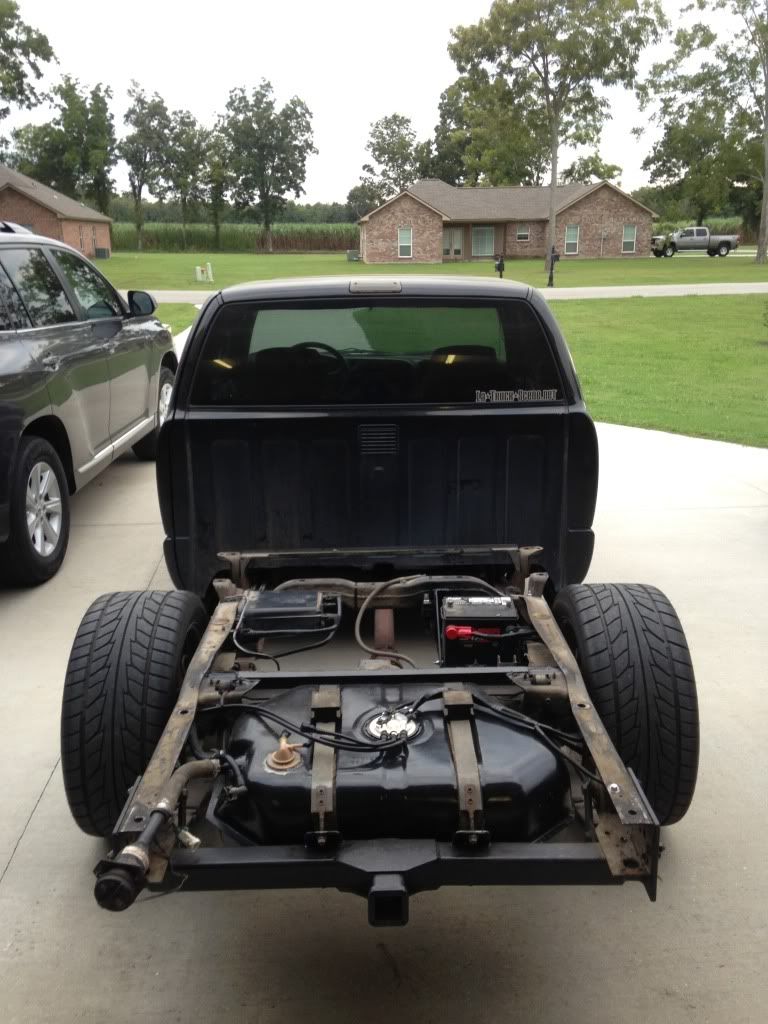 The tank was plumbed in a factory manner as well. I used OEM-style quick-connects to join nylon tubing to the metal fuel lines near the back of the cab, and ran the nylon tubing all the way to the back and to the pump bulkhead. Technically, this is all temporary as there will be almost all metal lines once I install the 'Vette fuel filter during the V8 swap.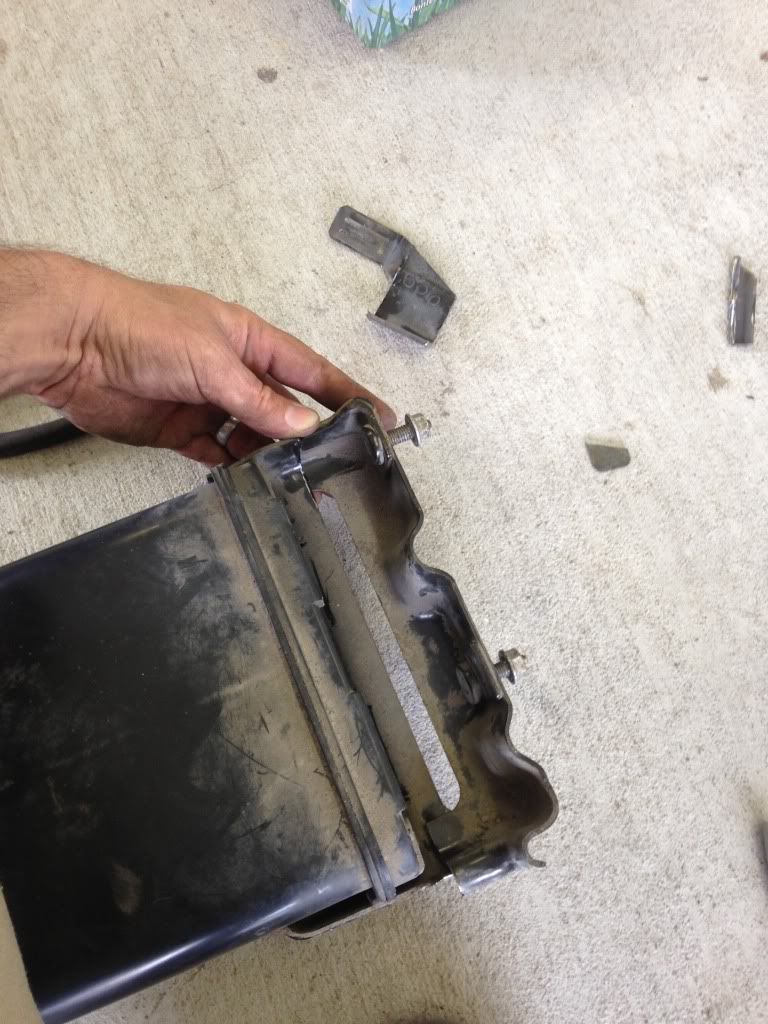 I transferred the EVAP components from the original tank to the Blazer tank, and relocated the charcoal canister because the axle had been contacting it. This would only get worse with an 8.8 axle installed.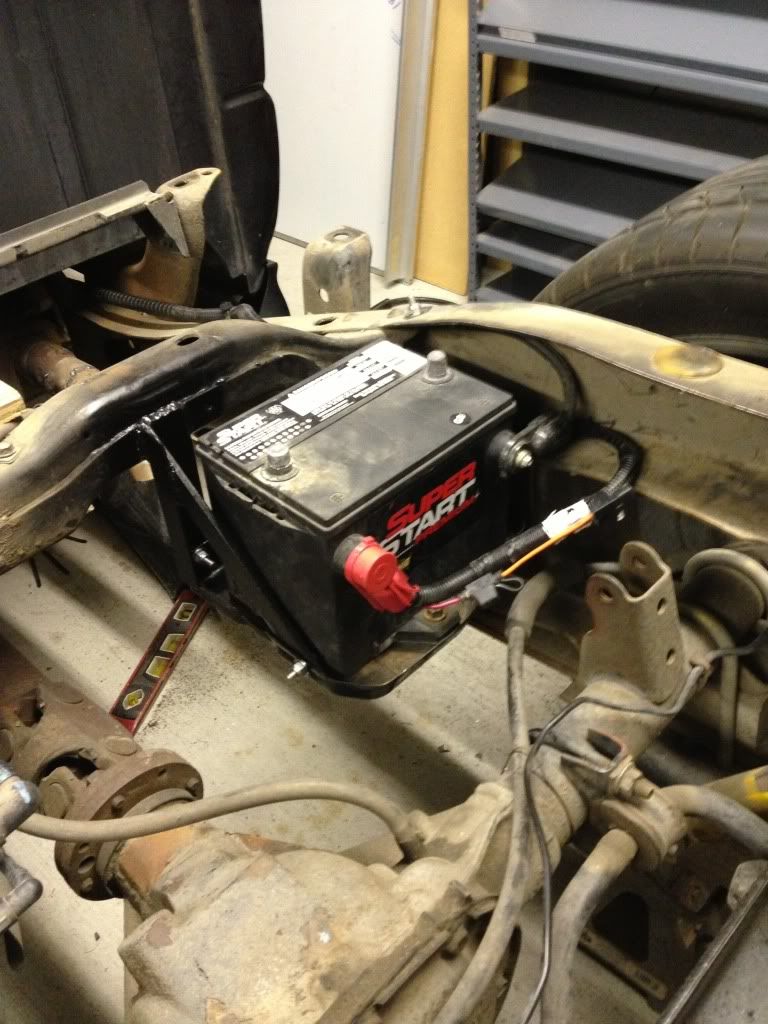 For engine bay clearance and further weight redistribution, I relocated the battery under the bed. In keeping it as factory-designed as possible, I used battery cables from a Saturn Ion to retain the side terminals. The new fuel pump is powered directly off the battery through a heavy duty weather-tight relay.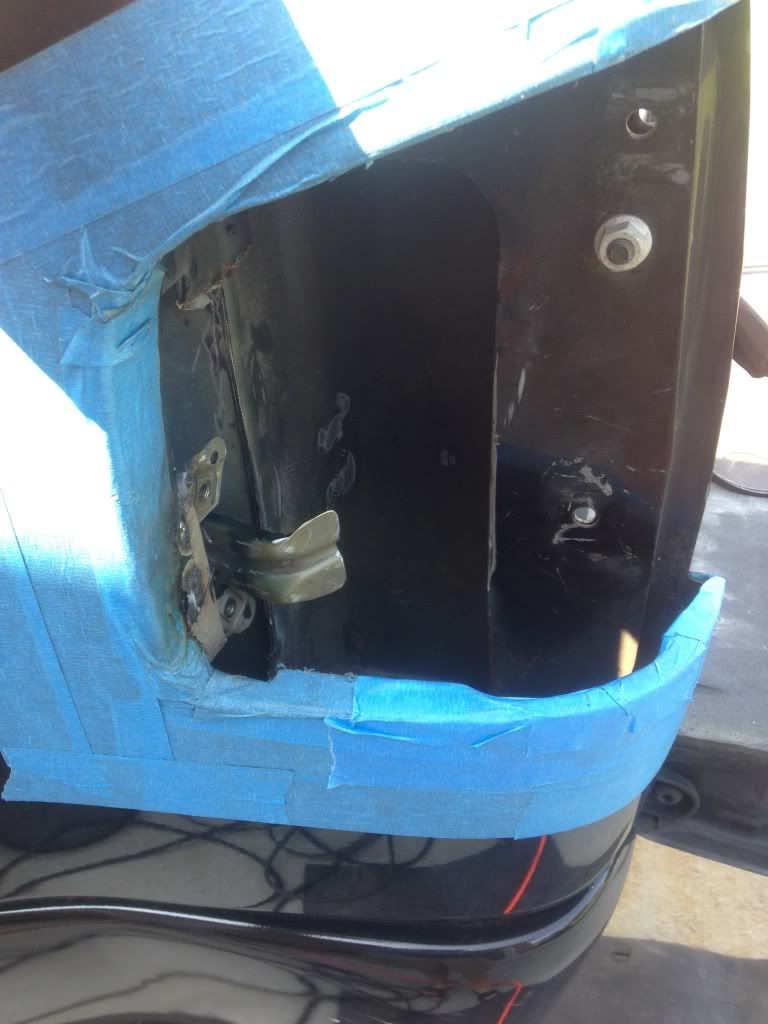 As easy as it would have been, I didn't want to route the fuel filler spout into the bed. I've seen the filler routed behind the tail light, so I decided to perform my version of this mod. I used a stock gas door hinge from a Yukon for the tail light hinge since it was already spring-loaded.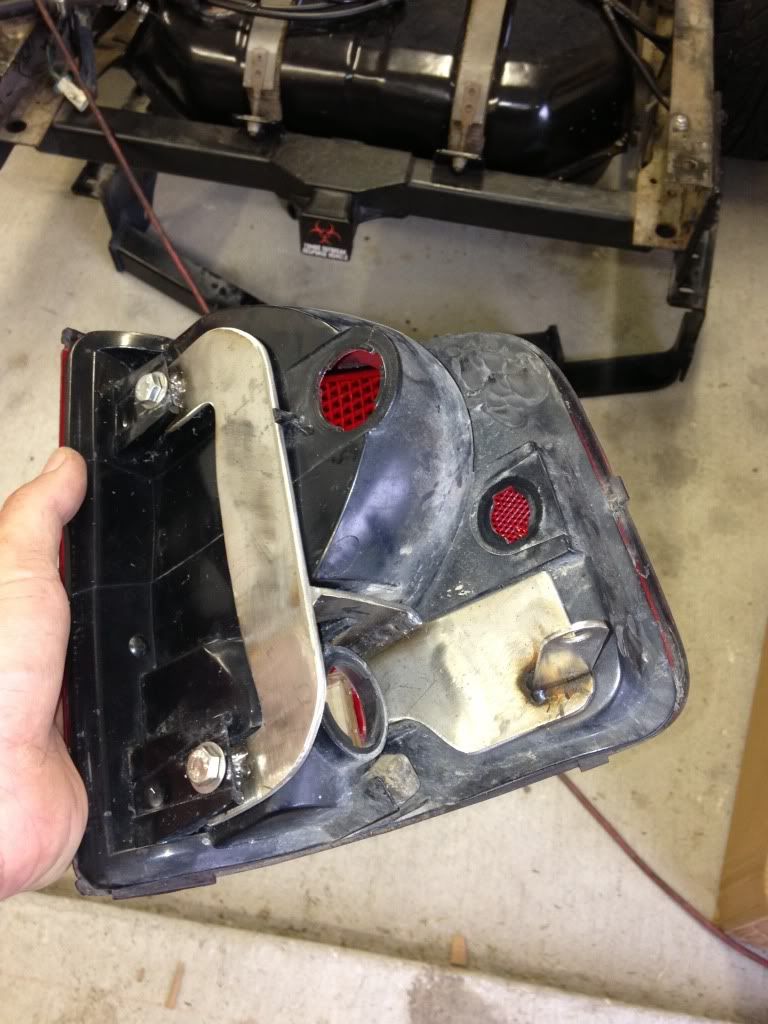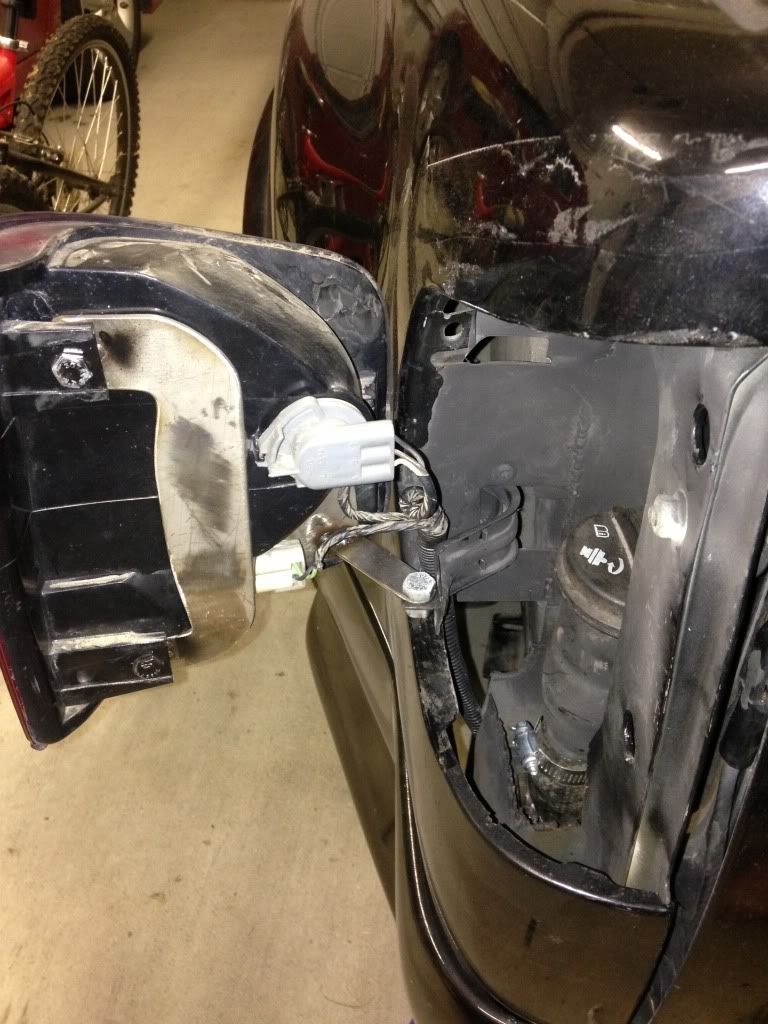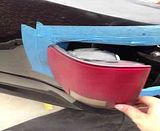 I made a bracket to support the taillight at multiple points as well as provide a relatively large area to weld a hinge arm to.
After finding a thread where someone swapped in a full-size cluster, I realized just how easy this would actually be. I narrowed my cluster of choice to one from an '02 Denali. I wanted this one because it has a 120 MPH speedometer (I don't plan on going faster than 120 in the 1/4, but definitely faster than 100), no "red line" on the tach (my V8 will easily spin to 6,000), Driver Information Center (it's just cool), transmission temp gauge (not absolutely necessary, but a nice feature), white needles, and somewhat whitish-blue backlighting.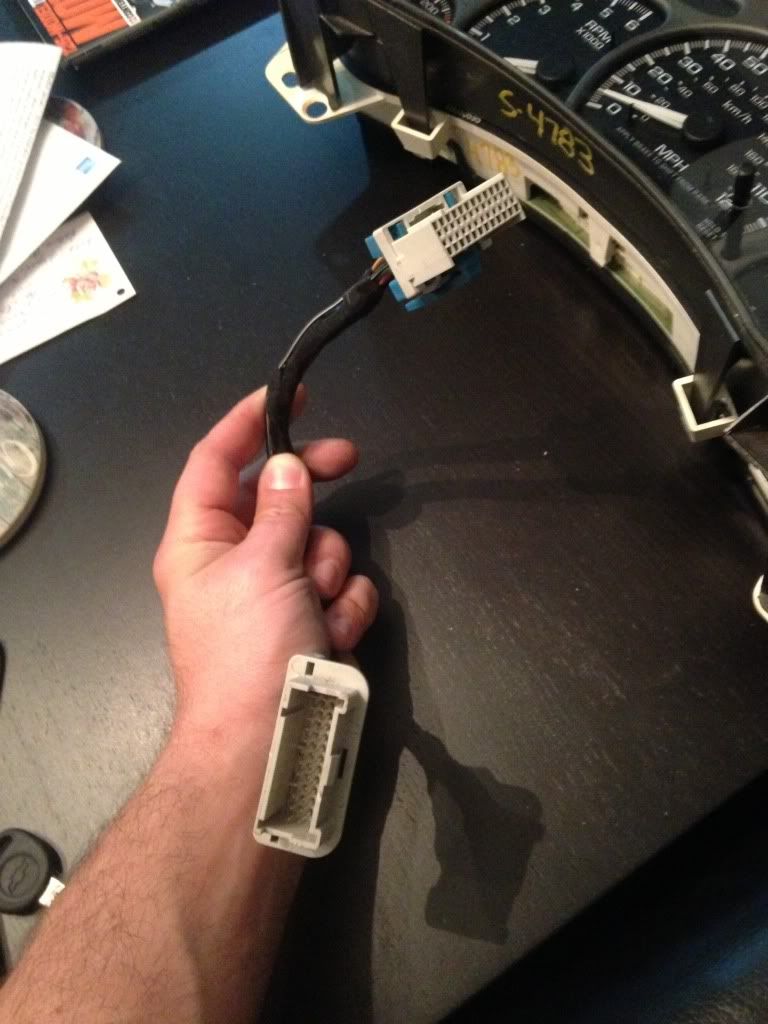 For my truck, it was just a matter of repinning the connector. In case I had to revert back to stock, I made an adapter harness to make the wiring a plug-and-play deal. I desoldered the connector from a spare cluster I had and soldered the wires from a cluster harness connector I got from a wrecked Yukon. It was a simple matter of locating each wire from the Yukon connector to the correct pin on the cluster connector. I plugged it in and all the gauges worked as they should. The tach reads a bit slowly, but that'll be fixed when it's reading from a V8. The "LOW COOLANT" and "CHECK OIL LEVEL" warning lights will be taken care of once I ground a couple of wires on the PCM.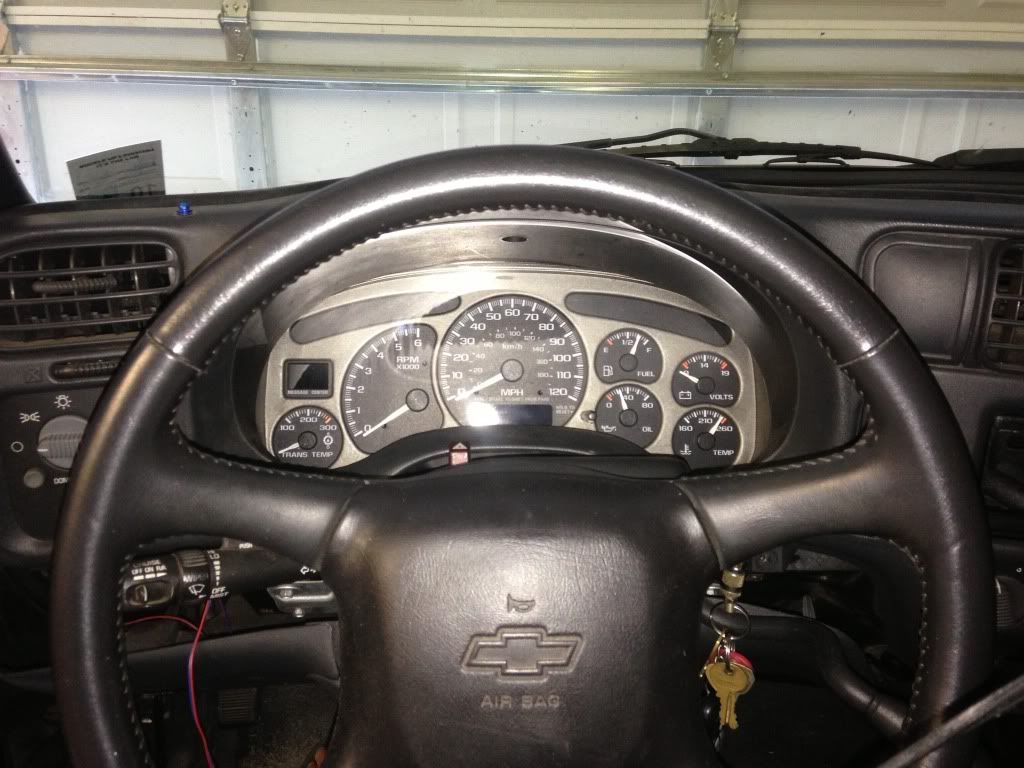 The cluster is a pretty decent fit in the S10 dash after some moderate trimming is done. I want to make the bezel flit the contours of the cluster. I'm gonna try using a full-size dash bezel and trace the shape onto a piece of plywood to make a template/mold of sorts, then reshape the S10 bezel by heating it and forming it to the mold. It looks like I just need to bring the sides in to square them up, and lower the top a little. Hopefully this would raise and the top corners a bit and make the bezel follow the arch of the cluster.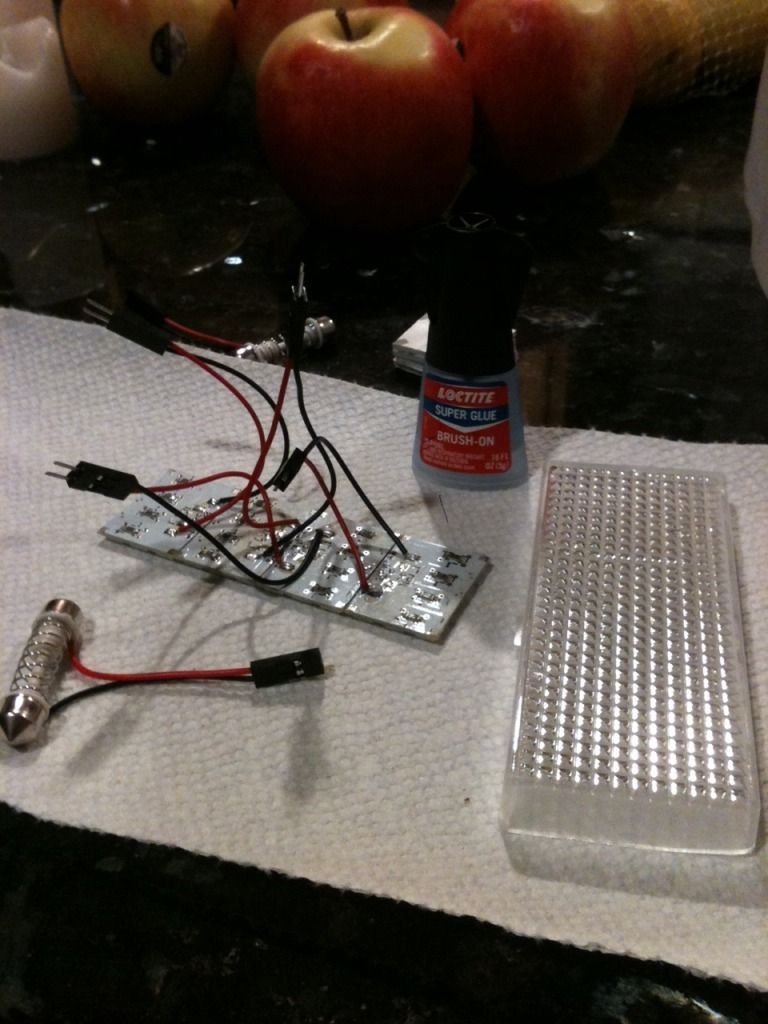 In my LED conversion obsession, I went after the dome light. I already had 3 small white LEDs surface mounted into the stock almost yellow lens, but the light output was pathetic. I ordered a clear cover from LMC and four LED panels off eBay. Each panel has twelve 505 SMD, for a total of 48 LEDs in this dome light. I super glued the panels end-to-end, soldered their wires together to make them one panel, then hot glued them into the clear lens. This dome light is STUPID BRIGHT.
This pretty much brings everything up to date. I'll continue to refine and finish the small projects. My next big project is the V8 swap. I have an '03 LQ9 with some decent bolt-ons getting ready to go in. I'll post the progression of this project in the LSx forum.