Discussion Starter
·
#1
·
ill start off with saying first some of you might remember me back when i had my 89 s10 single cab short bed...ive since sold it and i picked up my 2nd 91 mitsu almost a month ago.
heres a run down on the truck.
i bought it from a buddy that was daily driving it everyday. it was involved in a wreck and was hit on the drivers front corner...it messed the hood,bumper,fender,grill,headlight,core support corner and the apron. it was mostly a sheetmetal hit but the car that hit the truck caught the wheel, broke the tie rod and brake line. my buddy thought the frame was bent and decided to sell it to me to recoop some of the money he used to buy him another daily.
i picked it up for 500$...its a 91 with 69,000 miles, heat and air work great..has some mild body damage but itll get fixed later.
so i got it home, jacked the front end up and started inspecting the frame,crossmembers and anything i thought that might of got damaged in the wreck. well to make a long story shorter the frame is fine...i changed the lower control arm,strut bar,strut bar bracket,lower balljoint and trimmed the coils.
when i first got it home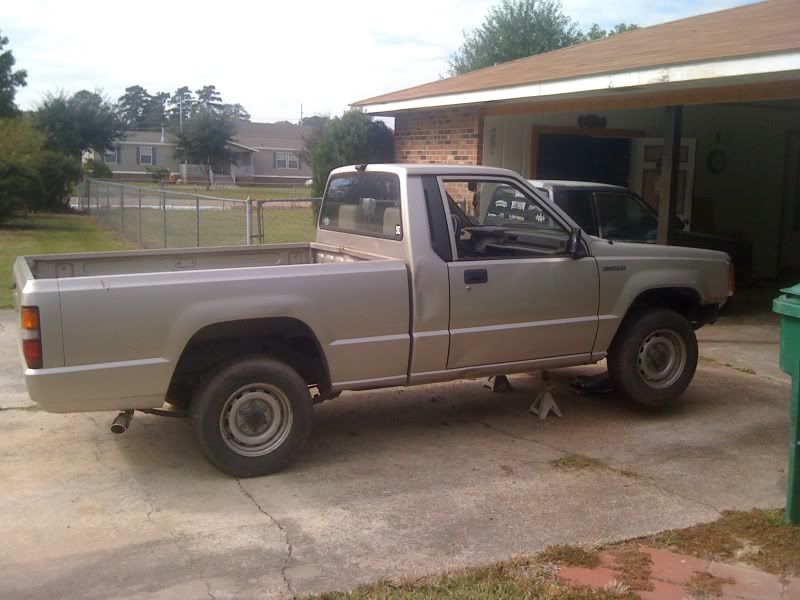 changed all the suspension parts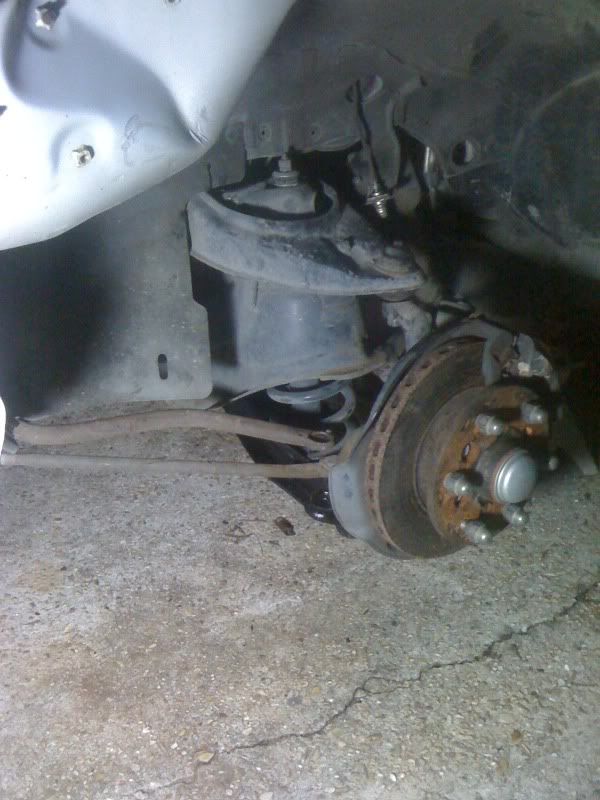 then me and a buddy tied the truck to a tree and pulled the core support corner back out...its was just to get the worst part of it pulled out then we hammered and dollied the rest out the best we could. it still needs some work to get the frontend all to line up properly but its better than changing it.
trimmed coils and 3'' blocks...truck is sitting on 18'' titan work truck steel wheels with 225-40-18'' wanlis
thats all the pictures i got for now. i pulled the bench seat out and got one of my mazda 626 buckets put in.
my future plans are
4'' blocks
grind the tabs off the rearend so i can put the titans on the back
panasonic headunit, kinetik hc-800 battery,orion hcca 250 and a 225 amp,digital designs 2510 10'' sub, 6.5'' comp set and a set of 3.5'' in the dash
93+ bumper and grill
6000k hids
tinted windows and windshiled strip
build a cold air intake and get a muffler installed and dumped infront of the rear end
grant kustoms roll pan
fix the cab corner and rocker
change the pass door
i think thats about all for now...its gonna be my daily driver while im air bagging my other 88 xcab d50. so stay tuned for updates and ill keep posting pictures everytime i do something cuz i know all you fools are picture whores!!!!! so untill next time later