Discussion Starter
•
#1
•
Not sure how many people will do this but I decided to do this today. The last How-To did not have any pictures
What you need
Parts:
Composite Grille
Left and Right Composite Headlights with brackets (only need high and low beam harness, Turn signal lights and plugs are same for both vehicles)
Good portion (9" or so) of Headlight pigtails.
Tools:
1/4 Socket Wrench
6" Extension
7mm Socket
10mm Socket
Soldering iron
Solder
Shrink Wrap or Electrical tape.
Start off by removing the Sealed Beam Grille
6 bolts, 4 up top and 2 in the center (in red circles)
there are also 4 clips holding the bottom of the grille to the Core support. Be careful these easily break.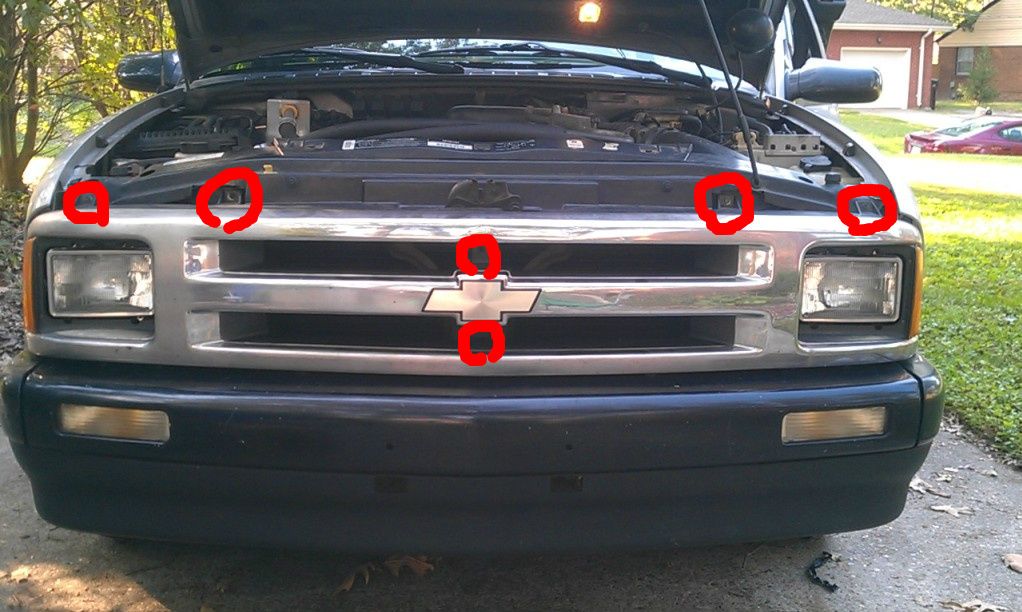 Next, remove the Sealed beam headlights by removing the 4 bolts holding them in. (Circled)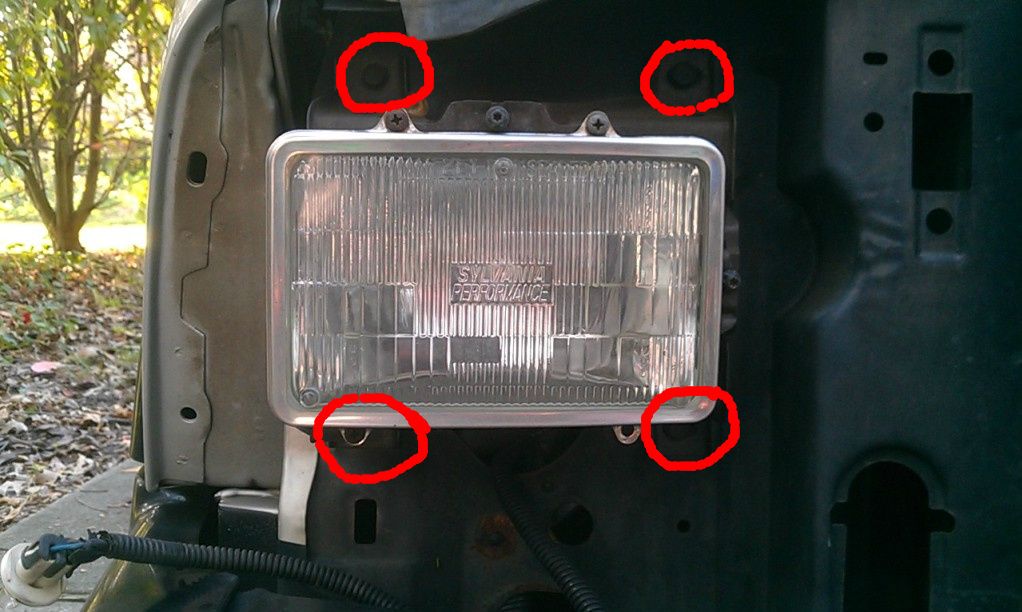 Remove Sealed Beam Headlight plug from wiring harness.
Drivers Side
: headlight plug has 5 wires (2 tan, 2 Green 1 Blue). Pigtail from Headlight has 4 wires (1 Tan, 1 Green, 1 Black, 1 Blue)
For both the Green and Tan wires, solder the 2 wires from the Truck harness to same color wire from the headlight pigtails. Green-Green, Tan-Tan.
Solder Blue wire to Blue wire.
Shrink Wrap or tape over open wire. Prefer shrink wrap to keep water out.
Connect Black wire from headlight harness to a ground.
Passenger Side
: Headlight plug has 3 wires (1 Green, 1 Tan, 1 Black)
The Headlight Pigtail has 4 wires (1 Green, 1 Tan, 2 Black)
Connect, Solder and shrink wrap each wire to same color wire on harness.
Installing headlights
: 4 bolts hold in the Headlight buckets, but I am only using 3. 1 of the bolts gets put in from behind the core Support. I did not feel like removing the airbox and battery to intall these bolts.
The lower bolt on the outside is the one that gets put in from behind the core support. Also, Sealed beam trucks do not come with the clips for the 2 inboard bolts.(if someone knows the name of these clips please let me know, I am having a brainfart). Do not forget these clips.