Discussion Starter
·
#1
·
If your heater blows cold air, your engine is getting up to temp, and all your switches and actuators are working properly this is your problem....
For reference this is being performed on a 2000 S10 Blazer 2dr 4.3vin W w/AC
Basically GM uses dexcool, when neglected or after becoming too diluted with water over a long period of time it likes to turn into a nice brown sludge of a substance that clogs up your heater core and everything else in your cooling system. Im going to show you how to flush the heater core out with some simple items you can buy at your local parts store.
List:
-5/8in. Garden hose I used a 50 footer that they had at O'Riely's for $9.99
-Adapter's for your heater hoses (on mine one side was 5/8 already and the other was 3/4 so I bought a 5/8-3/4 adapter) $2.99
-Section of hose to mate the adapter to the heater core (in my case 1 ft. 3/4 heater hose) $1.99
-Optional screw type hose clamps (I bought them and didnt use them alot of people dont line the spring type clamps I have a special set of pliers that takes them off so I like them, up to you) $1.99
Heres a picture of everything I used.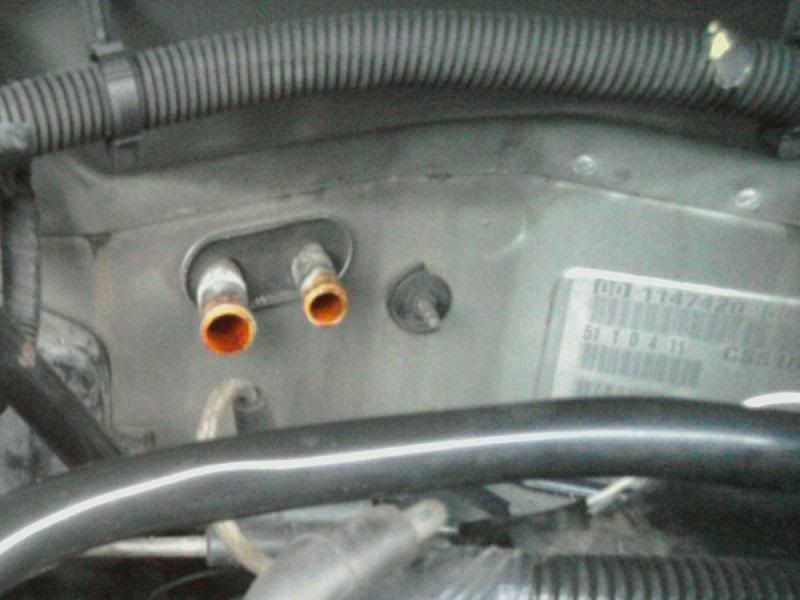 Next youll remove the two heater hoses from the firewall that youll see in the above picture.
Then youll attach the end of the garden hose attached to the spicket onto the drivers side heater core tube. Of course the adapter, 3/4 hose, and other length of garden hose which should go into some container an old garbage can or something to catch the mess thats soon to flow out of that end of the hose. Then you turn the spicket on really low at first until you fill the heater core up and water starts to drip out of the end of the drain hose. Once you have a steady flow coming out of the hose turn it up a bit at a time until your at good flowing flush rate that your comfortable with I didnt go too strong at fear of over pressurizing the heater core and blowing it up all over my passenger side floormat. When I was done I reversed the garden hose ends and flushed it in reverse or backflushed it just for good measure.
Thats it my truck is nothing short of hot inside in washington state 28 degree weather and it did not work one bit I could swear the A/C was warmer prior to flushing. Good luck hope it helps.
:flame: