So immediately the next day the trigger finger was itchy on the paypal account and I began making a list of everything it needed. So far the list compiled:
1) Steering column surround (broken held together with tape)
2) Dash face (cracked and ugly with random holes drilled in various places)
3) E-brake release lever (missing for some reason, ebrake still functions lol)
4) Serpentine belt (this old one looked like one of the Gates brand poster examples of completed screwed.)
5) Washer cap (bottle still good, cap peaced out)
6) brake fluid reservoir (old one looks melted from the outside as if someone placed something hot onto it briefly and almost melted through! wtf...)
7) headlight/foglight/dimmer cluster (sort of wonky, doesn't quite work perfectly)
8) Bench-seat center console (truck has buckets but I hate that stupid 90's shit plastic arm-rest console)
9) Core "Hurst" short shifter (the throw on this NV3500 is insane, I punch the dash and hammer fist my knee between 1st and 2nd, that's gotta change)
10) tach cluster from another 98 GMC (why did they make a 5 speed with a non-tach cluster? retarded GM)
11) new headlamp housings (old ones are completely broken and clouded up)
12) air box (pepboys is a bad influence on the previous owner...)
13) 15x8 Aero steel racing wheels (this truck is proudly owned by an auto-xer)
14) 225/60/15 falken ziex ze512's for daily tires
15) aluminum lugs (common size to the other cars I've accumulated for torque settings and interchangability)
16) Full belltech street/track suspension setup with a 3" drop (shocks, springs, blocks ... explanation needed?)
Sorry for duplicating what I've got in the new members area but I realize that isn't the proper place for builds and I'd like to continue with whatever I've got going on here.
The truck doesn't show it much in the pictures but the front and rear bumpers are terribly spray painted, but at least the same color as the truck. It's not a factory color, looks more like a ferarri red than the GM paint it should be. A couple of paint chips in discrete places show the difference but the new color actually looks better in my opinion... just needs to be done right. That will come later.
The grill, headlights and front bumper were clearly the result of some sort of front end damage that broke a lot of plastic tabs or caused several to go missing. The headlights had a bunch of what looks to be overspray from the PO's horrible spray painting hobby, where he sprayed the grill and emblems with tons of drips and streaks. The new headlamps just arrived and I've begun restoration of the grill, sanding it down, priming and painting.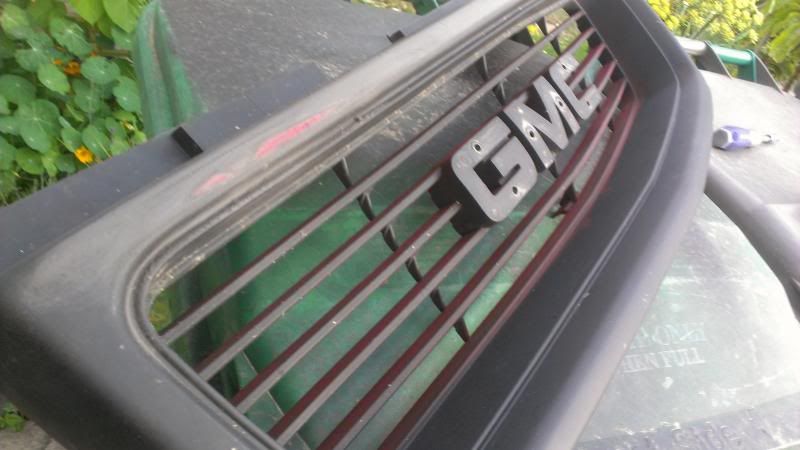 I'll post some after pics of the grill once it's cured and everything. The emblems were something I planned to ebay but it turns out they're like $70.00 new so I'll take some nail polish remover to these little guys until I make a junkyard run and horde some newer looking ones off of other GMC vehicles. I'm really striving for a clean OEM body on this thing with a tasteful lowering job that will also give a decent handling performance. Not into the bagged and shaved thing.