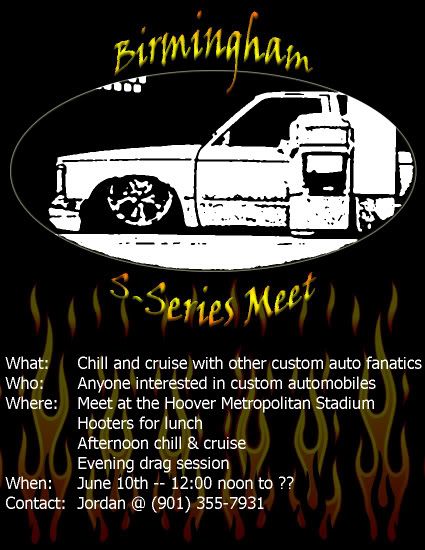 Aight guys,
We havent had an official meet for a while now. We need to start planning for a meet in a couple of months. This should give us enough time to figure out where to have it and enough time for everyone to ask off. We need to make this as big or bigger than the Dec.18 meet.
Hopefully this would allow Vertical Limit guys from GA and TN to make it, and maybe even the GA chapter of VC, as well as all the AL forum members and the Middle TN members. Lets get the ball rolling and have a huge meet. I was thinking we could have a cookout somewhere around. Does Oak Mountain have a place where we could take grills and cookout?
As for directions ...
The Hoover Metropolitan Stadium
Stadium Trace Parkway
Hoover, AL
Directions to the Hoover Met:
Take I-65 to Exit 250 onto I-459 towards Tuscaloosa.
Then take Exit 10 onto John Hawkins Pkwy.
Turn Left onto John Hawkins.
Turn right onto Stadium Trace Pkwy.
Go through one stoplight and the Met is on your left. If you get to the dead end, you went 100 yards too far. You can't miss it!
If you think you may get there later than the initial meet time, PM someone for a cell number that you can call to find out where we are.
Discuss......
Curly