Discussion Starter
·
#1
·
Sooooo, long story short, my job (coca cola) is getting rid of the company vehicles, you guys may have seen that astro van in the background of my pics...well that is now gone and they pay us mileage @ .55 cents per mile, and i do quite a bit of driving.
anyways i searched
HIGH
and
low on craigslist for a new daily...Never found anything as it had to be 3 things.

1. ext cab is a must
2. 5 speed tranny (unless 4x4)
3. NO TAN/Light color interior! i hate it....i want a dark graphite interior.

...the tough decision came to this.....a fuel saving 2.2 5 speed, or a 4x4 to have fun in and be able to explore something else besides the lowered community....but at the cost of MPG.....


Well, i decided to go with a 4x4 because


1. my first truck was a 4x4 86 toyota pickup
and it was fun.
​
2.
when it snows (rarely does but we get some) or when it rains i want the ability to go anywhere i want and generally a "truck" any idea how long its been since i drove up a curb?...i forgot the feeling.
​
now, not just any 4x4 will do, i wanted a ZR2, might as well right? if a clean 2.2 s10 5 speed came up, i'll take that offer, well ended up finding this zr2 on craigslist. its a 2000 s10 ZR2 with 129K, and flowmaster? exhaust (have to check), and slight rust but nothing crazy. My pet peeve is interior, i cant stand a broken ass interior and this one surprisingly had a well kept interior and garage kept in its lifetime.
so it started off as this, $5,000
Then turned into this.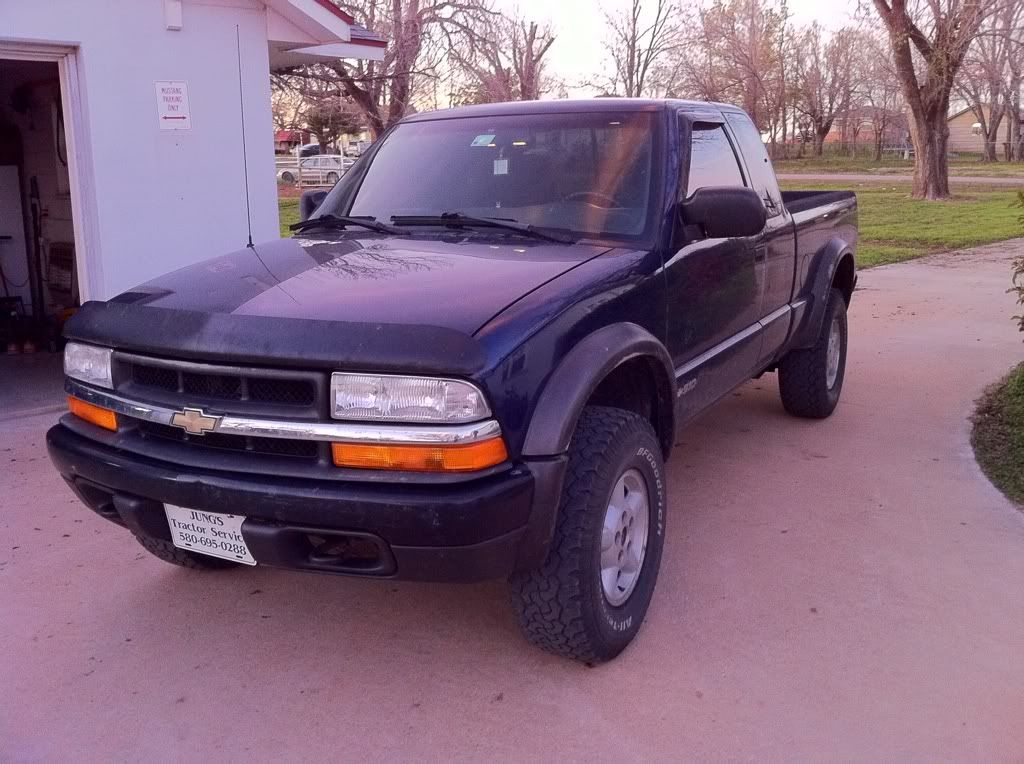 Interior wasnt too bad, no cracked panels or dash, but just a little dusty.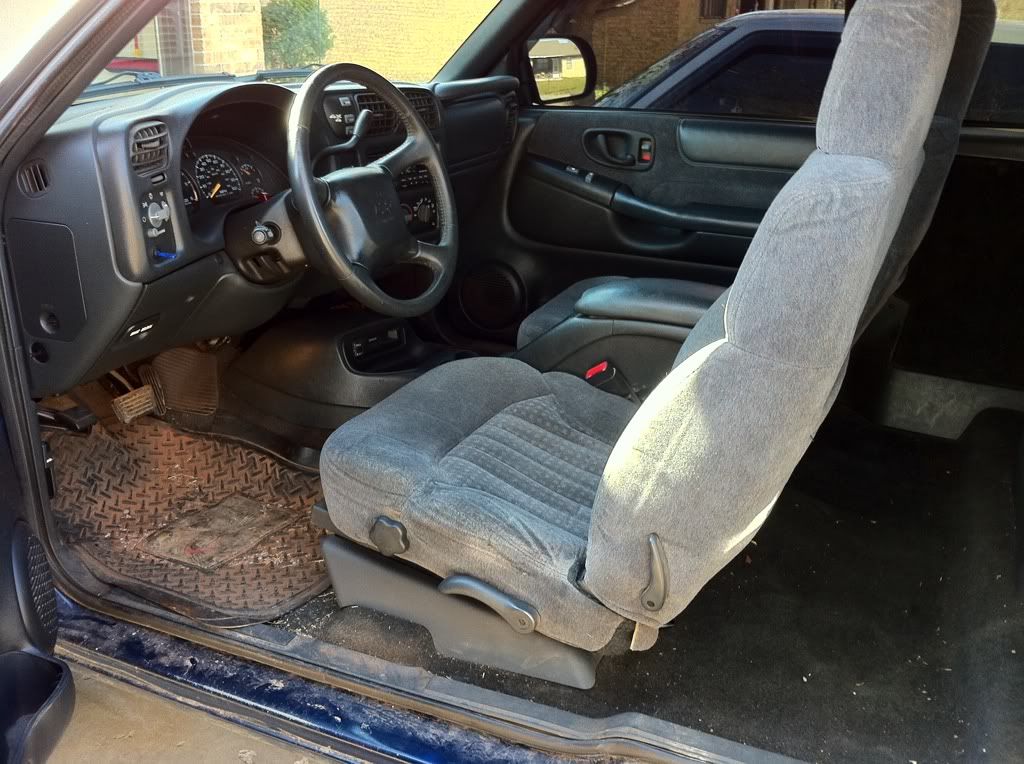 the extent of the rust is this.
followed by "hot spots" under the cab.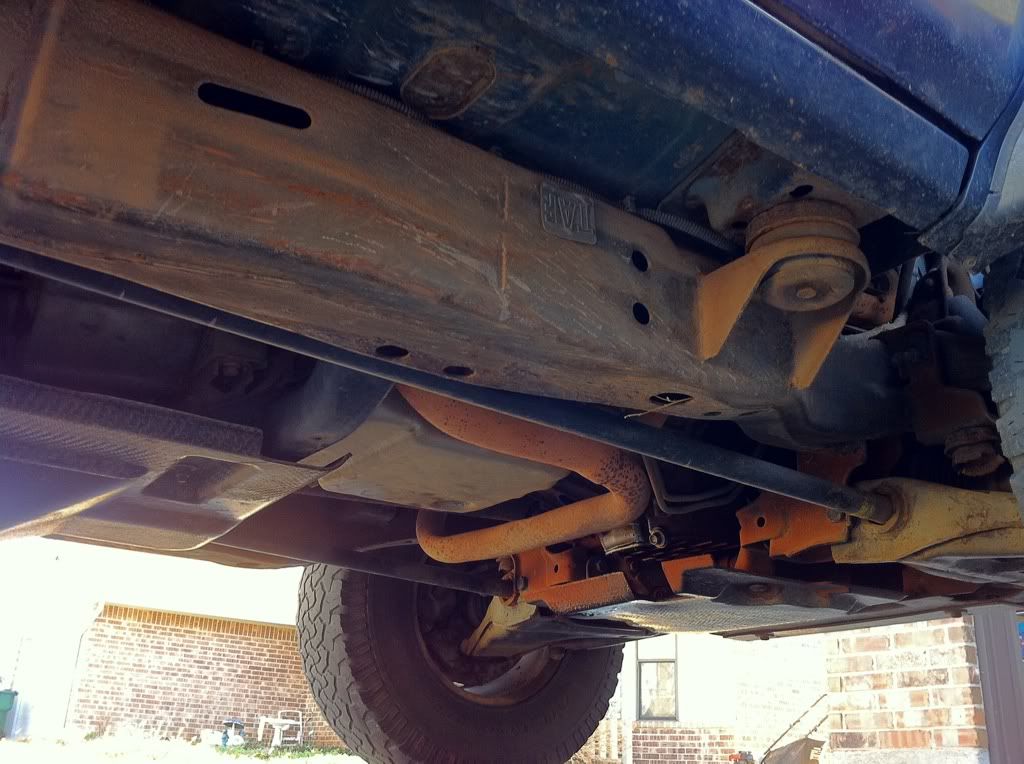 Nothing crazy right? i know my sonoma wasnt this pretty from the start and took a bit of work to get where its at (and still not done) so with this i plan on undercoating all of it like i did my sonoma to regain some "black" under the truck. basically i want to get rid of all the old dirt, so i can put new dirt. and in the process deal with any issues that arises.
Now i did inspect mine and find out it DOES have the notorious zr2 frame crack, i will have to tackle this sometime as i gain knowledge of IRS suspensions. but now its just a crack (some rust highlighting the crack) but has not started to separate or open...so just a crack. From what I've read even if it was never off-roaded the crack still appears from street driving....
So, this truck will be detailed up and down like my sonoma, BUT will be used as a truck (not abused) and i wont be afraid to get it dirty.
so let the dealing begin!!
STEP 1, remove old ass hood insulation/dust collector
STEP 2, detail interior. I wiped all the dirt/dust off the door jambs and rubber seals, its the little details that count. (view of stepdads yellow truck i was borrowing until i found one to drive to work)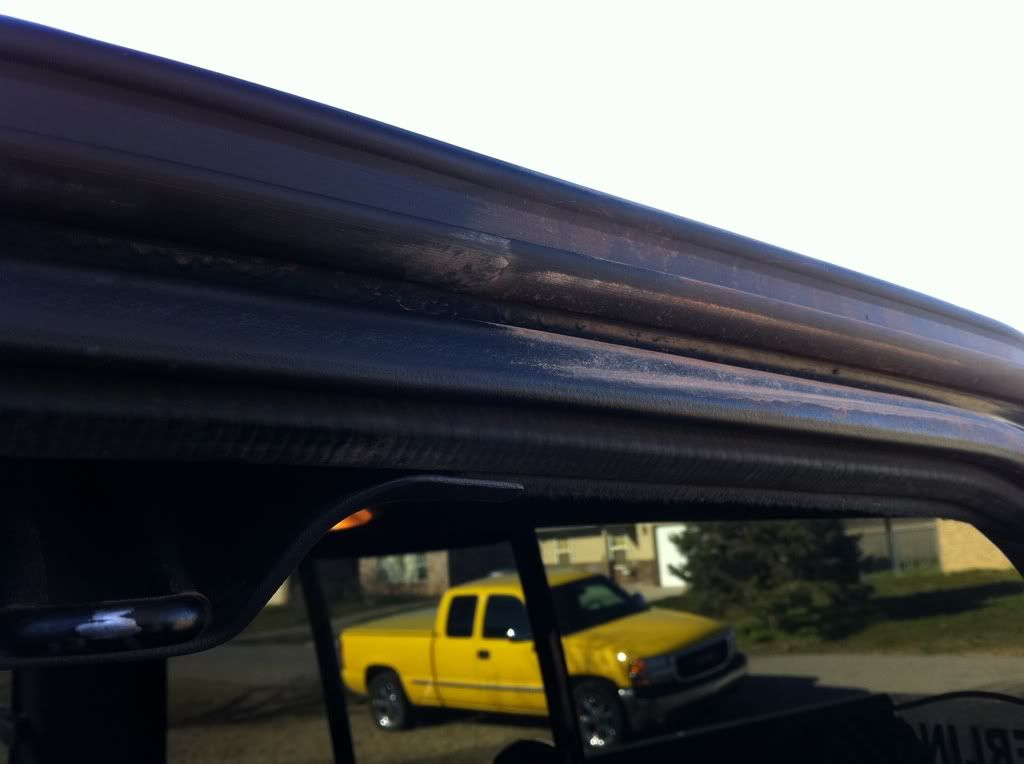 STEP 3, stand back and appreciate your work
next, degrease time! to the left, old tranny fluid from a leaking output seal...to the right, just hot water sprayed on it from a garden hose. telling you guys, hot water is the shit! now i can tell if that seal leaks or not.
i did give that engine bay a bath.....but just a bath to get rid of dust/dirt...nothing crazy (and forgot to take a pic). removed the bug deflector as well.
so after a quick bath i had to take side by side pics.
amazing height difference lol.
I got them both to fit in the garage.....but i have too much shit on the side, like spare 2.2 motor on stand, engine lift, then the compressor on the left, and welder....i need to figure something out. at least maybe paint a line to follow with the tire or maybe a dot on the wall to aim a headlight to prevent any accidental mirror shaving...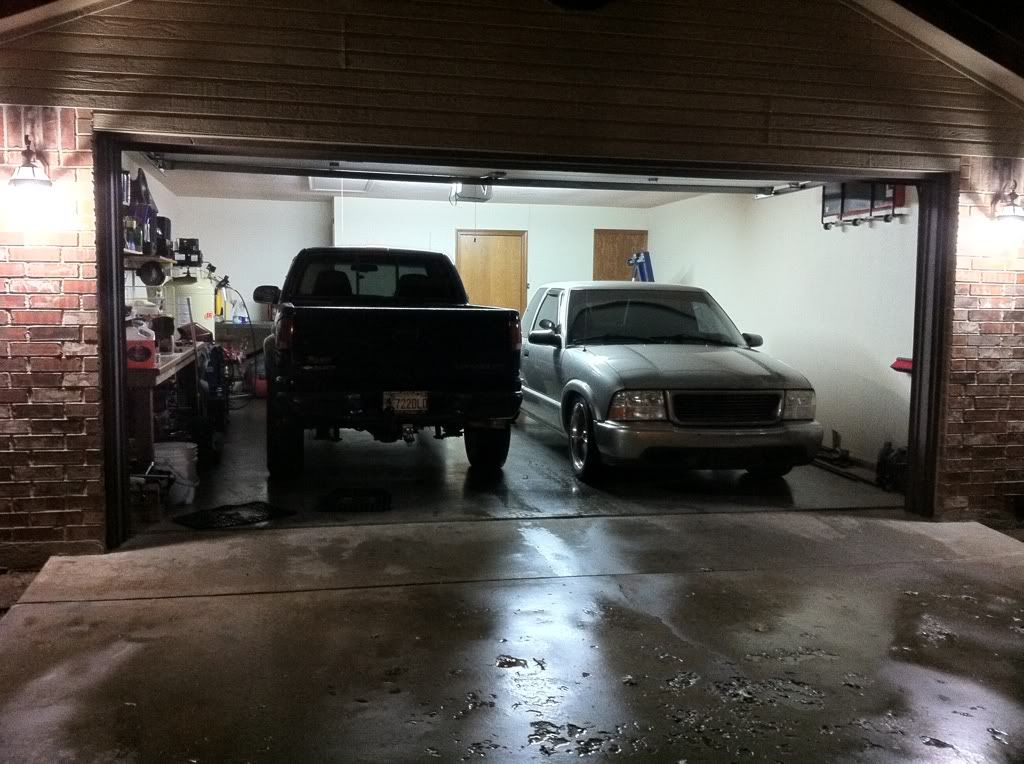 So as you can see, i have plenty of work ahead of me....but i plan on making it into a clean daily to drive around and have fun. lift kit for now is out of the question due to MPG reasons, but i do plan on building front/rear bumpers for it and a few other things. open to any suggestions guys!
oh and the owner didnt have the key to the hitch...guess my plasma will make quick work of it, but for now its staying.