Discussion Starter
·
#1
·
Let's start by stating that I am not the be all end all of AWD conversions. I did 3 of my own trucks and I can only comment on how my conversions went but not if "this" transfer case will work in whatever truck you have.
AWD what is it and why would I be interested?
An All Wheel Drive conversion is main done to increase the traction of our trucks. Basically we start with a 4wd or 4x4 truck and swap in an AWD transfer case and change some stuff on the front end. GM did this with the Typhoon & Syclones, and stuck a turbo on it just for fun. These turbo trucks really hustle and without the extra traction would be a handful. Even those of us with a 2wd or a 4wd IN 2wd, merging into traffic on wet pavement can be a frustrating experience.
Pushing a 2wd truck to the limit is usually reached early as the rear wheels break loose. This of course means that the truck has reached the limit of cornering as you can't push it any harder into the corner without totally spinning out. This is where AWD becomes more than just a straight line modification. With the extra traction available, a front tire must also break loose before the truck will also lose traction in the rear. This means that corners can be taken faster for those of you interested in track or auto-x, not to encourage spirited driving on the street
So this began with my 89 4wd Jimmy. I wanted a simple no frills AWD conversion, just like the Typhoon. At the time I had planned a V8 swap, hence the AWD V8 moniker. I chose to use an AWD transfer case out of an Astro/Safari van. The early ones are non-electronic, I don't know when they went to electronic, about '95 but someone can correct me. The non-electronic transfer case only has a VSS sensor on it, no other wires or sensors. Bravadas work too, we just have more AWD vans up here than Bravadas. Different years and whether van or Bravada, you have 2 transfer case available. The 1372 with a 27 spline rear output and the 4472 with a 32 spline rear output.
As far as I know any AWD of these transfer cases will fit any auto or manual in our trucks. IF you are doing a V8 swap and are interested in AWD but only want a manual transmission, you will need to consider how your transmission will hold up to a V8 with added traction. There is a T56 conversion to a 4wd/AWD transfer case but it is ultra expensive, several thousand last I heard.
When you remove your 4wd transfer case and compare it to the AWD transfer case you will see that the coupler shaft is longer than the AWD's, don't worry it will fit fine.
4x4 transfer case
AWD transfer case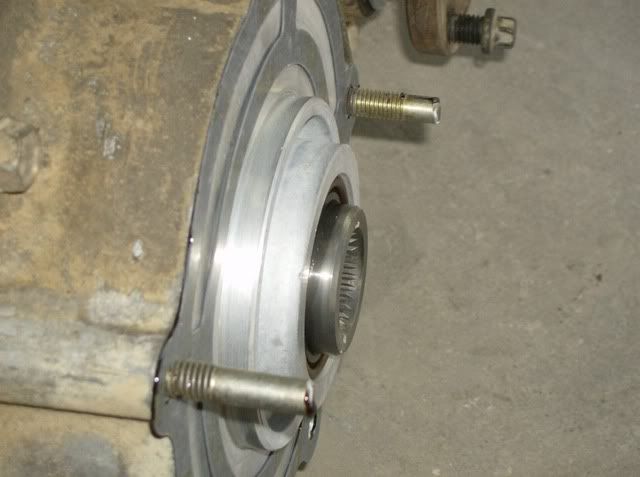 Don't worry about the difference in depth, the AWD transmission output shaft is the same as the 4x4 transmission.
Again, 4x4 transfer case top, AWD transfer case below.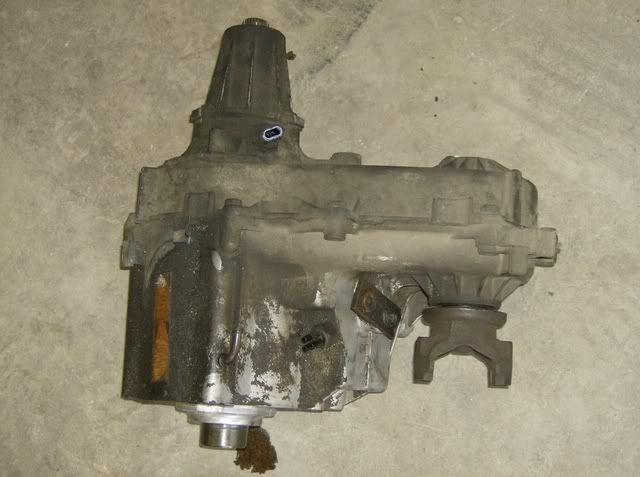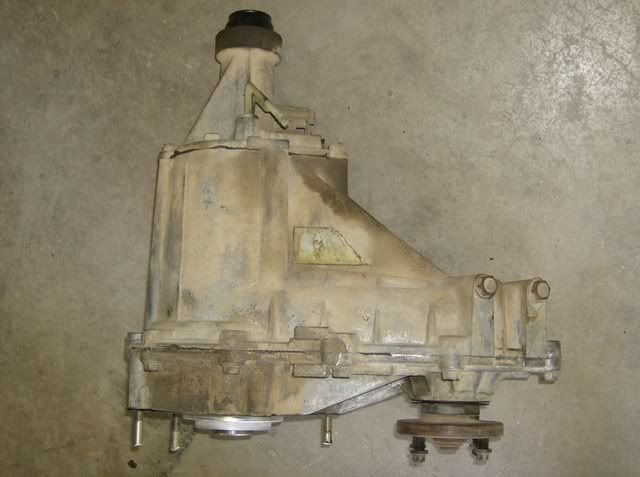 Swapping in the AWD transfer case is a straight forward bolt up to the transmission, but because the output of the transfer case is clocked higher it can hit the floor or fuel lines.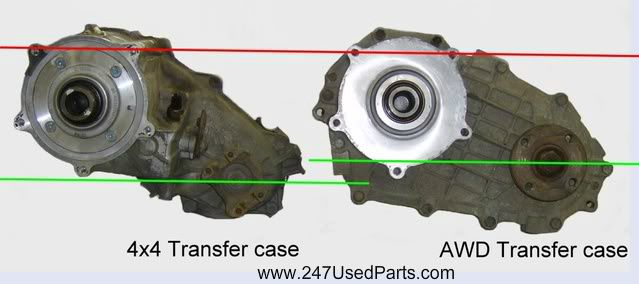 Note: If you are using a transmission from a 4x4, you need to know that the transfer case shifter that you removed, was bolted to the intermediate housing between the transmission and the transfer case. These bolt holes go right into the housing leaving an opening for dirt & water to get in, and oil to get out. I applied sealer to the bolts and screwed the bolts back in. Not needed with push button 4wd trucks.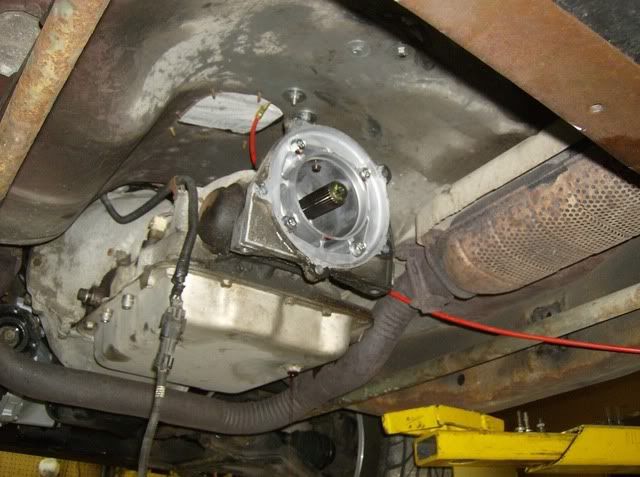 Once you have your AWD transfer case installed you can remove and plug the vacuum lines.
Tip for the 4wd guys with a persistent transmission oil leak on trucks with a floor mounted transfer case lever, these bolts come loose and will leak oil, remove the bolts one at time and seal them.
Next post, modding the transmission mount.