Discussion Starter
•
#1
•
My boss's birthday was Tuesday and he is among many other Auburn University graduates here in our office.
As a ritual office birthday prank my department, that being I.T., is allowed to decorate his office while he is out of the office for his birthday. As some of the regular forum members may recall from 2005 (

http://www.s10forum.com/forum/f42/post-it-note-bomb-attack-195059/

) we put Post-It notes all over our boss's office and filled the rest of his office waist high with balloons. From there it only grew to putting saran wrap all around his chair and completely all over the door. It escalated from there to putting everything on his desk UPSIDE DOWN and including his chair upside down. This year for my boss's birthday office prank I came up with the idea of wrapping everything including his door and walls all in aluminum foil. We began this aluminum foil birthday office prank after work at 5 o'clock with 32 rolls of aluminum foil which equaled out to 800 square feet. We finished this prank 4 hours later after 9 o'clock and only using 27 rolls of aluminum foil.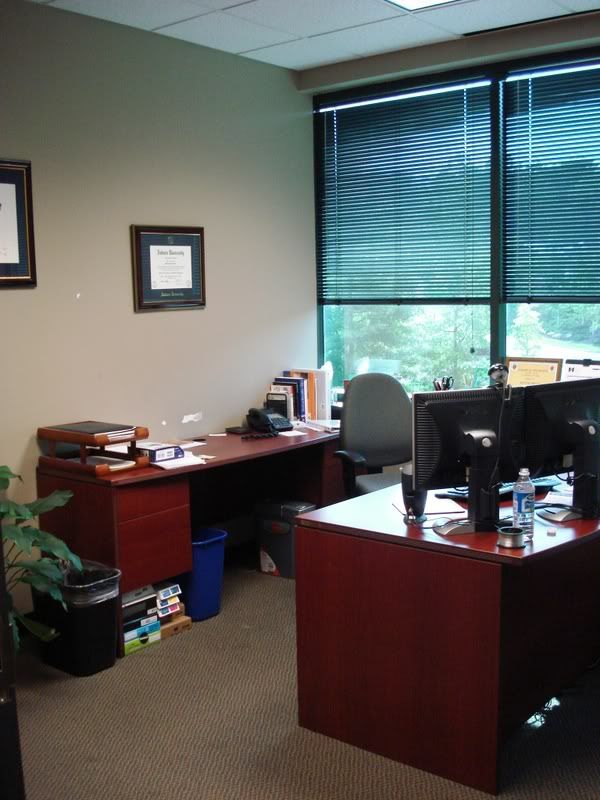 The above is a picture of my boss's office before we wrapped everything including his walls all in aluminum foil. We later gave the above picture to our boss so that he could use it as a diagram to show him what was all wrapped in aluminum foil.
The below picture is of my boss's office afterwards. I was attempting to cover my face with the birthday card that we had bought for our boss.
I will make another post shortly and include many more pictures of the during progress that it took to wrap everything in my boss's office all in aluminum foil.