Discussion Starter
·
#1
·
the origonal build thread on this car can be found at
http://www.pro-touring.com/forum/showthread.php?t=36043
the reason I'm doing a new thread is because I'm changing the direction of the car a little bit.
When i did the car last time, i was trying to go for resto/high school recreated. i succeeded.
the problem is, I've never really enjoyed the car all that much. its been "done" for a few years, and i have about 1500 miles on it. most of those miles were put on out of feeling guilty for owning a car that i don't drive.
since I've built the duster, i built a truck.
http://www.pro-touring.com/forum/showthread.php?t=43374
i actually drive the truck. i put about 10k on it in the last year and a half. i enjoy it. it handles good, runs out good, and stops good. looks good, gets attention.
i built the duster for the pleasure car, but get no pleasure. yeah, its fast. yeah, it looks good. but it doesn't handle or stop worth a crap, its cranky, it rattles, its hot, and its loud. oh, and uncomfortable.
I've contemplated selling it a lot of times, mostly because i don't drive it.
anyway, there's reasons I'm updating it a bit.
1. I'm bored with it.
2. the above mentioned deficiencies.
(and the coolest)
3. my family and i are starting to take weekend trips around the southeast to historic sites, festivals, etc. just spending time together as a family, going places and seeing stuff. My wife and i were talking about this, and i got the idea to build an impala wagon to do it in. went looking at a couple. after the last rust bucket, my wife started to question me about why i wanted "another old car you wont drive". i explained to her my vision of a daily drivable, comfortable family cruiser. her only question was "why not the duster?"
i tried to explain to her. she gave me "the look". i tried to explain some more. she continued to give me "the look".
after w while, i stopped talking. she looked at me and said: spend the time and money doing it to the red car. its paid for, and rust free.
wow.
why the hell didn't i think of that a whole lot sooner????
so to that end, Ive been planning, looking, and starting to work.
when i went down to the shop to start the car so i could get it cleaned up last month after this conversation, it wouldn't start. the last time i drove it, it was cutting out on me at random times, wouldn't idle worth a crap, etc. so i figured my old MSD box was taking a dump. pulled a plug and checked for fire. have fire. so it had to be fuel. a little bit of ether to get things started and the mechanical fuel pump primed. fired right up on ether, died right back out. stabbing the gas pedal and repeating this procedure got me nothing.
figured out it was a bad fuel pump. no volume, no pressure. occasional spurts of gas, but nothing consistent.
went down to the parts store, and bought a Holley blue pump and regulator combo. also grabbed some fuel injection hose, and some fittings from Lowe's and tractor supply.
a couple of hours later, here's what i was looking at:
when i had wired the car, i had left a lead for an electric fuel pump, just in case i ever wanted to run nitrous. so i didn't even have to wire anything!! i placed it on the rear subframe, inside the torque box bu the front spring hangar. i think I'm going to paint it black, as you can see the shiny of it from some angles walking around the car.
i was warned that they were loud, but unfortunately i did not listen. they are. thankfully, i cant hear it over my 3 inch exhaust or rattles.
i then quickly realized that the regulator in the box is required, not suggested. that left me a dilemma about where to put it that would be clean and neat, as well as adjustable and accessible.
i finally wound up putting the regulator where the mechanical fuel pump lived. as i had to make a block off plate anyway, i got creative. i used 3/8 thick plate, cut to match my fuel pump gasket. drilled and tapped the three regulator bracket mounting holes, used the piece of 5/16 fuel line i cut out as spacers, and some stainless machine screws to hold it all together. i had about 10 foot of 3/8 line left over from pluming a big block new yorker, so i used if for my new metal lines.
here's the finished product.
looked pretty good.
fired right up, and after playing with the Holley yet again, and again....
i ripped the damn thing off. it was a highly modified 850 double pumper. got it instead of some money owed to me. put it on craigslist with a FOR TRADE heading.
i wound up with a brand new, in the box, 750 manual choke edelbrock.
old:
new:
installed a fuel pressure gauge and spectre fuel line.
it runs and drives a lot better now. I'm down a BUNCH of power, but then again i haven't tuned this carb in yet. its also a manual choke, and i will be converting it to electric.
so now the car runs and drives again. i had previously swapped in a 3.55 gear instead of the old 3.91. so far, all these changes have been positive, and i can actually drive the car now for more than 20minutes without getting a migraine and having to work on it.
about 45 in though, the front intake seal started leaking. now i can change that out. I'm debating getting rid of the single plane for a dual plane while I'm at it. I've already de-tuned it this much, why not more??
also, I'm starting on the rest of the drivability issues.
first thing was safety and handling. the dunlops that were on it were purchased in 2000. they're a little old.
on craigslist, a set of mustang bullitt wheels came available for 175. so i bought them. 17X8, with two usable 255/40/17 tires. i traded the worn out 275/40/17 from the rear for a pair of equally worn out 255/50/17/
these sizes equate to a 1 inch diameter reduction in both ends. for fitment, i had to use 1 inch hub-centric spacers on the rear, longer wheel studs and 3/8 spacers front, and new lug nuts. for a total of 275, i have wheels and tires on my car. and yes, i need new tires for my new wheels and tires. these are for checking for rubbing, handling, etc.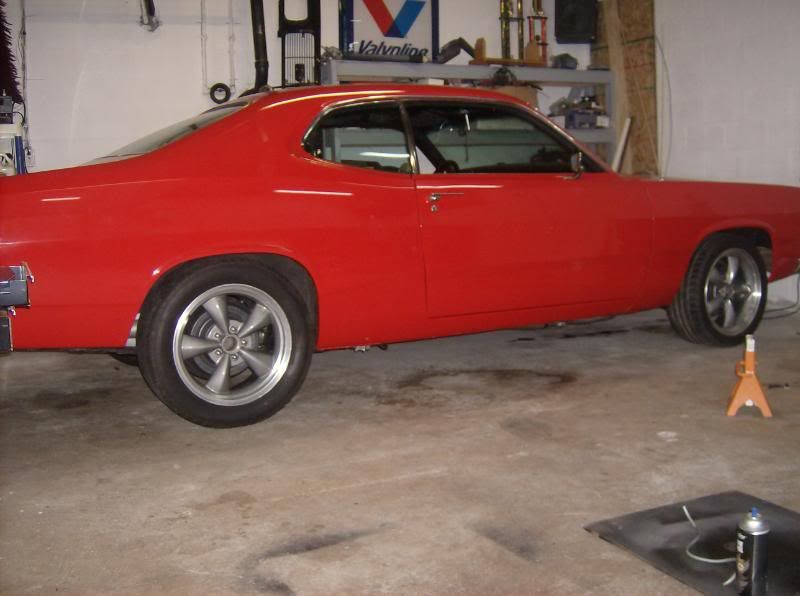 the next step is to lower the car 1 inch all the way around.
ill currently be doing this via blocks and t-bar cranking, but in the near future i will be getting the hotchkis rear leaves to do it properly.
also, near future plans:
power brakes: already have all the parts, just need to rebuild the, clean them up, and install them.
3 point seat belts
new seats for the front
AC
alignment (tube uppers)
that's the short list right now.
overall goals are a good handling, good looking, great stopping, comfortable, family friendly cruiser.
thanks for looking, and i welcome feedback and suggestions. also, you're welcome to tell me I'm screwing up a perfectly good, fast street car. that's what a couple of my buddies say....
michael