Reverse Facelift: Switching from 98+ to 94-97
Submitted by Baggd on Tue, 2006-06-06 01:13.
this is a step by step how to on converting your 98+ s-series truck to a 94-97 front end. i like it because its something you dont see too often, and will confuse people at a show. also, a good reason to do this is to rock the phantom grille that only fits these model years. but you could use any front end from that era if you wanted to.
list of things you'll need:
1) a socket set, with all the common automotive sizes, as well as a couple wrenches in these sizes.
2) 1/2 or 3/8 ratchet
3) 1/4" ratchet
4) extensions for these sizes
5) a flathead, and phillips screwdriver
6) electrical tools.. stripper, crimper, wire looming, electrical tape, butt connectors (red and blue) self tapping screws, lock washers and some 12awg wire
7) torx set
now, when i did mine, i got some of the parts (core support and hood latch assembly) from a friend off a trashed 95 he had laying around. im going to assume you dont have that and give you a list of factory replacement parts you can get from LMC. they'll have just about everything you need to do this. they do their orders over the phone and can be reached at 1-800-LMC-TRUCK. i will provide you with the part numbers and price.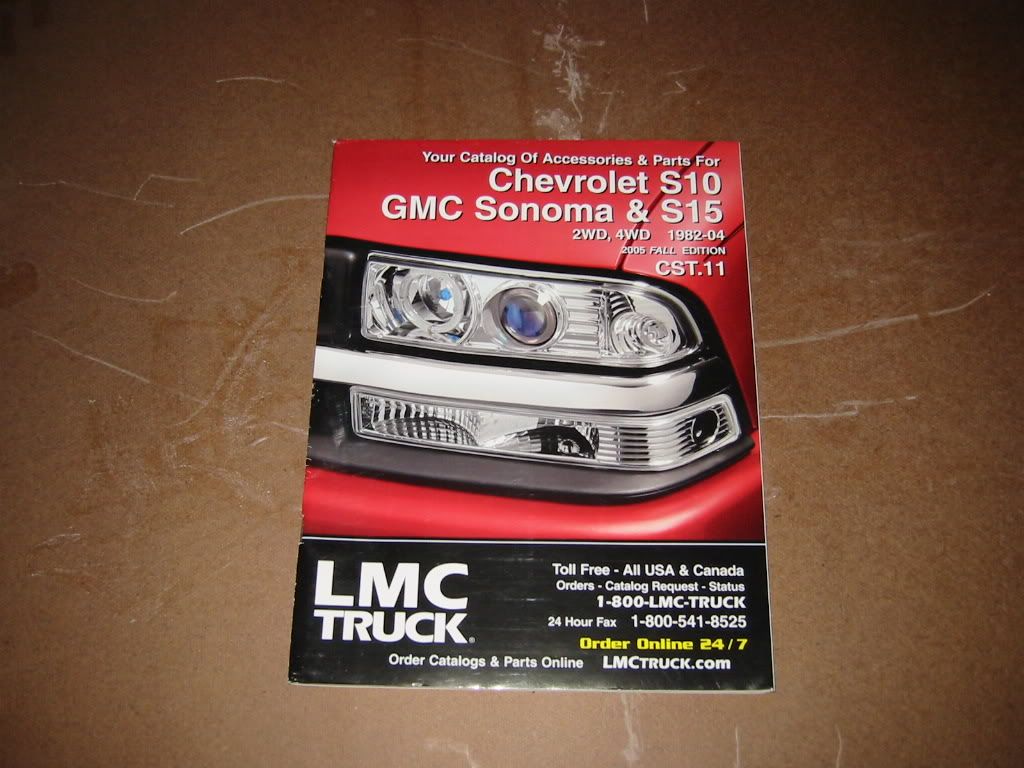 parts you'll need to get/buy:
29-2153 radiator core support, 94-97 style (1) $89.95
31-0503 screw $.55 (6)
30-0942 ancor $.65 (6)
29-0832 clip $.60 (4)
29-8493 corner lens, clear $39.95 (1)
29-8440 light assembly, left $49.99 (1)
29-8441 light assembly, right $49.99 (1)
31-0542 screw $.45 (8)
you can get the phantom grille here, its $395.00:
phantom grille
that is all you will have to buy. everything else you'll need will fit from your 98+
disassembly:
before you start tearing into things, your truck should look more or less like this:

(1)the first thing you'll need to do is remove your wipers and wiper cowl. the wipers come off by unbolting the nut on the wiper arm and pulling them off. the wiper cowl has push pins and clips holding it on. you need to GENTLY pull out the push pins and GENTLY pull out the clips and it lifts off; just make sure you look closely and get all the push pins or you'll go crazy when you break the thing.
(2) next thing you need to do is take the hood off. theres a bolt on either side. its pretty easy. then unplug your hood squirters by giving the hose a tug, and unbolt the ground strap. easy. take it off and set it aside. preferably somewhere it wont get scratched or catch on fire or anything.
3) next, disassemble your front end. unclip your headlights, take them off and unplug everything. then the grille, corners, etc. I'm sure you know how to do this and have done it before. you can sell all that stuff because you dont need it anymore. by now, your truck should look something like this:

4) now unbolt your bumper; it's easy. just look around and feel in there for all the bolts. there are 6 of them i believe. 2 are upside down. when its all unbolted give it a pull and a wiggle and it'll come off:
5) next comes the hard part. take your fenders off. there are bolts in several areas: in the door jam, underneath, in the wheel well, under the hood, on top of and on the front of the core support.. everywhere. once you get em all, the fenders will come off with a tug. be careful on the passanger side, youll need to unplug your antenna.heres what some of these bolts look like: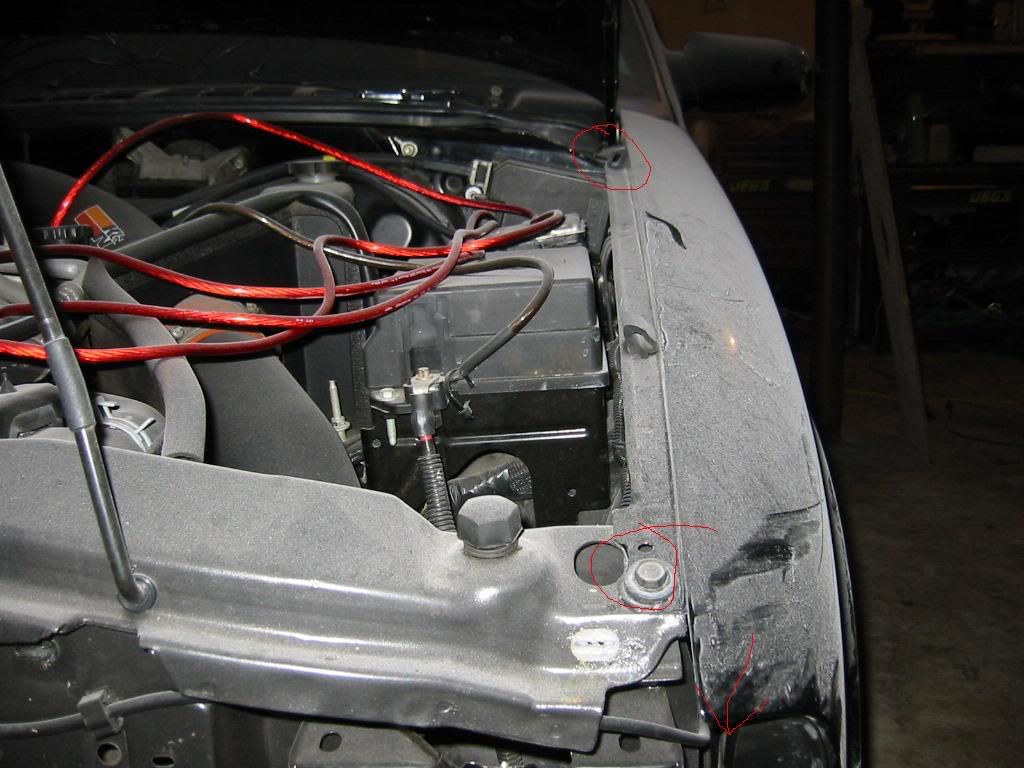 and here's what your truck will look like without the fenders: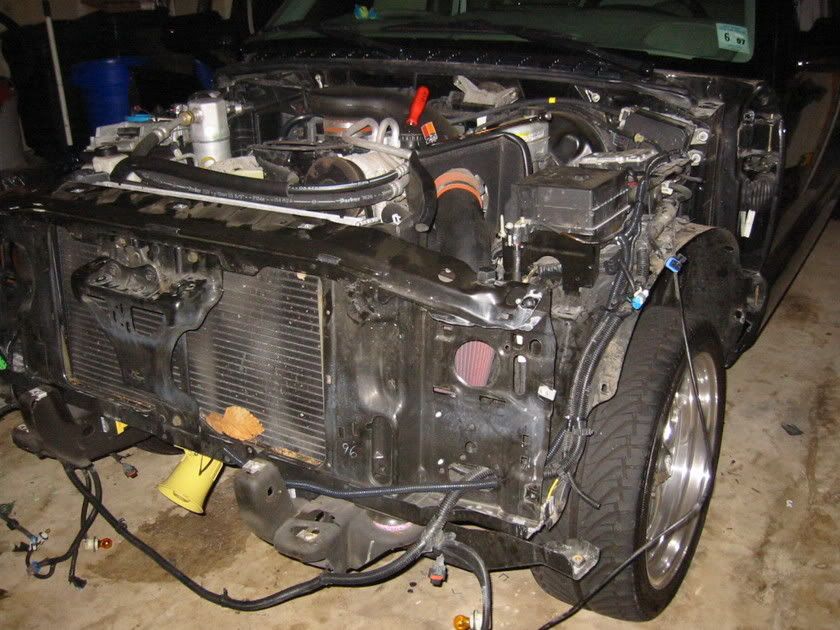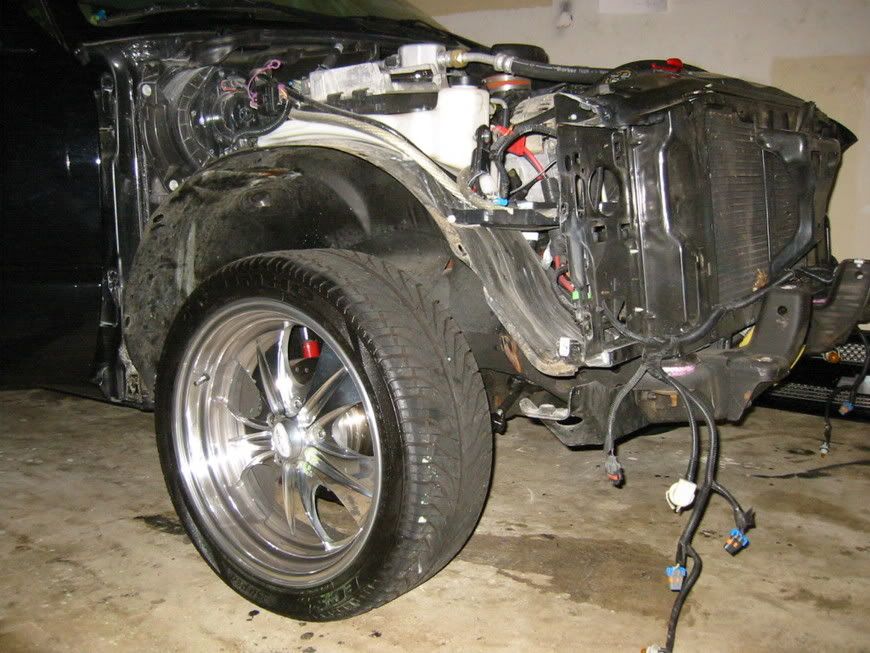 (6) now you need to take out the core support. unbolt the fan shroud from the core support. unbolt the radiator (you don't need to remove this; you can just leave it dangling) and then unbolt the core support from the body mounts underneath. once its loose, it should fall back toward the motor, leaving it almost ready to take out. you'll next have to unbolt several pieces attached to it. take out your battery tray and the battery thats on the back of the support. unscrew all the grounds, and undo anything else i might have forgotten that screws onto it. there are several pieces you have to remove, but they are mostly grounds. you'll be putting them back on your new support. also, make sure you pull all your wires through to the other side. they'll be in the way. heres some of the things you'll find: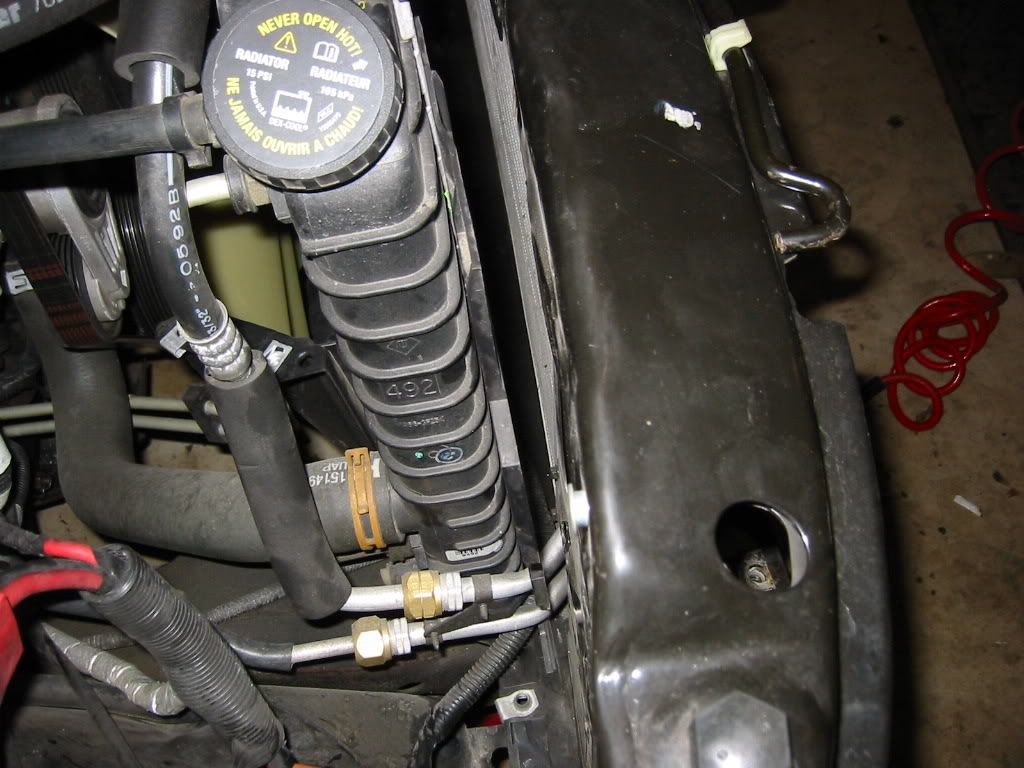 (7) once your core support is out, dont set it aside yet. you will have to take off your airbag sensors. they're riveted onto the underside and look something like this:

(8) drill the rivets out and tack them onto your new 94-97 support. they fit right on. just hit the metal flange with a bead and you're good to go. if you dont have access to a welder, you can also bolt it on or just not have airbags, although they are recommended as a saftey precaution.

(9) remove your hood prop (by pulling it out) and your hood latch assembly. unbolt the whole assembly and re-bolt it to your new support.
thats about it for disassembly. now its time to put everything back together.
now you're ready to roll. whether you're using a used or new core support, now is a good time to sand and paint it if you desire. mine was rusted pretty bad, so i hit it with the wire wheel and hit it witth several coats of the rustoleum hammered finish dark grey. also, make sure you swapped EVERYTHING you can from your 98+ support over to your 94-97. the hood stops, latch assembly, hood prop, clip for the hood prop.. everything...
reassembly:
1) put your body mounts back together, and put your support back on them the way the old one came off. line up the holes, and thread the studs in from underneath just . tighten approximately 3 threads, just enough to hold it together, but leaving it wobbly still so you can work. you need to get your radiator back in. it's easy: just slide it in and line it up just the way it was before, and squeeze the rubber mounts in from your 98+. once it looks like it fits (only fits one way really) bolt it in and make sure it's tight.
(2) tighten your body mounts back up. along with whatever else was bolting it in. make sure theyre good and tight.
(3) you can now mess with your grounds. route your wires all nice, and try to keep them all together. the holes on the 2 radiator support styles are totally different. they wont go back to their stock location. so i routed them to the front and screwed em in with self tapping screws and lockwashers. see pic:

(4) now you can go ahead and bolt your battery fuse and battery tray back on. they go back just the way they did before.
(5) now the fan shroud. the upper and lower from your 98+ fit just fine. put them back on just like you took them off.
(6) same thing with the fenders. they go right back on. just go nice and slow when you put em back on so they line up right. and be careful in the doorjams. if a bolt falls in there, you'll get a nice big dent in your door like i did.
lighting:
there are 2 kinds that fit this application. the stock style sealed beam and the h4 conversion. thats all. the flush mount blazer lights wont work. they have to be recessed.
here is the headlight assembly w/ screws from LMC. it comes with EVERYTHING you need, including the sealed beam headlight:

the sealed beam will do the job, but if you want something bright that you can upgrade or put hids in, i recommend the h4 conversion. heres a comparson of the 2:

the way these wire up is basically the same, but the harnesess are different for both types of lights. you can get either from any auto parts store.
wiring:
heres the fun part. you're going to need the basic electrical tools i listed before, along with a test light. we recommend a Digital Multi-Meter or Fluke instead.
1) cut off your stock bulbs and harnesess for the HEADLIGHT AND HIGHBEAMS ONLY (one side at a time) and set them aside. it's a good idea to make sure you leave an inch or 2 of wire on them incase you ever want to put em back on.
2) with your test light, and someone in your truck turning your lights on and off, test all the wires. there should be a trigger and a ground for each high and low beam. label them with masking tape.
3) there will be 3 wires on the harness you bought for your new lights. i can't list colors since it will vary from store to store. there is a ground, and a trigger for each high and low beam. you need to identify what's what by pluggin it in to your headlight and turning them on till you figure out each wire.
4) once everything is identified and labeled, you may begin wiring. you can use butt connectors, but i recommend soldering and heat shrinking everything. connect each trigger to it's appropriate lead on your new harness, twist the 2 grounds together and connect them to the ground on the harness. Now test your lights and make sure they work. it's important to do this now. if you made a mistake, you might have one high beam and one low beam on at a time.
5) bunch everything up together nicely, and zip tie it all off. Be sure to leave your blinker light off to the side. it doesnt go anywhere near the headlight. heres what itll look like after you loom it up all nice: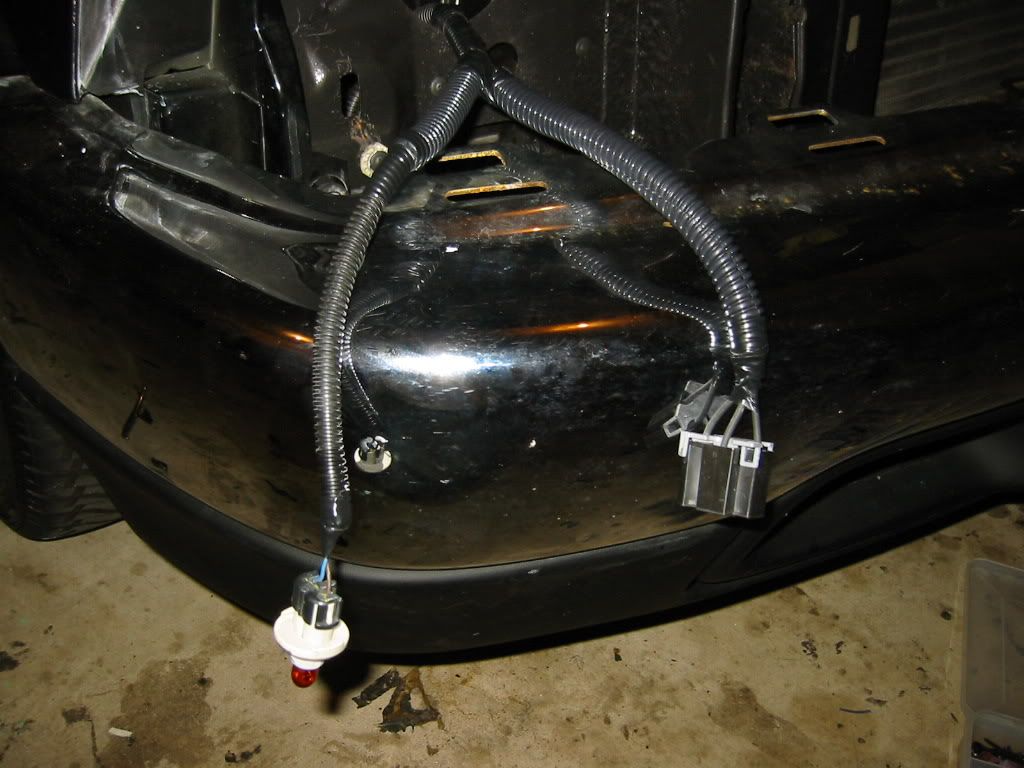 6) now you will work with your parking lights. because the 94-97 have them in the bumper, and the 98+ have them in the grille, your hybrid front end won't have them at all. you have a couple options:
a) the wrong way. -cut them off and have the rest of the bulbs blink fast cause your truck doesn't detect the correct resistance and thinks your truck has a bulb out
b) the ghetto way -leave them hanging and lighting up the road underneath your truck at night
c) my way -use a blown bulb, or blow it out yourself. i hooked mine up to a 24 volt power supply. it blew the filament out of the bulb, but my truck thinks its still there. my other bulbs blink at a normal speed, and my truck doesn't light up the road.
whatever way you choose, make sure you zip tie them up and away so no one can see.
putting on your new front end:
you should be here:

1) reinstall your hood. just like you took it off. and again, make sure you go nice and slow and tighten the bolts evenly to make sure it lines up right.
2) make sure your wires are routed to where they need to go.
3) bolt the bumper back on. the correct way to do this is to do the front 2 bolts first, then push it up and back and tighten the others. thats the only way to make it line up right. depending on what grille and bumper combo you're using, there might be a small gap between the bumper and grille. if so, you can use some 1/2" washers to space it up a bit.
4) install your lights. be carefull, there IS a left and right side. they're labeled as such. if installed incorrectly, your lights will never line up. pic: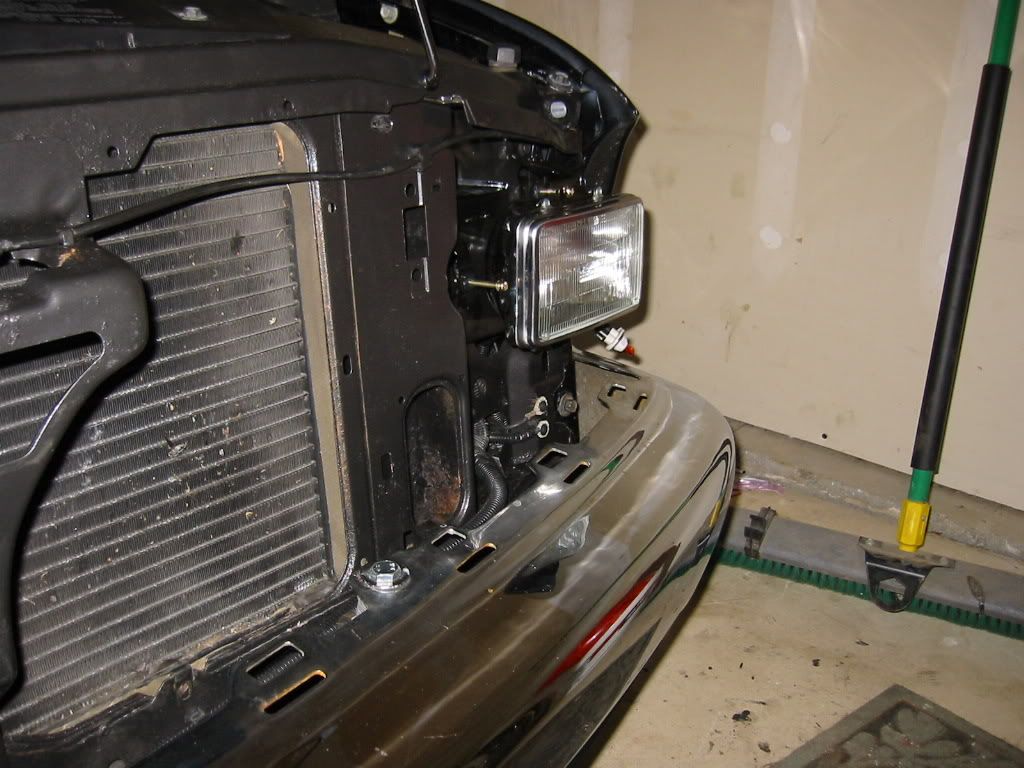 5) all that's left is to pop in the little rubber clips for the core support, and the metal ones for your grille (which should come preassembled and ready to go) put in your corner lights, and screw it in.
and thats about it.
total cost: less than $600 (and thats for all new parts)
total time spent: one weekend afternoon
end result....... .....priceless.....
Bookmark/Search this post with:
delicious
digg
reddit
furl
technorati