Mileage:

171000

Exterior Color:

Onyx Black

Interior Color:

Charcoal

Engine:

6cyl

Transmission:

Automatic

Suspension:

Static

Tire Size:

235/60/15 F, 295/50/15 R

Wheel Size:

15x8 F, 15x10 R

Views:

3366

Date Posted:

Fri June 18, 2010

Location:








1998 Chevrolet S-10 Pickup
Regular Cab, Fleetside Bed, 4.3 Vortec V6 Engine, 4L60E Automatic Transmission, Onxy Black Exterior, Charcoal Interior. 171k miles, but please read below

This truck is my baby. I owned it in high school and sold it to my brother about 5 years ago. I needed 4 wheel drive to tackle to commute to school in the Worcester hills. Anyways, he blew the transmission and gave me the truck back. It sat for a little over 2 years while I collected parts. It has spent about 18 months rebuilding the truck to get it back on the road. I have listed links at the bottom of the ad for all the pictures of the past, rebuild & current phases. Here is a list of what has been done to the truck




New 4L60E Transmission from 2001 S-10 with 27k on it, Inspected, cleaned up & installed a Transgo Shift Kit as well as a Corvette Servo. All Items Professionally Installed by Shrewsbury Transmission. While installing the Transmission we installed new Transmission Cooler lines as well as a new Energy Suspension Transmission mount.

Took truck down to bare chassis form, stripped and painted with rust preventative paint. While there replaced all suspension parts with the following new items.
Energy Suspension Poly-Urethane Bushings (All Bushings & Body Mounts), Belltech 2" Drop Spindles, 1.5" Drop Factory ZQ8 Coil Springs, Belltech Nitro Shocks, Belltech "Chevy Lean" Spacer, Summit Racing Drilled & Slotted Rotors, Hawk Performance Brake Pads, Timken Wheel Bearings, Power Performance Upper & Lower Balljoints, Steering Center Linkage, Inner & Outer Tierods & Idler Arm.

The rear end & suspension was removed, cleaned up, serviced & painted. The leaf springs were swapped for brand new Belltech 3" Drop Leafs with a JTR 1/2" Setback plate. I also installed Air Lift Shocks out back to add capacity to the new stance. In addition, the rear drums, shoes and all hardware was removed and all new setup was installed. While the truck was apart, many of the factory hardware was replaced with either New GM Parts or Grade 8 Hardware.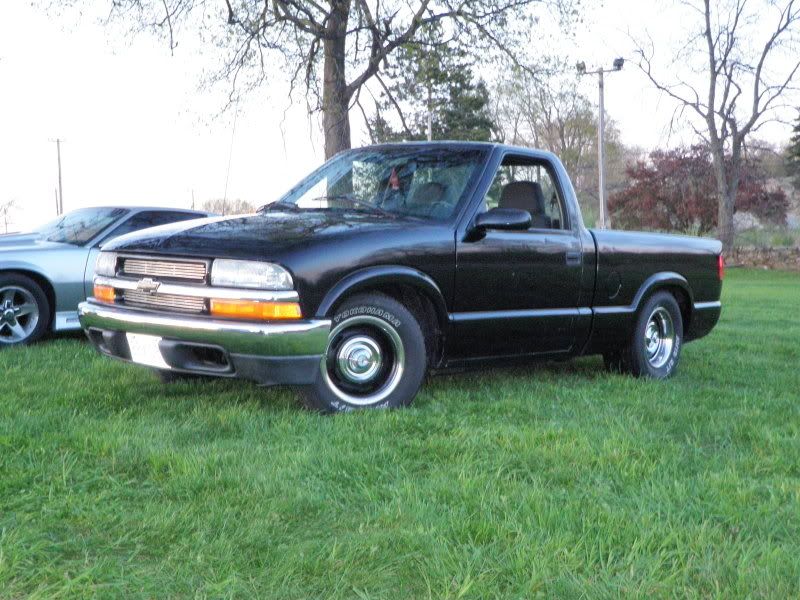 The truck rides on 15x8 & 15x10 Reproduction Corvette Rally Wheels with 235/60/15 & 295/50/15 Yokohama Avid S/T's Tires with Less than 2500 Miles on them. Other Exterior upgrades include a Chrome 98 Front Bumper, Billet Grill, Clear Bumper Lights, LED 3rd Brake Light, GM Rollpan, Street Scene Mirrors, GEM Top Fiberglass Tonneau Cover& Duraliner Bedliner.

During the overhaul the Engine received a tune up including new AC Delco Plugs, Bosch Wires, Cap & Rotor, Cleaned & Oiled the Filter on the K&N Intake System as well as other items like flushing & topping off fluids and cleaning the engine bay. Also one thing to note on this truck is that since the day it rolled off the showroom floor it has been maintained with Mobil One Fully Synthetic Oils & a Fram Extraguard Filter every 5,000 Miles. These 4.3 Vortec Engines have been known to last well over 200,000 miles.

The exhaust is brand new from the Y Pipe Back. East Coast Custom exhaust fabbed up and installed an all mandrel bent exhaust consisting of a 3" Spun Aluminum High Flow Magnaflow Catalitic Converter, a 3" Inlet, Dual 2.5" Outlet Spintech Muffler with the dual 2.5" Pipes dumping right before the rollpan.




Lastly this winter/spring I redid the entire interior. I swapped the entire factory light grey over to the factory charcoal interior. This also included swapping out the factory bench seat to a pair of 2003 Chevrolet S10 60/40 Seats. The carpet was brand new out of the box as well as chrome GM Envoy Door Handles, Billet Specialties Window Cranks & Billetin Polished Billet HVAC & Headlight knobs. The last additions were a Alpine CDA-9885 headunit with Ipod Cable & XM Reciever as well as custom carbon fiber overlays over the stock controls.

I took my time on this truck so I could do it right the first time. I have almost 200 pictures detailing the rebuild process, some are attached for your viewing. Things in my life have changed and I no longer have the time or space to work on it to get it where I want to. I am offering it up forsale for $3,800.00 or best offer. I really do not want to sell but I would rather see someone enjoy it than it sit and be ignored. There are a few small issues like the body, it has its fare share of dings and scratches that would have been addressed had time and money allowed but over all its in ok shape. I would also be entertaining trade offers for 94-98 Mustang GT's, 93-97 Camaro Z28's, V8 Fox Bodies and possibly a smaller bowrider boats. As much as it is a good idea to sell, I don't owe anything on it so keeping it wouldn't be an issue, therefore lowball offers will be ignored.




Other Items included with the truck: Stock Steel Wheels painted black with Winter tires on them, Fitted Truck Cover, I have a bunch of stock & aftermarket parts which will go with it if you want them.

The truck is able to be seen usually after 5:00pm mon-fri and on the weekends. Please contact me if you would like to come see it. Test drives will only be offered to serious inquries, I have worked too hard let someone take it for a beat run. I am planning to have this truck at Backwoods Bash in Plainville CT June 26th and Summer Nationals in Worcester July 3rd & 4th.

Link to Build Pics: [URL=http://s40.photobucket.com/albums/e225/RedBlazahGuy84/Bringin%20it%20Back/[/URL]

Link to Truck Pics: http://s40.photobucket.com/albums/e2...azahGuy84/S10/

Link to Interior Pics: http://s40.photobucket.com/albums/e2...uy84/Interior/
Author
v8lonoma
Atlanta Braves FTMFW!

Registered: January 2004
Location: NY
Posts: 9140

Comment Date: Fri June 18, 2010


wow. always loved what you did with this truck. shocked to see this up for sale. glws very nice truck.

BlkS10Kid2002
Certified MASShole

Registered: May 2003
Location: Central MA
Posts: 4371

Comment Date: Fri June 18, 2010


Thanks man... Honestly it just sits in my driveway. I don't have time to enjoy it any more. I don't remember the last time I took it out for longer than like a 5-10 mile drive. I would love to go crazy on it and repaint it and throw a v8 in it to get it where I want but honestly I've kind of grown out of it. I want something I can throw a family in and take off for the day and just cruise.

------------------------------
Patrick

'08 Brilliant Black Crystal Pearl Ram 1500 Sport Quad Cab 5.7 Hemi 4wd on Chrome 20's ~ Dirty Daily
'99 Victory Red Blazer 4 Door 4.3 4L60E 4wd ~ Former Daily
'98 Onyx Black S10 Reg Cab 4.3 4L60E 2wd ~ Former Toy

Gimp
ELTC

Registered: May 2008
Location: CT
Posts: 8262