hey guys
first off sorry mods if i put this in the wrong section, it is car audio related because it is a true double din bezel that i had to make, but please move this thread if necessary

This is a fiberglass plastic composite dash bezel that will NEVER CRACK that i made for my 2003 s10. It comes with 3 airlift analog gauges, two dual needles for front and rear bags, and a single needle for tank pressure. this is a full double din opening! It houses the stock headlight switch and airbag switch (both included!) also has 3 holes for standard toggle switches for any accessories you may have. Has a tsunami Digital voltage gauge molded in as well but needs a new dblock. Also the gauges have been converted to leds. The bezel is a 3 stage REAL indigo blue pearl. Bezel has one very small ding on the right side

I am asking $250 and im taking offers. will fit any 98 chevy s10, but the 2 air vents must be sacrificed. if you have ac it can be easily plugged behind the dash and your other vents will still work, but will need to relocate your ac controls

contact me on here or snakenetnetworks@gmail.com

thanks for looking!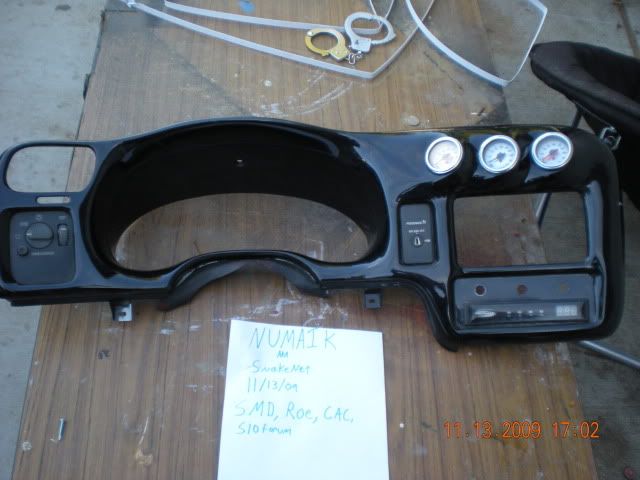 here it was fresh out of paint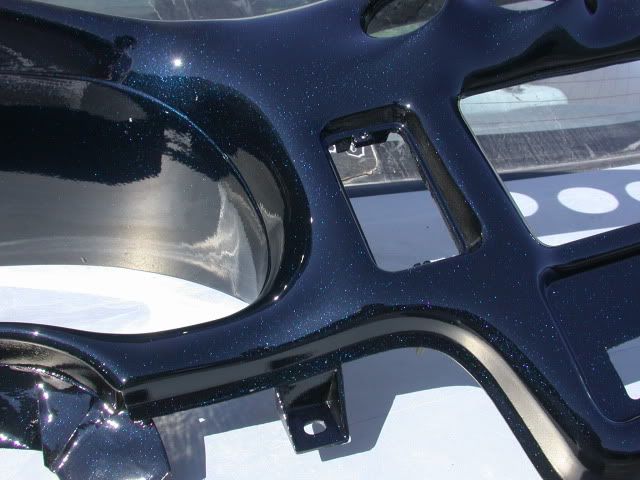 Author
bill 4.3l 5spd
carries a gun at work

Registered: October 2002
Location: Bergen NY
Posts: 1984

Comment Date: Sun November 22, 2009


nice handcuffs

------------------------------
98 Reg Cab S10--5/6 drop, Street Scene valance, headers, hard tonnau, welded in Sir Mike's Rollpan, Goodmark Cowl hood, shaved doors/gate, leather blazer buckets.....pretty sure i missed a bunch.

99SSCHEVY
99 4 SHOW & 02 XBLAZE

Registered: January 2010
Location: VENTURA,CALI.
Posts: 1272

Comment Date: Fri February 19, 2010


NICE IDEA AND WORK THERE BRO.TO BAD YOU ARE SACRAFICING IT.IF SOMBODY DOESNT BUY THIS SOON THEY ARE CRAZY.CHECK OUT MY RIDES AND IDEAS ON CARDOMAIN.COM 99SSCHEVY GOOD LUCK.

snm
Registered User

Registered: June 2010
Posts: 405

Comment Date: Sun June 6, 2010


is it still available ?